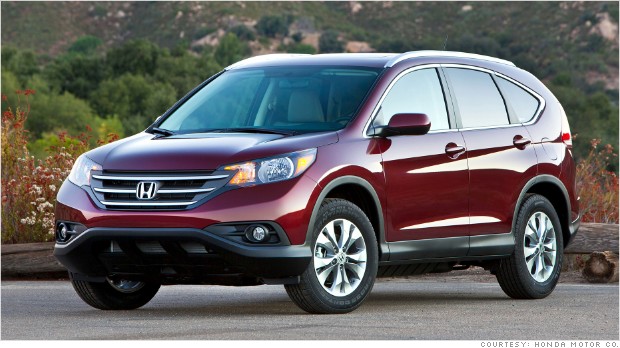 Leader of the pack: The Honda CR-V
To paraphrase Tolstoy, all successful cars are alike but each unsuccessful car is unhappy in its own way. Combine a minivan and an SUV and you get a Pontiac Aztek. Put a station wagon and an SUV together and you get a Chrysler Pacifica. But attach an SUV body to a passenger car platform, and you get an SUV crossover. So as analysts crunched the numbers from August's sales results against the backdrop of the year's biggest auto show in Frankfurt, all anybody was talking about was how crossovers — those streamlined SUVs — were coming to dominate the industry, and how they will unsettle the global competitive landscape.
Consider:
–Sales of small crossovers increased 36% in August, according to Automotive News, and crossovers sales of all sizes now represent more than one-quarter of industry volume — up from essentially zero 20 years ago.
–Consumers are on a pace to buy 300,000 Honda CR-Vs and Ford Escapes, and 200,000 Toyota RAV4s this year. Total crossover sales in 2013 should reach 4 million.
–Japanese brands gained 2.5 points of market share in August, largely on the strength of increased crossover sales. The Detroit Three, which have lagged in crossovers, particularly in the compact and subcompact segments, lost 1.4 points.
–For some premium brands, crossovers are their most popular models: The RX accounts for more than a quarter of all Lexus sales; the MDX and RDX lead Acura's sales charts; and Enclave and Encore are the most popular Buicks.
–Luxury manufacturers — even those who never built an SUV — are jumping into crossovers. Bentley and Jaguar both showed new concepts at Frankfurt, while Tesla is due to introduce the industry's first all-electric crossover, the Model X, for the 2014 model year. Buyers need never worry about damage from mud, rocks, or wild animals. Like most crossovers, these luxury models will never go further off-road than a highway exit ramp.
The flexibility of crossovers has made them the industry's default solution, its no-brainer. When asked at the Frankfurt show whether Jaguar would consider developing its first crossover, Design Director Ian Callum told Automotive News Europe, "Why not? Everyone else is doing it." Even Rolls-Royce is considering developing an crossover. "We are intensively thinking about entering the SUV segment," CEO Torsten Mueller-Oetvoes said in an interview with Bloomberg News. Its sticker price would be north of $300,000.
Crossovers have become the industry's equivalent of a Swiss Army knife. Says analyst Jeremy Acevedo of Edmuds.com: "By borrowing the best aspects of so many different segments with relatively few concessions, crossovers will continue to be an integral and growing segment of the market."
Their growing dominance signals an historic transition for the auto industry. Crossovers represent a once-in-a-generation sea change in car designs and buyer tastes. With
traditional station wagons practically extinct, and minivans in seemingly terminal decline, crossovers are spreading across the landscape like some alien species, strangling lesser varieties. Subaru, whose sales rose 45% in August and is one of the fastest-growingmanufacturers in the industry, has a model lineup that consists almost entirely of crossovers and has a hard time keeping up with demand. "This will be the fastest-growing segment globally for the next five years," says Warren Browne, vice president of AutomotiveCompass.
With Porsche getting ready to complement its Cayenne with the Macon crossover in 2014, just about every automaker is scrambling to add more crossovers to its lineup. In the process, they are being forced to ask some pressing questions:
–How thinly can they slice the crossover market? Crossovers are now available in subcompact, compact, and mid-size sizes, configured in two rows or three, and wearing mainstream or premium nameplates. Is there room for more two-door crossovers like the aggressive Lexus LF-NX concept shown in Frankfurt, convertibles like Nissan's slow-selling Murano, or sport models like Subaru's popular XV Crosstrek?
–What other segments will shrink as crossovers grow? Full-size sedans have been in decline for several years. Are mid-size sedans next? How many buyers are ready to choose functionality over formality, or practicality over pizzazz?
–What is the fate of the traditional SUV? The truck-based vehicles can't compare to crossovers for car-like ride and handling , features, or fuel economy. And while SUVs are still superior for towing or hauling heavy loads, pickups can do the same job more efficiently.
Crossovers came to prominence in the 1990s because they copied many of the best-liked features of SUVs — command seating, high ride height, easy access, available all-wheel drive — with none of the drawbacks — truck frames with truck looks and truck rides. The first ones came out of Japan, where consumers are more open to innovative body styles. After finding success there, Toyota (TM) and Honda raced to be first to sell to U.S. customers. When it became apparent that the RAV4 was going to win by arriving in late 1996, Honda (HMC) took the unprecedented step of making a Japanese-spec CR-V with right hand drive available to automotive journalists for reviews to blunt its impact. The tactic worked, and the CR-V has gone on to join the Civic and Accord as a core Honda model, as well as the bestselling crossover, while the RAV4 resides in third place.
Not all crossovers are created equal. Ford (F, Fortune 500) has struggled with the Flex, which buyers find reminiscent of a minivan, and had sold only 18,166 through August this year, compared with more than 200,000 Escapes. Nissan's brave attempt to design a convertible crossover with the Murano CrossCabriolet suffered from dumpy looks and uncertain handling, and will be discontinued.
Consumer interest in crossovers seems to be gaining steam. In Edmunds' tally of its 50 most researched cars in August, four of the top five were crossovers, with Honda's CR-V leading the pack. Automakers are racing to keep pace. Says Edmunds' Acevedo: "Manufacturers can't ignore the popularity of these models and those doing well in the segment will continue to refine their offerings as those looking for a larger piece of the pie will continue to up the ante." Some analysts believe that in addition to higher sales, crossovers return higher profits because their unibody construction makes them more economical to manufacture and because many crossovers share parts with passenger cars.
For now, all signs point upward. Analyst Browne sees a world in which prosperous buyers will use a sedan to commute and keep a crossover for fun and vacations. In other words, the sky is the limit — until something newer and better comes along.
REPOSTED BY MIDWEST GLASS TINTERS FROM:  CNN MONEY
On the heels of the recession, global automakers are racing to meet the increased demand for luxury vehicles.  At this week's Detroit Auto Show, automakers unveiled nearly 2 dozen new luxury models or concept cars, expressing confidence that luxury sales will boom this year.  "We see success…in very direction we look," said Johan de Nysschen, head of Audi's American arm.
Luxury cars and trucks — costing over $35,000 —  account for 13% of the U.S. auto market.  While auto sales have increased slowly over the past year, luxury car sales are forecast to grow by more than 10% in 2012, outpacing the rest of the auto market.
In their new luxury car, buyers will expect the latest technology, everything from WiFi internet hotspots to night vision displays to infotainment systems that link over Bluetooth with up to 10 devices simultaneously.  Refinement has replaced raw horsepower with reduction in interior noise reduction taking the lead.
The 2012 Cadillac ATS was the most notable unveiling at the Detroit show this year.  The ATS is an all-new small car that GM wants to take on the world's most popular luxury sedan – the BMW 3-Series.  BMW also renewed the 3-Series this year with BMW execs confident they can take on any comers.  It appears that the real competition among luxury brands will be in the SUV's,  which are as popular to luxury seekers in Europe and China  as they are here.  Fuel costs and tough regulations have forced automakers to find ways to power luxury SUVs with smaller, more efficient engines.   The Buick Encore, the U.S. version of the Audi Q3 and a refreshed Acura RDX — all smaller SUV's with engines less than six cylinders, were revealed this week.  Porsche will join the category with its own small SUV next year called the Cajun.  Even Bentley, the British builder of six-figure sedans, will present its own SUV within a few years.
Another driver behind the return of luxury cars is the rebound of Japanese automakers, following a year of deadly natural disasters  Toyota's Lexus Division, which lost its spot as the top US luxury brand to BMW in 2011, will introduce nine new or updated models this year. 
2012 promises to be an exciting year in the automotive industry as customers react to new and updated luxury cars, filled with the latest technology.
READ MORE:   http://autos.yahoo.com/blogs/motoramic/detroit-auto-show-2012-luxury-cars-come-back-150033448.html