Born from a desire to take open-wheel racing into the 21st century, the DeltaWing race car has struggled along for the past few years, searching for a niche to demonstrate its fuel-saving attributes. No automaker has embraced its design more than Nissan, which has hired the DeltaWing's designer for its own experimental race cars. Last week, Nissan revealed it's considering ways to make a wing-shaped electric sports car more than a track toy.
Set for a Tokyo Motor Show unveiling later this month, Nissan says the three-seat BladeGlider concept combines "both a proposal for the future direction of Nissan electric vehicle development and an exploratory prototype of an upcoming production vehicle." Built from a carbon-fiber frame, the meter-wide front performs the same trick as the DeltaWing — reducing aerodynamic drag to unheard-of levels for greater efficiency, while allowing the rest of the body to generate downforce for better grip.
In this version, Nissan says the BladeGlider would draw power from in-hub electric motors at each rear wheel, an idea that's been floating around the industry for more than a decade. Nissan doesn't specify what kind of power or performance it would grant the BladeGlider, touting instead a driving experience that would emulate flying a jet along the road.
In digital form, the BladeGlider looks fascinating, much like the Infinit Emerg-E from Nissan's luxury arm did a year ago. That concept never made it to production; despite Nissan's billion-dollar commitment to the Leaf EV, it's been reluctant to step beyond the safety of commuter electric cars. The question isn't whether Nissan could put something this radical on the road, buy why it wouldn't.
REPOSTED BY MIDWEST GLASS TINTERS FROM:  MOTORAMIC
The National Insurance Crime Bureau (NICB) released the list of the top 10 most stolen 2010-2012 model sports cars.  The list includes: 
2.  Ford Mustang
5.   Audi A5/S5
7.  Nissan 370Z
8.   BMW 6 Series
9.   Porsche 911
10.   Volkswagen Eos
REPOSTED BY MIDWEST GLASS TINTERS FROM YAHOO AUTOS
Teasing a photo today, Nissan has announced that it will unveil its new Qashqai crossover on November 7.
The manufacturer boldly proclaims that the new Qashqai will be "the most important car in modern history" and "a model that will redefine the crossover sector and set new standards across the board."
Nissan is touting its entirely revamped new Qashqai as a highly innovative vehicle, from its aerodynamic design to its infotainment system. For the time being, the brand has not revealed specific details but is teasing the November 7 reveal with a mysterious new photo.
Over two million Nissan Qashqui crossovers have been sold since the vehicle's launch in 2007.
REPOSTED BY MIDWEST GLASS TINTERS FROM YAHOO NEWS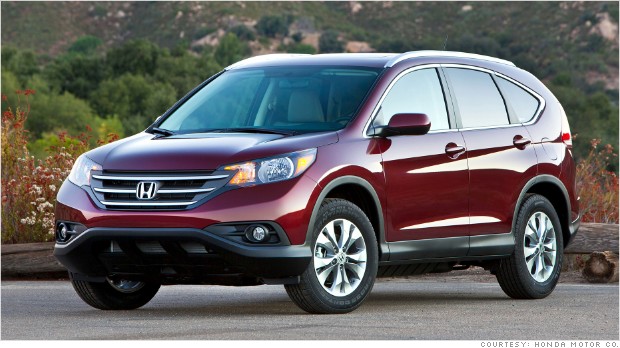 Leader of the pack: The Honda CR-V
To paraphrase Tolstoy, all successful cars are alike but each unsuccessful car is unhappy in its own way. Combine a minivan and an SUV and you get a Pontiac Aztek. Put a station wagon and an SUV together and you get a Chrysler Pacifica. But attach an SUV body to a passenger car platform, and you get an SUV crossover. So as analysts crunched the numbers from August's sales results against the backdrop of the year's biggest auto show in Frankfurt, all anybody was talking about was how crossovers — those streamlined SUVs — were coming to dominate the industry, and how they will unsettle the global competitive landscape.
Consider:
–Sales of small crossovers increased 36% in August, according to Automotive News, and crossovers sales of all sizes now represent more than one-quarter of industry volume — up from essentially zero 20 years ago.
–Consumers are on a pace to buy 300,000 Honda CR-Vs and Ford Escapes, and 200,000 Toyota RAV4s this year. Total crossover sales in 2013 should reach 4 million.
–Japanese brands gained 2.5 points of market share in August, largely on the strength of increased crossover sales. The Detroit Three, which have lagged in crossovers, particularly in the compact and subcompact segments, lost 1.4 points.
–For some premium brands, crossovers are their most popular models: The RX accounts for more than a quarter of all Lexus sales; the MDX and RDX lead Acura's sales charts; and Enclave and Encore are the most popular Buicks.
–Luxury manufacturers — even those who never built an SUV — are jumping into crossovers. Bentley and Jaguar both showed new concepts at Frankfurt, while Tesla is due to introduce the industry's first all-electric crossover, the Model X, for the 2014 model year. Buyers need never worry about damage from mud, rocks, or wild animals. Like most crossovers, these luxury models will never go further off-road than a highway exit ramp.
The flexibility of crossovers has made them the industry's default solution, its no-brainer. When asked at the Frankfurt show whether Jaguar would consider developing its first crossover, Design Director Ian Callum told Automotive News Europe, "Why not? Everyone else is doing it." Even Rolls-Royce is considering developing an crossover. "We are intensively thinking about entering the SUV segment," CEO Torsten Mueller-Oetvoes said in an interview with Bloomberg News. Its sticker price would be north of $300,000.
Crossovers have become the industry's equivalent of a Swiss Army knife. Says analyst Jeremy Acevedo of Edmuds.com: "By borrowing the best aspects of so many different segments with relatively few concessions, crossovers will continue to be an integral and growing segment of the market."
Their growing dominance signals an historic transition for the auto industry. Crossovers represent a once-in-a-generation sea change in car designs and buyer tastes. With
traditional station wagons practically extinct, and minivans in seemingly terminal decline, crossovers are spreading across the landscape like some alien species, strangling lesser varieties. Subaru, whose sales rose 45% in August and is one of the fastest-growingmanufacturers in the industry, has a model lineup that consists almost entirely of crossovers and has a hard time keeping up with demand. "This will be the fastest-growing segment globally for the next five years," says Warren Browne, vice president of AutomotiveCompass.
With Porsche getting ready to complement its Cayenne with the Macon crossover in 2014, just about every automaker is scrambling to add more crossovers to its lineup. In the process, they are being forced to ask some pressing questions:
–How thinly can they slice the crossover market? Crossovers are now available in subcompact, compact, and mid-size sizes, configured in two rows or three, and wearing mainstream or premium nameplates. Is there room for more two-door crossovers like the aggressive Lexus LF-NX concept shown in Frankfurt, convertibles like Nissan's slow-selling Murano, or sport models like Subaru's popular XV Crosstrek?
–What other segments will shrink as crossovers grow? Full-size sedans have been in decline for several years. Are mid-size sedans next? How many buyers are ready to choose functionality over formality, or practicality over pizzazz?
–What is the fate of the traditional SUV? The truck-based vehicles can't compare to crossovers for car-like ride and handling , features, or fuel economy. And while SUVs are still superior for towing or hauling heavy loads, pickups can do the same job more efficiently.
Crossovers came to prominence in the 1990s because they copied many of the best-liked features of SUVs — command seating, high ride height, easy access, available all-wheel drive — with none of the drawbacks — truck frames with truck looks and truck rides. The first ones came out of Japan, where consumers are more open to innovative body styles. After finding success there, Toyota (TM) and Honda raced to be first to sell to U.S. customers. When it became apparent that the RAV4 was going to win by arriving in late 1996, Honda (HMC) took the unprecedented step of making a Japanese-spec CR-V with right hand drive available to automotive journalists for reviews to blunt its impact. The tactic worked, and the CR-V has gone on to join the Civic and Accord as a core Honda model, as well as the bestselling crossover, while the RAV4 resides in third place.
Not all crossovers are created equal. Ford (F, Fortune 500) has struggled with the Flex, which buyers find reminiscent of a minivan, and had sold only 18,166 through August this year, compared with more than 200,000 Escapes. Nissan's brave attempt to design a convertible crossover with the Murano CrossCabriolet suffered from dumpy looks and uncertain handling, and will be discontinued.
Consumer interest in crossovers seems to be gaining steam. In Edmunds' tally of its 50 most researched cars in August, four of the top five were crossovers, with Honda's CR-V leading the pack. Automakers are racing to keep pace. Says Edmunds' Acevedo: "Manufacturers can't ignore the popularity of these models and those doing well in the segment will continue to refine their offerings as those looking for a larger piece of the pie will continue to up the ante." Some analysts believe that in addition to higher sales, crossovers return higher profits because their unibody construction makes them more economical to manufacture and because many crossovers share parts with passenger cars.
For now, all signs point upward. Analyst Browne sees a world in which prosperous buyers will use a sedan to commute and keep a crossover for fun and vacations. In other words, the sky is the limit — until something newer and better comes along.
REPOSTED BY MIDWEST GLASS TINTERS FROM:  CNN MONEY
At 46 miles per gallon highway, the newChevy Cruze Turbo Diesel gives even hybrids a run for their (gas) money.
The number of diesel models on the U.S.market should double during the 2014 model-year, according to various industry-watchers, the high-mileage powertraintechnology set to get its biggest boost since falling out of favor with American motorists back in the 1980s.
The surge reflects the advent of new diesel technology that not only maintains an estimated 30 percent mileage advantage over gasoline engines, but also resolves traditional concerns such as noise, roughness and foul-smelling emissions.
It also reflects the return to the diesel marketby manufacturers like General Motors, the emergence of new makers including Nissan, and the expansion of offerings by diesel leaders such asVolkswagen and is luxury arm Audi.
"This year, the number of diesels will be doubled," said Andreas Sambal, the North American director of marketing for German supplier Bosch's diesel systems division. "By the end of the 2014 model-year there will be 40 diesels on the market and this will give consumers a lot more choice."
Audi is introducing several diesel-powered models.
Diesels have been a bit player in the U.S. market ever since the late 1980s when American buyers largely abandoned the technology due to endemic problems with earlier diesel designs—and in the wake of major and embarrassing failures of several GM engines.
Since then, proponents of diesel technology have lamented a chicken-and-egg problem. Many manufacturers were reluctant to enter the diesel market because of low sales. But proponents warned that sales wouldn't grow until there were now more diesel offerings. The coming model-year will put their claims to the test.
Nissan this week became the latest maker to announce plans to launch a diesel option for its full-size Titan pickup—a first for a Japanese maker. The 5.0-liter V-8 turbo–diesel will be supplied by Cummins, Nissan noted.
"Truck owners told us there's a demand for the performance and torque of a diesel in a capable truck that doesn't require the jump up to a heavy-duty commercial pickup," said Fred Diaz, vice president for North American Nissan sales and marketing.
Diaz's former employer, Chrysler, just last month announced plans to add a diesel option for the 2014 Ram 1500 pickup. There is speculation GM will soon do the same for its GMC Sierraand Chevrolet Silverado trucks.
But Chevy has already staked out a return to the diesel passenger car market with an "oil-burner" option for its 2014 Cruze sedan. And Mazda will become the first Japanese maker with a passenger car diesel with a new version of its Mazda6 sedan.
Those makers have a long way to go to catch up on the German makers who have spearheaded the diesel revival—notably VW and its luxury arm Audi. A third of the Q7 crossovers the highline brand sells in the U.S. are equipped with diesels and more than half of the old A3 wagons were equipped with oil-burners.
Audi will bump its diesel model count from two to five for the 2014 model-year and will add a sixth when it introduces a new version of the A3.
Diesels have accounted for less than 3 percent of the total US new vehicle market even after recent growth spurts but Bosch forecasts that will reach as much as 10 percent by 2018. That is an admittedly "bullish" forecast, said the supplier's Sambal. But other, more cautious forecasts predict the share could rise to 8 percent or higher.
Notably, diesel sales surged by 24 percent during the first seven months of 2013.
There are still obstacles to increased acceptance, cautioned Nicole Barranco, Audi's diesel lobbying chief, ranging from higher fuel taxes to outdated perceptions by consumers unaware of modern diesel technology changes.
On the other hand, there are some key factors that could help diesel gain traction as awareness grows, said Bruce Belzowski, assistant research chief at the University of Michigan Transportation Research Institute.
For one thing, he noted during a forum sponsored by Audi, there's the roughly 30 percent mileage boost the technology offers. And that, in turn, means that "almost all" diesel models"have a positive total cost of ownership" despite the typically higher purchase price.
A recent study by the institute found that even a small Volkswagen Jetta will save the typical owner about $3,000 over a three-year period while the total cost of buying and operating a Mercedes-Benz GL diesel is about $15,600 less than the gasoline version.
Meanwhile, advocates suggest, more diesels going into production could lower the cost penalty, further improving the appeal of the technology.
REPOSTED BY MIDWEST GLASS TINTERS FROM:  YAHOO AUTOS
Lilly is not pretty. Rather tall and ungainly, she towers over the other models Nissan brought to the high-performance track at the quadrennial "Nissan 360" worldwide media program, hosted this time at the Great Park of Orange County, Calif., formerly known as El Toro Marine Base.
But Lilly is an object of lust such that this writer, and many other car wags lucky enough to get near her, will never forget.
"Lilly," is a Nissan Juke-R, the first one ever built, and one of only four in existence. We're not really sure who asked the question that resulted in the creation of the Juke-R, but we're relatively sure it started with "Gee, wouldn't it be funny if we stuffed the rip-snortin' twin-turbocharged V-6 engine and all-wheel drivetrain of our insanely fast GT-R supercar to the body and interior of the tiny Juke crossover?" Or perhaps it was one steely-eyed engineer looking across the table at another, saying, "I double dog dare you to turn a Juke into a GT-R."
However the proposition was made, the outcome is exactly that: a Juke with the soul of a GT-R. When the Juke-R was first announced about two years ago, Nissan called it the "first super-crossover." But just as the GT-R is nicknamed "Godzilla" by its cult-like fan base, the Juke-R soon became affectionately known as "Babyzilla." And like Japan's most famous lizard, the Juke-R is the stuff of legends.
Initially, Nissan and partner Ray Mallock Ltd. (RML) built just two Juke-Rs: "Lilly" and her brother, "Max," as they are called by their handler, Xavi Cànovas (yes, these cars have their own handler, just like rock stars). Lilly was built using the GT-R's turbocharged 3.8-liter V-6, which at the time made 485 hp and came mated to a dual-clutch manu-matic transmission and wide, GT-R-based all-wheel-drive underpinnings. The width of the running gear required a completely new floor and wide fender extensions to accommodate the 20-inch wheels and tires. A wild body kit was fitted and all was painted a wicked matte black. At some point, Lilly got a powertrain upgrade. "Rumor has it she's at about 570 hp, but I don't know that for sure," said a Nissan spokesman.
Suffice it to say, Lilly is a badass.
Once word got out about how great the Juke-R turned out, Nissan cobbled together two more for a wealthy customer in the Middle East. Nissan determined that there was sufficient interest for a small production run, and plans to build 23 Juke-Rs in total at a price of $660,000 each.
So it's rare. Even for automotive journalists, seeing a Juke-R in the flesh is the equivalent of seeing a unicorn, and being offered a chance to actually drive one is akin to grabbing that unicorn's horn, hopping on and flying through a double rainbow. Yet there she was, sitting on a tarmac in the 90-degree California heat next to two stock GT-Rs, steaming and crackling, waiting for us to take a spin. A flurry of engineers inspected this and that, keeping her in shape between hot laps of the short road coarse Nissan set up on base. I would have one short lap to see what tricks Lilly had up her sleeve.
When my turn came, I strapped on my helmet and rushed out between the snarling GT-Rs toward Mr. Cànovas, standing by the open driver's side door of the Juke. Ingress/egress is rather trickier in the Juke-R than the standard Juke, thanks to its heavily bolstered racing seat and full roll cage blocking some of the door opening (oh, and don't even think about putting someone in back). Once I folded myself through the door and flopped into the seat, Cànovas adjusted my seat to ensure perfect pedal placement and telescoped the steering wheel to meet my arms. A brief scan of the interior revealed many parts I recognized from the standard Juke (dashboard, door panels, and other trim bits) and other parts that clearly came from the GT-R (sequential transmission shifter, GT-R instrument cluster, and grippy, contoured steering wheel). I shook the hand of the pro driver who would be my guide around the short road course as the four-point racing harness was clasped together at my midriff.
After that, things get a bit blurry, but here's what I remember: I placed the sequential manual transmission in drive, gripped the wheel, stepped on the go-pedal and shot out of the pits toward the first turn. Immediately, I felt a visceral connection to the road such that I have never felt in a production car before. Indeed, Lilly may be based on two production cars, but as my confidence built over the next few turns, which were accompanied by absolutely zero body roll and spectacular steering feel, I began to connect with it in ways I have only experienced in a racecar. Acceleration is instant — the "shot out of a cannon" cliché is absolutely fitting here — and the deceleration, facilitated by massively powerful brakes, is just as sudden. I was even able to cajole the back end around a touch for a nice polite drift, just as would be possible in the incredible GT-R.
And then the lap was over. Suddenly, we were back in the pits and I was climbing back out through the roll cage bars, panting as I walked around for one more lustful look at Lilly's decidedly unbeautiful face. The whole encounter lasted maybe a minute, but long enough to leave me awestruck of this wacky machine, and wondering how I could score a second date.
REPOSTED BY MIDWEST GLASS TINTERS FROM MOTORAMIC
Nissan Motor Co. said this week that it intends to have multiple self-driving vehicles ready for retail sale in 2020.
The assertion shows the Japanese automaker pushing ahead on a promising new technology. But the sale of self-driving vehicles could be derailed by federal traffic safety regulators.
Nissan has been working on self-driving vehicles for years at its Japanese r&d centers, and now plans to step up its investment in the technology, including a new proving ground dedicated to autonomous vehicles.
The company also recently opened an advanced technology center in California's Silicon Valley that is working on autonomous vehicles.
Other automakers also are working on self-driving vehicles, which would allow drivers to take their hands and eyes off the road and rely on technology to safely guide the vehicles.
But many proponents say that significant hurdles — including federal safety regulations — remain before the vehicles can go to market.
Careful wording
Nissan's announcement is carefully worded to say that it will have vehicles ready in 2020 — not that the cars will be in Nissan showrooms.
The difference is regulatory uncertainty.
Before any automaker can put self-driving cars on the road, a host of regulators will have to agree on the rules. Issues surrounding the science are far from resolved in 2013.
One typical question: What happens to an autonomous car during a driving emergency? Engineers say the vehicle will signal the driver to take over manual control of the vehicle. But if the driver is temporarily incapacitated and can't re-take control, the vehicle will be forced to stop. In such an event, there will have to be specific regulatory guidelines for moving a disabled car to safety on roads of every condition and description.
Unresolved issues
Other unresolved issues involve insurance policies, law enforcement and vehicle communications technology.
"We're saying that we have the technology and we will be ready to market in 2020," says Dave Reuter, Nissan Americas spokesman. "There will be an ongoing maturation of the technologies over the next few years.
"We will have a fully functioning test track in operation by the end of our next fiscal year that will be dedicated to this field. And the more miles we put on our test vehicles, the more knowledge we will gather to be ready."
REPOSTED BY MIDWEST GLASS TINTERS FROM:  AUTOMOTIVE NEWS

REPOSTED BY MIDWEST GLASS TINTERS FROM:  TOPRAK CONSULTING GROUP
We just tallied up the first half of the 2013 sales results with all automakers reporting their June new vehicle sales in the U.S. Industry sales as a whole climbed 7.5% compared to the first half of 2012.
There were many questions at the beginning of the year about the longevity of the recovery in car sales. Many thought it wasn't sustainable and that pent-up demand would fade quickly. Well, it didn't. In fact, total sales exceeded even the most optimistic forecast and are currently trending at around 15.7 million for the year.
It turns "pent-up demand" was not a mythical creature and some people actually did need to replace their aging cars.
Small businesses generally make better financial decisions than consumers, because they have to. The last few months saw many small business buyers finally feeling comfortable with their operational prospects and coming back into the marketplace in large numbers. Trucks sales have been unseasonably strong and we are only just getting started.
It's important to note that 85 percent of all new car buyers either finance or lease their vehicles. Which means, finance and lease deals are critical for volume generation for the automakers. Luckily, interest rates can't get any lower and we happen to be in the middle of a perfect storm of ideal lease special creation conditions: historically high residual values and (once again) low interest rates. Lenders are also becoming more generous about who they lend to. It's not like the old days where all you needed was a pulse to get a car loan, but it's also not as restrictive as it was during the worst of the recession. Things are balanced. Balance is good.
"The Big Three" had a great first half. In fact, the first half of 2013 was the first time since 1993 where Ford, GM and Chrysler all gained market share at the same time. That's truly remarkable considering, not that long ago, many were making funeral arrangements for the domestic automotive industry.
Seventeen million in sales has been seen as the stretch goal for new vehicle sales since the recovery began in the industry. We are not quite there yet but it looks like we will be home sooner than we planned. I just upgraded my forecast for 2013 to 15.7 million units from 15.5 million and 16.5 million in 2014. As long as nothing spoils the party, the current trajectory will take us to magical 17 million mark in 2015.
Here is how the top players performed in terms of sales in the first half 2013:
Just before the start of this year's LeMans race on Saturday, Nissan revealed the ZEOD RC, the world's fastest electric car. The company has been invited to enter the 186-mph electric race car in next year's 24-hour LeMans race.
The Nissan ZEOD RC (Zero Emissions On-Demand Racing Car) prototype is part technology demo and part publicity stunt for the Japanese automaker. The car uses the same lithium-ion batteries as the Nissan Leaf electric car, and Nissan is touting the fact that race-car technology often finds its way to cars driven on the street.
Nissan said it will test a variety of types and combinations of electric motors and gasoline engines in the ZEOD RC before the car hits the LeMans race track in 2014. The company was invited to the 2014 race under LeMans' "Garage 56″ classification, reserved for one technologically innovative vehicle to take part in the annual 24-hour competition.
Andy Palmer, an executive vice-president at Nissan, said in a statement that this zero-emission, on-demand option lets a driver "switch between electric and petrol-powered drive," calling it the future direction for road cars. He continued, "That will be tested in addition to pure electric power and other new technologies that we still have under development."
Another part of the publicity-stunt aspect of the project is Nissan's plans to provide progress updates on the development of this electric car via its Nismo.tv YouTube channel.In addition to the technology inside, we're impressed by that radical DeltaWing shape — one that's been tried before — at the 24 hours of LeMans in 2012. That was also a "Garage 56″ entry, but wasn't electric — it had an Aston Martin chassis with a turbocharged Nissan gasoline engine.
REPOSTED BY MIDWEST GLASS TINTERS FROM:  Mashable
Kia Optima
Looking to get your teen a set of wheels for the summer or for traveling to school in the fall? There are many vehicles to choose from, but smart money is on those models that prioritize safety, reliability, and ease of use for inexperienced drivers.
There are many models to choose from, but we focused on those available for under $15,000 which includes recommended vehicles for teens from the 2008-2010 model years. Some have the latest safety equipment and are still affordable but key safety features such as curtain air bags and electronic stability control may not have been standard in others until later years. As always we encourage purchasing as many safety features–and electronic stability control in particular–if your budget allows. We list the average price for suitably equipped models available in that year when buying from the dealer.
The cars listed below average between 15- and 51-percent less than the retail price when the vehicle was new. Plus, all have at least average reliability according to our latest subscriber survey. Figure that vehicles from 2008 will generally have 66,000 miles, 2009 models around 51,000 miles, and 2010 about 40,000 miles.
Scanning the list, you'll see that these are all traditional cars and small SUVs; large pickups and midsized and large SUVs are not recommended for young, inexperienced drivers because they are more prone to roll over and may be more difficult to handle than many other vehicles. Sports cars increase the risk of speeding and have a higher rate of accidents, and consequently, they carry tuition-sapping insurance premiums.
| | | |
| --- | --- | --- |
| Make & model | Average buying from dealer price | Average drop in retail value vs. MSRP |
|  2009 Chevrolet Malibu | $12,925 | 45% |
|  2010 Chevrolet Malibu | $14,483 | 39% |
|  2009 Ford Focus | $10,388 | 38% |
|  2008 Hyundai Elantra | $9,450 | 47% |
|  2009 Hyundai Sonata | $11,167 | 50% |
|  2010 Kia Forte | $12,117 | 27% |
|  2010 Kia Optima | $13,320 | 38% |
|  2010 Kia Soul | $13,938 | 15% |
|  2009 Mazda6 | $10,800 | 49% |
|  2009 Mitsubishi Outlander | $12,833 | 46% |
|  2010 Nissan Altima | $14,930 | 35% |
|  2008 Nissan Rogue | $13,125 | 36% |
|  2010 Nissan Sentra | $13,458 | 26% |
|  2008 Scion xB | $11,100 | 33% |
|  2009 Subaru Impreza | $14,317 | 27% |
|  2008 Subaru Legacy | $12,175 | 43% |
|  2010 Toyota Corolla | $13,350 | 24% |
|  2010 Toyota Matrix | $14,394 | 28% |
| 2008 Toyota RAV4 | $14,875 | 41% |
| 2009 Volkswagen Jetta | $13,831 | 39% |
Buying a used car has many benefits. Most important is that the original owner takes the initial depreciation hit, as new cars lose much more value in the first and second years than those that follow. When shopping, look for cars that scored well in Consumer Reports' tests when new, have proven reliability, and perform well in government and insurance industry crash tests. Before handing over the cash, have the vehicle inspected by a trained and trusted mechanic to make sure there are no hidden problems.
See the complete list of used-car deals across a variety of vehicle categories. Also, see our list of best new and used cars for teens, as well as our special section on teen driving safety. For detailed used car pricing based on the mileage and condition of the vehicle, try Consumer Reports Used Car Price Reports.
REPOSTED BY MIDWEST GLASS TINTERS FROM:  Consumer Reports