As surely as the sun rises in the east, automakers will inevitably find new wrappers to clothe smaller SUVs that can sell at luxury car prices. Here's the first images of the Lexus LF-NX concept that will be fully revealed in a few days at the Frankfurt auto show, and while it's got more creases on its face than Tommy Lee Jones, it's all but guaranteed to preview an actual Lexus small SUV, the one gaping hole in Toyota's luxury lineup.
While the previous Lexus LF concepts carried their modern style well, the NX shows some of its limitations, namely in making the angry Norelco front end so tall. The back end suffers from a similar problem, with an ungraceful pile-up of lines on the back door and a fender fold that looks deep enough in these photos to store a small dog. Lexus says the LF-NX will sport an all-hybrid power source and typical but unsurprising luxury accoutrements; we'll have live photos to examine soon.
REPOSTED BY MIDWEST GLASS TINTERS FROM YAHOO AUTOS/MOTORAMIC
The folks at at BoldRide are big fans of Lexus IS F (as you can read in our review). There's just something so lovable about a Lexus sedan with the heart of a modern-day muscle car. And sure, while it may not come with all the driving refinement found in cars like the BMW M3, it's bound to go down in history as a cult classic.
But there's a problem- the current IS F is dying a slow, fruitless death. When Lexus announced a few months back that 2014 would be the last year of the mean muscle sedan, our hearts were filled with despair. But alas, there's some forthcoming news on the horizon: word from The Motor Report is that the IS F is indeed making a comeback in 2015- albeit with a new face- and Lexus engineers might be ditching the 5.0-liter V8 in place of something a bit more practical.
"That V8 is a little difficult to meet Euro 6 [emissions standards]," said IS chief engineer Junichiro Furuyama in a recent interview, "To produce more power and torque it runs leaner. That is the problem. We probably need a new engine for the F model."
Reports tell us that there are no plans for a high-powered hybrid Lexus sedan anytime in the near future, but with further restricting of emission standards, the idea that a V6 might take place of the antiquated V8 would make sense.
Expect news on the next-generation of IS F closer to an official release date in 2015.
REPOSTED BY MIDWEST GLASS TINTERS FROM:  BoldRide/Yahoo Autos
The Porsche brand, for the ninth straight year, led J.D. Power and Associates' annual survey of vehicles drivers find most pleasing to own and drive, while the Land Rover Range Rover crossover was the top individual vehicle in the survey.
Luxury brands claimed the top 10 spots of Power's 2013 U.S. Automotive Performance, Execution and Layout study, which was released Wednesday by the global marketing information firm. Audi, BMW, Land Rover and Toyota's Lexus followed Porsche, which like Audi is a unit of Volkswagen AG.
General Motors' Cadillac brand, which finished seventh, was the highest ranking U.S. brand. Lincoln, a division of Ford Motor Co, came in ninth.
The influential survey asks more than 83,000 drivers to rate the experience of owning and driving a vehicle during the first 90 days after they bought or leased it. The responses were gathered between February and May, 2013.
Ram, Chrysler LLC's truck division, was the highest-rated non-luxury brand.
The Land Rover Range Rover was the top scoring vehicle in the entire survey, based on 77 different attributes which measure how satisfied drivers are with their vehicle. This year is the first time a large premium car didn't claim the survey's top spot.
Volkswagen AG had the most segment winners with five vehicles from all its brands receiving high marks. Chevrolet had the highest number of segment award winners for any brand with three — Avalanche, Sonic and Volt.
Daimler AG's Smart unit was the lowest-ranked brand in the survey. Toyota, Jeep, Subaru and Mitsubishi were also in the bottom five.
REPOSTED BY MIDWEST GLASS TINTERS FROM:  REUTERS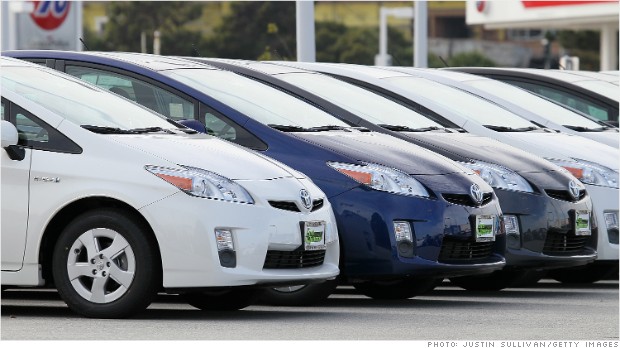 Yesterday it was a Ford recall, and today it's Toyota.
Toyota is recalling nearly a quarter of a million vehicles because of a braking problem.
The Japanese automaker said Wednesday the global recall would affect 242,000 Prius and Lexus hybrid cars made between March and October 2009.  Toyota (TM) said it had received more than 90 complaints from drivers who said they needed to step more heavily on the brake pedal than they were used to.  A spokeswoman said a flaw was allowing nitrogen gas to leak into the brake fluid, reducing the effectiveness of the brakes.  There were no reports of accidents or injuries, she said.  Most of the cars affected are in Japan, where 117,000 vehicles are being recalled, followed by 91,000 in North America, 30,000 in Europe and smaller numbers in other markets.
Toyota Motor Sales, U.S.A., Inc., said it would inspect the brake booster pump assembly on recalled Prius and Lexus HS 250h vehicles and replace it if necessary.  Toyota has been struggling to repair its reputation for reliability and safety after a series of recalls affecting millions of vehicles in recent years.
In April, Toyota said it was recalling 1.7 million cars around the world, including some popular Corolla, Matrix and Tundra models, due to problems with airbags.
Last October, the world's biggest automaker recalled over 7 million cars because of a power window problem that posed a fire risk.
REPOSTED BY MIDWEST GLASS TINTERS FROM: http://money.cnn.com/2013/06/05/news/toyota-recall/index.html?hpt=hp_t3
Self-driving cars are quickly becoming a reality.
Companies like Audi and Lexus are beginning to integrate autonomous operation into their own cars using advanced computer systems, cameras, radars, and sensors that take control of vehicles at highway speeds.
Take for example Audi's new A7 four-door sedan. It's equipped with a range of sensors that allow the car to pilot itself. But this isn't the same type of autonomous driving that Google's cars can achieve.
New York Times reporter, John Markoff wrote about his experience piloting the Audi A7 last month in Jerusalem. He spoke with Mobileye Vision Technologies, the company that designs the camera-only autonomous system for Audi.
Markoff explains:
The Mobileye car does not offer the autonomy achieved by Google's engineers. The Google car, which has been tested for more than 300,000 miles in California traffic, will merge onto freeways, drive safely through intersections, make left and right turns, and pass slower vehicles.
The Mobileye can only drive in a single lane at freeway speeds and is able to stop, slow, and then go back to highway speeds.
Instead of being compared to Google's self-driving technology, Mobileye wants to prove that autonomous driving can be commercialized. But this feat isn't easy to achieve.
Markoff discovered that Google's technology is actually the future of driving. Once it's perfected   the car will be able to drive itself in any situation, including merging in and out of traffic.
Mobileye's technology is complementing expensive cars as a way to justify at $70,000 price tag. Mobileye is more commercial and less intense than Google's self-driving car.
Google usually gets all the attention for its self-driving car initiative, and for good reason. The search giant's autonomous cars are at the forefront of the self-driving car craze.  Google has more advanced technology, more sensors, and more cameras that give the driver a full view of what's going on around each section of the car.
REPOSTED BY  MIDWEST GLASS TINTERS FROM: http://finance.yahoo.com/news/riding-self-driving-supercharged-audi-153637891.html
With the release of our Tesla Model S road test, there have been many questions regarding what other models stand out. Here, we present the current class valedictorians, those cars that have faced our more than 50 tests and managed to earn an A.
Sure, the Tesla Model S may be our newly named prom queen, but there are a dozen other current cars that have scored 90 points or above on a 100-point scale. The most significant takeaway here is the diversity, where we're seeing family sedans, sports coupes, and luxury sedans stand out with impressive overall scores. It is clear, that it isn't necessary to spend $90,000, like we did on our Tesla, to get a great car. It just takes a few minutes of research and your own test drives.
| | | |
| --- | --- | --- |
| Make & model | Price as tested | Overall test score |
| Tesla Model S (base, 85 kWh) | $89,650 | 99 |
| BMW 135i | $37,650 | 97 |
| Infiniti G37 (sedan) | $37,225 | 95 |
| Toyota Camry Hybrid XLE | $29,052 | 93 |
| Audi A6 (3.0T) | $56,295 | 93 |
| Infiniti M37 | $53,825 | 93 |
| Lexus LS 460L | $79,354 | 92 |
| Chevrolet Corvette Z06 | $64,890 | 92 |
| Hyundai Genesis 3.8 (sedan) | $39,850 | 92 |
| Toyota Camry XLE (V6) | $32,603 | 92 |
| Audi A8 L | $91,275 | 91 |
| Honda Accord LX (4-cyl.) | $23,270 | 90 |
| Honda Accord EX-L (V6) | $30,860 | 90 |
REPOSTED BY MIDWEST GLASS TINTERS FROM: http://autos.yahoo.com/news/consumer-reports-names-its-top-scoring-cars-222313172.html
Consumer Reports is calling the Tesla Model S the best car it has ever tested. The Model S, an all-electric plug-in car, earned a score of 99 out of a possible 100 in the magazine's tests.
The score would have been higher but for the fact that the all-electric car does need to stop and recharge during extremely long-distance drives.  "If it could recharge in any gas station in three minutes, this car would score about 110," said Jake Fisher, head of auto testing for Consumer Reports. Fisher called the car's performance in the magazine's performance tests "off the charts."  Depending on price, the Model S has driving range of between 208 and 265 miles. A full charge takes about six hours from an ordinary 240 volt outlet, according to Tesla.
The Model S has already won awards from car magazines like Motor Trend and Automobile, but Consumer Reports is widely regarded as being the most influential magazine among car shoppers. Consumer Reports, published by the non-profit group Consumer's Union, purchases all the cars it tests and does not accept paid ads.
The score of 99 means the Tesla (TSLA) Model S, a sedan that can seat as many as seven people, performed as well or better than any automobile the magazine has ever tested. The score is not unprecedented — most recently, it was earned by the Lexus LS460 in 2009 – but no car at any price has ever scored higher.  Prices for the Model S start at about $70,000, not including federal and state tax incentives for electric cars.
The Model S tied for the quietest vehicle the magazine has ever tested, was among the most energy-efficient and had excellent scores for acceleration, braking and ride quality.  "We don't get all excited about many vehicles, and with this car we really did," Fisher said.  The magazine's raves for the Model S stand in sharp contrast to the treatment received by the competing Fisker Karma that the magazine pilloried, calling it "plagued with flaws."Fisker is now in dire financial trouble.
On other hand, Tesla just announced its first profit and raised sales forecasts for the Model S.
Industry analysts have credited the quality of the Model S, in part, with Tesla's early success in an industry that has not been kind to start-ups. Just recently electric car maker Coda Automotive went under and plug-in car maker Fisker is near its demise. Tesla, meanwhile, is financially healthy thanks to good sales of the Model S plus deals it's reached to supply components to major automakers like Toyota and Daimler as well as sales of electric car credits, earned under California regulations, to other automakers that sell fewer electric cars.  Tesla had previously stated a goal of selling 20,000 Model S cars this year and has now raised that goal.
The question remains whether the car will continue to sell well in the long term, said Todd Turner, an industry analyst with Car Concepts in California. A lot of that will depend on the longer-term dependability of its battery technology, he said.  "All kinds of cars have complexities," he said. "Everything has to work for a very long period of time."
Consumer Reports isn't recommending the Model S, though. At least not yet. To be recommended, a car has to have at least average "predicted reliability," something that's based on reader surveys. Also, a car has to have good crash test scores from the government and from the privately funded Insurance Institute for Highway Safety. Consumer Reports has not yet collected enough data to rule on the Model S's reliability.  So far, the magazine itself has had a couple of minor issues with its test car, Fisher said, including a radio problem that was fixed by an overnight over-the-air software download and a cracked windshield.
To maintain its momentum, Tesla will need to move beyond this car, said Ed Kim, an analyst with the auto marketing consulting firm AutoPacific.  "Ultimately, Tesla's going to have to transition from building six-figure cars for bleeding-edge early adopters to making a car for a more general audience," Kim said.
Tesla's next vehicle is supposed to be the Tesla Model X crossover SUV but, after that, the company's plans call for a less expensive car and, possibly, other products.
REPOSTED BY MIDWEST GLASS TINTERS FROM: http://money.cnn.com/2013/05/09/autos/tesla-model-s-consumer-reports/index.html?hpt=hp_t3
Throughout automotive history, the one component found on nearly all mass-produced cars that has remained constant is the wheel. Naturally it's been greatly improved upon — from the wood-spoked, iron-laden wagon wheels that graced the first motorized carriages to the pneumatic tires that we have today — but overall (and relative to all the other bits found on modern cars) the wheel has gone under little transformation.
However, a partnership between Ford (NYSE:F) and German engineering firm Schaeffler has debuted a creation that rethinks how the wheel operates, and interacts with the vehicle it's mounted on.  The two companies have debuted the new technology on the Ford Fiesta, which from the outside looks more or less completely ordinary. However, the unsuspecting observers don't realize that the back two wheels contain electric motors — literally, inside the wheel hub.
The new layout is aimed to free up space under the hood, where, in a conventional EV, one would find the central motor (in a standard gasoline-powered car, this would be the engine and transmission). By putting the power source inside the wheel itself, it frees up room for storage, or more important, for people. The extra space could also provide more crumple zones, which are quite handy in the event of an accident.Dubbed the eWheelDrive, all the components required for motion and reduction thereof — drive, deceleration, driver assistance technologies — are contained fully inside the wheel. That includes the electric motor, the brakes, and the necessary apparatus for cooling it all off. 
Speculatively, the space-saving nature of eWheelDrive could find home in small, compact cars for city dwellers, where the smallest amount of space saved can make a big difference. Additionally, for those who hate parallel parking, the eWheelDrive could help there, too — if steering systems were able to evolve to accommodate the eWheelDrive, cars could conceivably rotate the wheels sideways and pull into a spot without all the turning and blind spots that traditionally grace the parallel parking experience.  Numerous technological breakthroughs (at least near-breakthroughs) have found their way to the auto industry.  Recently, Toyota's (NYSE:TM) Lexus line pioneered a radar-assisted self-parking mechanism that will parallel the car for the driver with virtually no effort.
Largely, these inventions have been made to ease issues normally associated with city life. Among the many dangers of driving in urban settings, the chance of hitting a pedestrian is a big one. It seems Volvo  has that covered with its car's ability to calculate trajectories.  Using similar radar technologies as Lexus, the car will supposedly stop immediately if presented with a danger.
Where Ford's new tech will lead is anyone's guess, but it's an indication that engineers will do everything they can — including reinventing the wheel — to usurp as much potential from technology as possible.
REPOSTED BY MIDWEST GLASS TINTERS FROM:  http://wallstcheatsheet.com/stocks/ford-revs-up-car-making-with-this-company.html/?ref=YF
Negotiating your way to a great deal on a new car is a good start toward saving money, but it you don't consider the long-term ownership costs, over time you may sped a lot more than you think you will.  Kiplinger's asked Vincentric, an automotive-data firm, for the 2013 models in four categories with the lowest five-year ownership costs. The numbers include fuel (assuming 15,000 miles a year), insurance, maintenance and repairs, and taxes.  They also include financing the vehicle with a five-year loan, the opportunity cost of not investing your out-of-pocket expenses elsewhere, and depreciation. (The calculations assume you will sell the vehicle after five years.) In each category, we note the cheapest vehicle overall as well as the one that we think represents the best value, based on our annual rankings. Each vehicle named is a Top Safety Pick of the Insurance Institute for Highway Safety.
Compact cars. The Nissan Versa S (with a sticker price of $12,780) is the cheapest car sold in the U.S. That goes a long way toward lowering the overall ownership costs because you'll pay less in interest and taxes. Plus, it gets 36 miles per gallon on the highway. Total ownership cost over five years: $27,405.  But we think the Kia Forte LX ($16,175) is a better value. Its 2.0-liter engine puts out 156 horsepower (compared with 109 hp for the Versa's engine) and delivers 34 mpg on the highway. Its interior and cargo space are competitive with larger cars, and the Forte's standard features include USB and Bluetooth. Five-year cost: $29,769.
Family sedans. The midsize car with the lowest ownership costs is Nissan's Altima Base ($22,550). It beats compact-car fuel economy, getting 38 mpg on the highway, and it received a Top Safety Pick + award for passing the new test that simulates a crash into a tree or telephone pole. Over five years, the Altima's ownership costs total $34,404.  The redesigned Ford Fusion S ($22,495) is our midsize value pick. It has killer new style, offers generous passenger and cargo space, and is great to drive. That helped the Fusion garner our Best New Car award in our $20,000-to-$25,000 category. It gets a Top Safety Pick + designation and features eight airbags (versus six for the Altima). Ford's voice-activated SYNC infotainment system comes standard. The standard 2.5-liter engine delivers 170 hp and 34 mpg on the highway. Over five years, ownership costs for the Fusion S are $37,005.
Luxury sedans. The Buick Regal 2.4L ($29,910) slides into the cheapest slot for luxury sedans. Standard eAssist technology (think hybrid lite) helps keep fuel economy up (31 mpg highway) and costs down. We rated it Worth a Look in our rankings. Its five-year cost is $43,493.
Our value pick, the all-new Lexus ES 300h ($39,745), is $10,000 more than the Regal but costs only about $3,500 more to own for five years ($46,976). Combined city and highway fuel economy is 40 mpg, and maintenance costs are reasonable. The 300h puts out 200 hp and has ten airbags.
Family crossovers. Once again, the Dodge Journey SE ($19,990) is the cheapest midsize crossover. But you'll pay extra for options other brands include as standard equipment, such as Bluetooth and a power driver's seat. Total five-year cost without options: $37,849.  The better-equipped Toyota Highlander Plus ($31,170) is our value pick, despite its $11,000 higher sticker price. In addition to a comfortable ride for seven, the Highlander's standard features include a backup camera, Bluetooth, a power driver's seat, seven airbags (same as the Journey), and one-touch, fold-flat levers for the second row. Over five years, you'll pay $42,232.
REPOSTED BY MIDWEST GLASS TINTERS FROM: http://www.kiplinger.com/article/cars/T009-C004-S002-cheapest-cars-to-own-2013.html#ljIB6H80utHC4E1L.99
Cars that alert you to lurking dangers and cars drive themselves were among some of the latest advances that automakers unveiled at the 2013 International Consumer Electronics Show on Tuesday.  These advances aim to turn the car into more of a super-smart moving computer than an engine on wheels. The accident-averting and driverless vehicles won't be market-ready for years. But Audi said Tuesday it began testing its auto-piloted car on the highways of Nevada this week — following Google, which began similar testing last year.
The real possibility exists that  most cars of the next decade will bring down collision rates and offer diversions during long commutes. Cars will recognize owners through biometric data and keep out thieves. And they will park themselves in the most challenging spaces with no one inside.
Audi's cameras sound alarms if a driver falls asleep on auto­pilot mode. It warns occupants from blocking the windshield with an open newspaper.  "We think driving should be an enjoyable experience, and we want to take out those experiences that have become joyless, like traffic jams," said Bjorn Giesler, a development officer in Audi's piloted driving division.
So far, Audi's driverless cars can only be used during traffic congestion and parking. With the press of a button on the steering wheel, the car switches to auto­pilot mode. And it can go back to manual driving by pressing the button again.  The car will be introduced "within the decade," Giesler said, adding that the German carmaker hopes to make a completely driverless vehicle in the future.  Audi is working to gain testing licenses in three other states.  The driverless-control and safety devices integrate a bevvy of new technologies that are improvements on recent innovations. Side and rear cameras detect whether a pedestrian is walking toward the car or away.  Several high-definition cameras embedded throughout the body provide a 360-degree view of the surroundings. Infrared cameras can distinguish whether a faraway object is human.
On Tuesday, Toyota showcased its Active Safety Research Vehicle, a Lexus LS Sedan covered with scaffolding holding large cameras, radars and sensors. Tested at research facilities in Ann Arbor, Mich., and in Fuji, Japan, the car synthesizes reams of data from those machines to automatically make turns, slow or speed up.  Toyota said it isn't focused on building a driverless car, as Google and Audi are, but on relieving drivers of some of the burden of being behind the wheel.  "A driverless car is just a part of the story," says Jim Pisz, corporate manager of business strategy for Toyota's North American operations.  "Our cars are intelligent, co-piloted vehicles that create a safer driving experience."
READ MORE:   http://www.washingtonpost.com/business/technology/driverless-cars-and-heightened-road-safety-technology-unveiled-at-las-vegas-tech-show/2013/01/08/4b8145c2-59cf-11e2-88d0-c4cf65c3ad15_story.html