REPOSTED BY MIDWEST GLASS TINTERS FROM:   FORBES
This week the New York International Auto Show opens with a series of high-profile global vehicle debuts. As the competitive energy within the auto industry escalates every carmaker is being pushed to produce models with more compelling design, cutting-edge technology, superior performance and improved fuel efficiency. And while the New York auto show has always provided a first glimpse at a few key cars and trucks, this year's show has more crucial global debuts than I've seen in my 20 years in the industry. That's great news, not only for the show itself but for consumers and car enthusiasts looking for one last hurrah in the traditional auto show calendar (the New York auto show is always the last big show until fall). Normally I'd have to struggle to list 10 big deal world debuts in the Big Apple AAPL -0.97%, but the 2015 New York International Auto is bursting with all-new, never-before-seen cars that will play critical roles in each brand's upcoming product plan. This will be a high-level look at each vehicle. You can see more details and breaking news from the show floor all week at Kelley Blue Book.
1. Lincoln Continental Concept: The attractive styling and advanced features seen on Lincoln's new Continental concept are almost overshadowed by the car's name — it's not an acronym! It's encouraging to see Lincoln embrace its rich history with a sleek luxury sedan wearing an iconic badge. Convincing serious — and notoriously elitist — luxury buyers that Lincoln is a genuine player in the premium market will be a long road, but a car like the Lincoln Continental Concept will shorten the journey if it materializes as a production model with the same flare seen on the show stand. Given Lincoln's recent launch in China a car like the Continental, with its premium interior and first-class rear seating, is a smart step toward bolstering the brand's global appeal.
2. 2016 Chevrolet Malibu: After struggling to establish the current Malibu in the ultra-competitive midsize sedan category Chevrolet is set to make a splash with its all-new 2016 version. The sleek shape wraps around an all-new interior while featuring a long list of high-tech features. Parents will be able to monitor their children's driving behavior, and a new hybrid model will offer class-leading fuel efficiency of at least 45 mpg.  Looks like Chevrolet will finally give the segment leaders in this category something to worry about.
3. 2016 Cadillac CT6: It's been too long since Cadillac offered a competitive, top-tier luxury sedan, which means the CT6 can't arrive soon enough. As the brand continues to rebuild its image a worthy competitor to iconic models like the BMW 7 Series and Mercedes-Benz S-Class will go a long way toward establishing Cadillac's premium pedigree. I'm not sold on the latest naming convention, as I feel it will lead to more confusion than the existing nomenclature, but if the CT6 provides a powerful blend of advanced luxury features and capable performance the name won't hold it back.
4. Honda Civic: Honda's next Civic will re-establish it as a fun-to-drive car offering high-tech drivetrain choices and advanced technology. The Civic established Honda as a viable Japanese automaker in the U.S., but recent versions haven't lived up to its iconic status. The 2016 Civic should correct that trajectory, offering styling and performance that will stand out in the crowded compact car segment. It's rumored a wide range of Civic body styles will be offered on this all-new platform, and if they all look as good in the showroom as Honda's concept looked on stage the Civic should repeat the original model's success with a new generation of young buyers.
5. 2016 Lexus RX: The RX has been Lexus' most successful model since it was introduced nearly 20 years ago. This means the brand has to balance bringing in new customers without alienating the existing fan base when redesigning the RX. This new version offers a more aggressive look than past models, reflecting Akio Toyoda's mantra to increase his products' emotional appeal while maintaining their high quality and refinement. Did the designers go too far with this one? We'll know soon enough, but the latest RX will surely maintain its balance of luxury, technology and functionality, which will overcome any potential styling quirks in the eyes of traditional Lexus customers.
6. 2016 Scion iA and iM: Toyota's Scion division has never delivered the kind of consistent, high-volume traffic its parent company, Toyota, wanted when it introduced the "youth brand" back in 2002. A combination of funky styling and low-cost materials, both designed to appeal to young buyers, seemed to turn away as many shoppers as it pulled in. With two all-new models debuting in New York Toyota is clearly refusing to admit defeat. The sedan, which sits on the Mazda 2 platform, offers styling that suggests Scion has finally found the right balance between low cost and "cheap." However, while the new sedan and hatch look fine there's still no SUV in the line-up, and in today's world that's an undeniable handicap for any brand trying to grow volume.
7. 2016 Jaguar XF: Jaguar caused quite a stir when the new F-Type debuted last year, yet it needs to refresh the rest of its line-up if it wants to increase sales and stay competitive in the luxury market. The new XF retains much of the previous car's look, but a lighter, stronger chassis and improvements in drivetrain and suspension technology, along with a more advanced driver interface, will enhance the XF's performance and appeal. Jaguar's upcoming SUV will truly expand the brand's customer base when it debuts next year. Until then the updated XF will give luxury sedan shoppers a compelling reason to consider the brand.
8. 2016 Toyota RAV4 Hybrid: The market for hybrid vehicles remains a tiny niche, and as fuel prices faltered in 2014 so did the market for hybrids. Toyota itself has shown increased dedication to fuel cell technology and is planning to introduce a consumer-ready fuel cell car next year. But hybrids remain a key component of the automaker's near-term plan, and an all-new RAV4 Hybrid will debut in New York. The compact SUV segment is the hottest slice of the U.S. market right now, which means a RAV4 Hybrid, all by itself, could significantly increase total hybrid sales.
9. 2016 Kia Optima: Kia's efforts to inject visual appeal across its model line have paid off in recent years. The current Optima is considered one of the best looking cars in the midsize sedan category, which puts pressure on Kia's design team to improve an already attractive model. Thankfully they succeeded with the latest Optima, keeping the same sleek profile while enhancing details to further elevate its on-road presence. The Optima's sales volume hasn't yet approached segment leaders, but it's visual appeal continues to bring in new customers, consistently moving that number in the right direction.
10. 2016 Nissan Maxima: The large (non-premium) sedan category isn't dead…yet, though sales over the last decade confirm it's fading fast. The reason why is easy to explain: why would anyone spend more for a sedan that's only slightly larger than today's midsize family sedans (Accord, Altima, Camry, etc.) when those sedans offer not only comparable interior volume but also the same degree of premium features? For example, the distance between an Altima and Maxima has all but vanished, though fans of the original "four-door sports car" can take heart that Nissan hasn't surrendered. At one time the Maxima owned the large sedan category, and an all-new one will appear in New York to defend what's left of its turf.
TO LEARN MORE ABOUT THE BENEFITS OF CAR WINDOW TINTING, ANSWERS TO FREQUENTLY ASKED QUESTIONS , MORE INFORMATION ABOUT AUTO GLASS TINTING IN CHICAGO, OR FOR A CAR TINTING QUOTE, CONTACT MIDWEST GLASS TINTERS 
REPOSTED BY MIDWEST GLASS TINTERS FROM:  YAHOO AUTOS
More than 30,000 people a year still die on American roads, and while that toll has been steadily declining for a decade, it still represents a massive, unending tragedy. Around the world, those figures are climbing, as more people spend more time behind the wheel. Nothing drives advocates of tech such as driverless cars like the potential for sharply reducing the cost in human lives of driving.
Last week came a piece of good news in that fight: We are closer than we thought to cars that could prevent all their drivers from dying in a wreck. The bad news? There's still decades of work ahead.
The Insurance Institute for Highway Safety, the research arm of the nation's auto insurance companies, studied driver deaths between 2009 and 2012 for mass-market vehicles. (It did not examine passenger deaths due to unreliable data.) Overall, it found that new models with newer technology, especially stability control, had cut the overall death rate in vehicles by a third in the three years since it had last run the numbers. Had vehicle tech been frozen at 1985 levels, the IIHS estimates by 2012 an additional 7,700 people would have died in crashes.
| | | | | |
| --- | --- | --- | --- | --- |
| Vehicle | Deaths per million registered vehicle years | Multi-vehicle crashes | Single-vehicle crashes | Rollovers |
| Audi A4 4WD | 0 | 0 | 0 | 0 |
| Honda Odyssey | 0 | 0 | 0 | 0 |
| Kia Sorento 2WD | 0 | 0 | 0 | 0 |
| Lexus RX 350 4WD | 0 | 0 | 0 | 0 |
| Mercedes-Benz GL-Class 4WD | 0 | 0 | 0 | 0 |
| Subaru Legacy 4WD | 0 | 0 | 0 | 0 |
| Toyota Highlander hybrid 4WD | 0 | 0 | 0 | 0 |
| Toyota Sequoia 4WD | 0 | 0 | 0 | 0 |
| Volvo XC90 4WD | 0 | 0 | 0 | 0 |
| Honda Pilot 4WD | 2 | 0 | 2 | 0 |
| Mercedes-Benz M-Class 4WD | 3 | 3 | 0 | 0 |
| Ford Crown Victoria | 4 | 4 | 0 | 0 |
| GMC Yukon 4WD | 4 | 0 | 4 | 0 |
| Acura TL 2WD | 5 | 5 | 0 | 0 |
| Chevrolet Equinox 2WD | 5 | 3 | 2 | 0 |
| Chevrolet Equinox 4WD | 5 | 5 | 0 | 0 |
| Ford Expedition 4WD | 5 | 5 | 0 | 0 |
| Ford Flex 2WD | 5 | 0 | 5 | 0 |
| Mazda CX-9 4WD | 5 | 0 | 5 | 5 |
The IIHS calculates its death rate per years registered of a particular model; the industry average is 28 deaths per one million registered years for 2011 models in 2012; in 2008, the rate was 48. When it dug deeper, the IIHS found nine 2011 models that had no recorded deaths of drivers — the first time the group had found any such vehicles. Six of them were SUVs; overall, SUVs had the lowest death rates of any vehicle type, mostly due to the mandate of electronic stability controls and the physics of larger vehicles offering more protection from the forces of a crash than smaller ones. (Compared to 2004 models, SUVs from the 2011 model-year on have a rollover rate that's 75 percent less.)
But the IIHS also gave out a warning that the gap betwen the best and the worst cars at preventing fatal crashes had widened. The rates in the IIHS study are corrected for demographics (young drivers who typically buy smaller vehicles tend to crash more frequently) but even after that adjustment, small cars dominate the most lethal list:
| | | | | |
| --- | --- | --- | --- | --- |
| Vehicle | Deaths per million registered vehicle years | Multi-vehicle crashes | Single-vehicle crashes | Rollovers |
| Kia Rio | 149 | 96 | 54 | 15 |
| Nissan Versa sedan | 130 | 44 | 87 | 51 |
| Hyundai Accent | 120 | 65 | 53 | 16 |
| Chevrolet Aveo | 99 | 65 | 31 | 10 |
| Hyundai Accent | 86 | 43 | 48 | 20 |
| Chevrolet Camaro coupe | 80 | 19 | 60 | 25 |
| Chevrolet Silverado 1500 Crew 4WD | 79 | 40 | 36 | 17 |
| Honda Civic | 76 | 46 | 29 | 10 |
| Nissan Versa hatchback | 71 | 37 | 33 | 20 |
| Ford Focus | 70 | 55 | 13 | 5 |
| Nissan Cube | 66 | 38 | 29 | 6 |
| Chevrolet HHR | 61 | 34 | 25 | 9 |
| Chevrolet Suburban 1500 2WD | 60 | 31 | 28 | 9 |
| Chevrolet Aveo | 58 | 58 | 0 | 0 |
| Mercury Grand Marquis | 57 | 33 | 25 | 0 |
| Jeep Patriot 2WD | 57 | 44 | 9 | 3 |
| Mazda 6 | 54 | 34 | 17 | 3 |
| Dodge Nitro 2WD | 51 | 7 | 50 | 40 |
| Honda Civic | 49 | 28 | 21 | 8 |
"The complete elimination of traffic deaths is still many decades away, and, along with vehicle improvements, getting there will require changes in road design and public policy that can help protect all road users," said David Zuby, IIHS executive vice president and chief research officer."Still, the rise in the number of vehicles with zero driver deaths shows what's possible."
The newest vehicles have gone well beyond stability control to include tricks like automatic emergency braking and radar-based cruise control to slow down the vehicle automatically in traffic. The safety benefits of those technologies have not yet been fully measured, but their real benefit may not become visible until they're available outside luxury models — especially the small cars that still pose the greatest risk.
TO LEARN MORE ABOUT THE BENEFITS OF CAR WINDOW TINTING, ANSWERS TO FREQUENTLY ASKED QUESTIONS , MORE INFORMATION ABOUT AUTO GLASS TINTING IN CHICAGO, OR FOR A CAR TINTING QUOTE, CONTACT MIDWEST GLASS TINTERS 
 (847) 452-4818 or info@midwestglasstinters.net
REPOSTED BY MIDWEST GLASS TINTERS FROM:   CBS NEWS
DETROIT - Toyota is recalling nearly 423,000 Lexus luxury brand cars in the U.S. to fix fuel leaks that can potentially cause fires.
The recalls affect the 2006 to 2011 GS, 2007 to 2010 LS and the 2006 to 2011 IS models.
Toyota says that the cars' fuel lines have nickel phosphate plating to protect against corrosion. Some lines could have been built with particles coming in contact with a gasket. That can cause the sealing property to deteriorate and trigger fuel leaks.
Toyota says it's not aware of any fires or injuries caused by the problem.
The company first began looking into the matter in June of 2010 after getting a report of gasoline odor coming from a customer's engine compartment, according to documents posted Friday by the National Highway Traffic Safety Administration. Toyota investigated, but didn't find the cause until this year, the documents said. It decided to do the recall in October.
The company and dealers received six reports from the field and 238 warranty claims about the problem.
Dealers will repair the gasket seating surface at no cost to owners.
Some of the Lexuses were recalled in 2009 to fix leaks in aluminum fuel pipes.
* * * * *
TO LEARN MORE ABOUT THE BENEFITS OF CAR WINDOW TINTING, ANSWERS TO FREQUENTLY ASKED QUESTIONS , MORE INFORMATION ABOUT AUTO GLASS TINTING IN CHICAGO, OR FOR A CAR TINTING QUOTE, CONTACT MIDWEST GLASS TINTERS 
 (847) 452-4818 or info@midwestglasstinters.net
The National Highway Traffic Safety Administration has expanded the number of vehicles and manufacturers covered by a warning about air bags. Ten automakers and almost 8 million vehicles are covered.
The agency is urging owners to get air bags repaired due to the potential danger to drivers and passengers. NHTSA says inflator mechanisms in the air bags made by Takata Corp. can rupture, causing metal fragments to fly out when the bags are deployed.
On Monday the agency included 4.7 million vehicles on a list. But Wednesday it added multiple models and removed about 133,000 older General Motors cars that were put on the list by mistake. NHTSA says the number of vehicles could still change because some may have been double-counted.
The agency is urging people in high-humidity areas such as Florida, Puerto Rico, Guam, Saipan, American Samoa, the U.S. Virgin Islands, Hawaii and "limited areas near the Gulf of Mexico in Texas, Alabama, Mississippi, Georgia and Louisiana" to get their cars repaired quickly.
The safety agency urges owners to use their vehicle identification number on manufacturer sites to see if vehicles are have been recalled by the manufacturer.
Here's the latest list of models:
BMW:
Total affected: 627,615
Models: 2000 to 2005 3 Series Sedan, 2000 to 2006 3 Series Coupe, 2000 to 2005 3 Series Sports Wagon, 2000 to 2006 3 Series Convertible, 2001 to 2006 M3 Coupe and M3 Convertible.
Chrysler:
Total affected: 371,309.
Models: 2003 to 2008 Ram 1500, 2005 to 2008 Ram 2500, 2006 to 2008 Ram 3500 and 4500, 2008 Ram 5500, 2005 to 2008 Dodge Durango, Dodge Dakota, and Chrysler 300; 2007 to 2008 Chrysler Aspen.
Ford:
Total affected: 58,669 (Field service campaign)
Models: 2004 Ranger, 2005 and 2006 GT, 2005 to 2007 Mustang.
General Motors:
Total affected: About 10,000
Models: 2003 to 2005 Pontiac Vibe made by Toyota, 2005 Saab 9-2X made by Subaru.
Honda:
Total affected: 5,051,364
Models: 2001 to 2007 Accord, 2001 to 2005 Civic, 2002 to 2006 CR-V, 2003 to 2011 Element, 2002 to 2004 Odyssey, 2003 to 2007 Pilot, 2006 Ridgeline, 2003 to 2006 Acura MDX, 2002 to 2003 Acura TL/CL, 2005 Acura RL.
Mazda:
Total affected: 64,872
Models: 2003 to 2007 Mazda6, 2006 to 2007 MazdaSpeed6, 2004 to 2008 RX-8, 2004 to 2005 MPV, 2004 B-Series Truck.
Mitsubishi:
Total affected: 11,985
Models: 2004 to 2005 Lancer, 2006 to 2007 Raider.
Nissan:
Total affected: 694,626
Models: 2001 to 2003 Maxima, 2001 to 2004 Pathfinder, 2002 to 2004 Sentra, 2001 to 2004 Infiniti I30/I35, 2002 to 2003 Infiniti QX4, 2003 to 2005 Infiniti FX35/FX45.
Subaru:
Total affected: 17,516
Models: 2003 to 2005 Baja, 2003 to 2005 Legacy, 2003 to 2005 Outback, 2004 to 2005 Impreza.
Toyota:
Total affected: 877,000
Models: 2002 to 2005 Toyota Corolla, 2003 to 2005 Matrix, 2002 to 2005 Sequoia, 2003 to 2005 Tundra, 2002 to 2005 Lexus SC.
Source: National Highway Traffic Safety Administration, automakers.
TO LEARN MORE ABOUT THE BENEFITS OF CAR WINDOW TINTING, ANSWERS TO FREQUENTLY ASKED QUESTIONS , MORE INFORMATION ABOUT AUTO GLASS TINTING IN CHICAGO, OR FOR A CAR TINTING QUOTE, CONTACT MIDWEST GLASS TINTERS 
 (847) 452-4818 or info@midwestglasstinters.net
REPOSTED BY  MIDWEST GLASS TINTERS – AUTO   FROM:  THE HUFFINGTON POST
Tesla's much-anticipated somewhat affordable electric car will be called the Model 3.
The electric carmaker hopes to start selling the smaller, cheaper offering by early 2017, CEO Elon Musk said in an interview published late Tuesday night by British car magazine Auto Express.
The car will cost around $35,000, about half as much as its top-rated Model S, making the car about as expensive as lower-end Lexus sedans, mid-range Hondas and the Chevrolet Volt.
"I can confirm that the next vehicle Tesla will produce after Model X will be a mass-market electric car known as Model 3," Liz Jarvis-Shean, a Tesla spokesman, told The Huffington Post Wednesday. "We don't have any more details to share at this point."
Auto Express provided HuffPost with mock-up renderings of the car, which Musk said would be unveiled in 2016:
Known for months as the Model E, it became fodder for salacious headlines as the car would have finished off an erotic acronym alongside models S and X. In June, Ford sued Tesla to prevent it from using the name.
"I thought this is crazy, Ford's trying to kill sex," Musk said. "So we'll have to think of another name."
But the company wiggled "SEX" back into the picture.
"The new model is going to be called the Model 3," he added, "We'll have three bars to represent it and it'll be S III X!"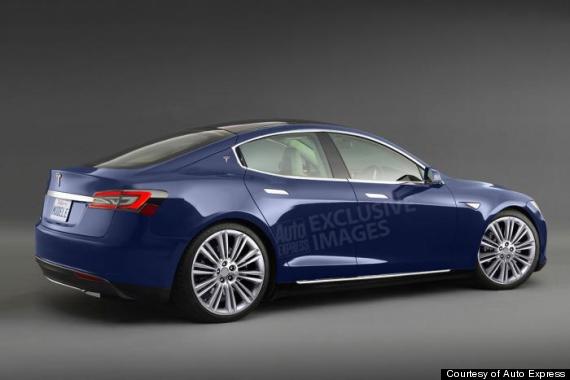 The Model 3 will be Tesla's third generation battery-powered electric car. During a meeting last March with the California Public Utilities Commission, Musk revealed that the car and its battery would be 20 percent smaller and could go 200 miles on a single charge. He said it would be half the price of the $71,000 Model S.
"In order to achieve that, you better reduce the cost of the battery," Musk is seen saying in a video that surfaced on YouTube of the meeting. "Since the car is 20 percent smaller, you've got to get a 50 percent reduction."
Tesla's "gigafactory" should help to cut costs. By 2020, the company expects the battery assembly plant to produce more lithium-ion packs in a year than were created in the entire world last year.
But the car could still get stuck in the Silicon Valley company's pipeline traffic jam.
It's behind the already-delayed Model X, an SUV-crossover, which will go into production next year, a Tesla executive told HuffPost last month. Buyers have already paid about up to $5,000 to reserve the cars.
"We don't like to carry inventory," Diarmuid O'Connell, Tesla's vice president of business development, told HuffPost at the time. "We'll be delivering as soon as we produce."
Until then, the Model 3 — which was supposed to debut in 2015 — is a back-burner priority.
"Our focus continues to be on Model S and preparing for the introduction of Model X," Jarvis-Shean said.
TO LEARN MORE ABOUT THE BENEFITS OF CAR WINDOW TINTING, ANSWERS TO FREQUENTLY ASKED QUESTIONS , MORE INFORMATION ABOUT AUTO GLASS TINTING IN CHICAGO, OR FOR A CAR TINTING QUOTE, CONTACT MIDWEST GLASS TINTERS 
 (847) 452-4818 or info@midwestglasstinters.net
REPOSTED BY MIDWEST GLASS TINTERS FROM:   YAHOO AUTOS/MOTORMIC
My life is cheap cars, and cheap cars are my life, especially those with character. So when I was asked to figure out what new car in today's market is truly the best of the three cheapest new cars available, I decided to focus less on market segments, and more on the long-term qualities of the vehicle.
This presented a unique problem; availability. It took weeks to organize this comparison primarily because nearly every inexpensive vehicle available to the media is an automatic, and typically loaded with every option. I contacted the manufacturers, visited enthusiast forums for the specific models, and talked up dealers in order to find that good, cheap car that is truly worth your pennies.
I also held firm to one important belief: Manual transmissions always sell for less than automatics these days in everything short of all-out sports cars and off-road vehicles. Fewer folks can drive a stick these days, so, if you want to find the best cheap car in today's market, you're gonna have to hit 'em where they ain't.
To figure out which car would be the best deal for a true tightwad, I also made an extreme assumption. I surmised that a typical cheapskate owner will try to keep his or her car for 15 years and 225,000 miles. This sounds a little crazy, but the average car on the road is now nearly 12 years old. The long-term keepers among us who see cars as a rolling spreadsheet will value the gas-sippers mightily, especially if these high-milers have to endure the miseries of a daily commute.
This is what I found:
The Pretender: 2014 Mitsubishi Mirage
The Mitsubishi Mirage is not a bad car. Let me rephrase that. The Mitsubishi Mirage is not thatbad of a car.
The exterior is, as you would expect, a love-it or hate-it affair. Some women thought the Mirage was cheerful and cute. Most men thought the Kiwi Green subcompact looked like something between a frog and an insectozoid. I liked the smallness of the package and, after bestowing the name Kermit to my driving companion, I started driving it throughout the small towns of North Georgia.
The Mirage does have a few strong pluses, the most surprising of which is space. One of my mechanics who is 6-foot-8 was able to sit comfortably in the back seat. I quickly found that the Mirage's tall roofline offered the opportunity to fit a lot of items that larger-sized competition would never be able to swallow.
The Mirage is also a class leader when it comes to fuel economy. The stick-shift has a slightly notchy feel to it, but this could be an advantage – if you are interested in learning to drive a stick, it would be the easiest of the three. Although the Mirage's 1.2-liter, three-cylinder engine, at 72 hp, trails every new model on the road save the Smart, the Mirage is a good fit for customers who never test a vehicle's full capability. Just expect to rev the Mirage's engine a lot more than others.
Unfortunately, the Mirage is also not so much of a car as a generic form of wheeled transportation, like those isles of white boxes that every supermarket once offered in favor of fancy goods with brand names.
The accommodations are scant to the point of weirdness. The higher-end ES model that I sampled offered all sorts of once-exciting "options" such as alloy wheels, traction control and power mirrors. But it didn't have features that were in economy cars 20 years ago, such as a center dome light on the headliner or a center armrest. Everywhere you looked, there was evidence of cost containment, from the one tiny cupholder for the entire rear seat, to roll-down windows that you just had to keep applying varying levels of force to get down.
The engine was also downright terrible on an upward incline. Forget mountains: the Mirage could get beaten up a hill by kudzu. The fourth gear in most other economy cars was replaced by the aural screaming of a third gear trying to help a little engine that barely could.
All that said, city dwellers will have different needs from country folk. If all you truly need is to get from Boring Point A to Boring Point B in the most economical new vehicle possible, the Mirage may truly be your 21st-century Geo Metro. It averaged an impressive 44 miles per gallon during my time with it, and even squeezed out a near-hybrid 50+ miles per gallon while driving through the winding, mostly-flattish roads of small-town America.
Was the Mirage the cheapest? No, and this is why: Its miserly fuel consumption comes at a hidden cost, and that cost is maintenance.
Buried deep within the maintenance schedule is an unfortunate reality that all three-cylinder car owners must endure: valve adjustments. In the Mirage's case, this procedure is recommended roughly every 30,000 miles. The owner's manual asks you to listen for a ticking noise and adjust when needed, "if valve noise increases adjust valve clearance," which is legal shorthand for, "if you don't do it and it breaks, too bad." The cost of this service at the dealership is $299 which, over the course of seven visits, would come to well over $2,000. As a guy who deals with dealers every single day, I don't see any of them not recommending this service. Sorry.
Is the Mirage the cheapest car to own then? It depends on whether you are willing to do your own valve adjustments. At a TrueCar price of $13,345, this entry level Mitsubishi rang up as the second cheapest when it came to purchase price, but it's just not quite there when it comes to real-world, long-term ownership.
The Contender: Nissan Versa S
Loss leaders are both a blessing and a curse in the car business.
The good news is that they help make the lower-end of a market segment more competitive. Whether it is Lexus selling the first LS for only $35,000 back when it first came out in 1989, or Nissan shocking the industry with a Versa that sold for only $9,995 five years ago, these cars often times redefine the expectations of car buyers who are looking for an outstanding deal.
The problem comes with age. Eventually, the prices for these vehicles move up quickly, to the point when they no longer represent the best deal in the marketplace. That's what happened with the Nissan Versa. First off, this car has become so rare where I live that I had to drive a near-new, 5,000-mile unit at Carmax before finally getting my hands on a new one that had just arrived at a new car dealership. Apparently, base Versas are an endangered species these days.
Second, once I was given the keys, it became apparent that the spunky base Versa I drove five years ago has evolved into a very different car. There is a thinness to nearly every physical aspect of the Versa. The hood, the doors, the cheap black interior panels…the cost-cutting and de-contenting of the base model Versa model is stark, to the point where I wondered whether the car would hold up over time. Consumer Reports recently stated that the customer satisfaction rating for the Versa was the lowest in its price class, and after driving the absolute base model, I understood why.
The 1.6-liter, 109-hp engine has an almost guttural sound. And surprisingly, in terms of real-world performance, it offers none of the underpowered, penurious thrust of the 72-horsepower Mirage. You can take on any highway or mountain road with confidence.
Nissan Versa interior
The Versa is also in dire need of more sound-deadening material at highway speeds, and the five-speed stick shift that's coupled with the anemic 1.6 shaves about 10 percent of the fuel efficiency boasted by the more upscale versions (27 city / 36 mpg highway vs. 30 city and 39 highway). A light foot and the Versa's low-rolling resistance tires, which are new for 2014, help negate this difference. The Versa closely matched the Mirage's 44 mpg with a laudable 42 mpg. But the bottom line is that a Versa S makes the trade of pinching pennies up front in exchange for losing more of them as time goes on.
Driving around in the base Versa is almost like riding around in an exoskeleton. All of the outlines of a bigger car are there, and the Versa will definitely help you get there in a far more comfortable manner than the Mirage when it comes to highway driving. However, it just doesn't have any of the upscale touches that would make you want to keep it for the long haul. The audio quality was far worse than the Mirage, the interior carpeting seemed to be painfully thin, and although the amount of interior room is the best in this price class, the inability to fold down the rear seats infringes on the practicality of that design.
In person, the Versa S struck me as the engineering for a marketing idea of "the lowest-priced car in America." It is, but it's not. The Versa starts with an $11,990 MSRP and an $810 destination charge. However, the Nissan dealers in metro Atlanta have some of the highest documentation processing fees in the marketplace and, overall, the cheapest Versa S that I found ended up being $13,018 according to TrueCar.com at Town Center Nissan in Kennesaw, Ga. The Versa is an overall better deal than the Mirage, and is cheaper to own in the long run. But it's not the best deal in the entry level market.
The Cheap Car Winner: 2014 Chevy Sonic
If we were solely to compare apples to apples with comparable sticker prices and features, theChevy Spark would have likely been our final entrant. The sticker price on the base model is only within a few hundred dollars of the Versa, and also within shouting distance of the similarly-equipped Mirage.
However, in the real world of car buying, fashions and marketing budgets often trump value. The new, popular car that is heavily advertised is often sold at little-to-no discount, while vehicles that are in the twilight of their model run become the better, quieter alternative.
This is what we discovered with the Chevy Sonic. The MSRP of just over $16,018 for the sedan version was whittled down to a TrueCar real-world price of $13,648 at Day's Chevrolet in Acworth, Ga., while the hatchback version was available for $14,068 at the same dealership.
At that price point, the Sonic obliterates the competition by nearly every single measure: interior accommodations, features, safety, fun, and material quality. The 1.8-liter, 138-hp engine powering this sub-$15,000 car is the same exact one that's in a loaded $25,000 Chevy Cruze, as is the five-speed gearbox which offers a sporting feel that neither the Versa nor the Mirage can approach.
The interior is adorned in a tasteful two-tone design with surfaces that are eons better than the hard, thin plastics of the competition. You get six speakers instead of four or two, along with a touch-screen radio system surrounded by dual cubbyholes which can hold everything from an iPhone to wallets large and small. Nearly all the features that were missing in the Versa and Mirage, from the small touch of a comfortable armrest to the big difference of a five-star overall safety rating, were pleasingly standard in the Sonic.
There were three areas where the Sonic fell just short of the competition. For one, I recorded a real-world fuel economy number of only 37 mpg for the Sonic. Keep in mind, though, that I have a light foot and live in the ex-urbs. Those with heavier feet and flatter terrain will likely find the Mirage the most forgiving with regard to fuel economy.
Secondly, the GM warranty falls short of Mitsubishi in terms of time (five years vs. ten years for the Mirage) while matching it in terms of mileage at 100,000 miles. The Nissan warranty is for five years / 60,000 miles on the powertrain.
Finally, the Sonic is simply not the cheapest over the course of 15 years and 225,000 miles, either. Which car was? As it turns out, the Versa was the best with a light foot and for those who live in mountainous or hilly area, while the Mirage would be the likely winner for those who do a lot of in-town driving over terrain that is mostly flat. In either scenario, both have a financial advantage over the Sonic which translates into approximately $1 a day.
Is the Sonic worth it? To me, the answer is an emphatic yes, but keep in mind that there are other vehicles out there, such as the Ford Fiesta and the Mazda 2, that offer similar value thanks to those models being in the final year of their model run. The last year for a model tends to offer the highest level of quality, and the most competitive price in today's marketplace.
So if you are looking to get a long-term keeper instead of a car that only looks good on a financial spreadsheet, broaden your horizons a bit, and shop for a car with the right combination of a slightly higher price and a lower level of popularity. Just because you're thrifty with your money doesn't mean you have to drive a bad car.
TO LEARN MORE ABOUT THE BENEFITS OF CAR WINDOW TINTING, ANSWERS TO FREQUENTLY ASKED QUESTIONS , MORE INFORMATION ABOUT AUTO GLASS TINTING IN CHICAGO, OR FOR A CAR TINTING QUOTE, CONTACT MIDWEST GLASS TINTERS 
 (847) 452-4818 or info@midwestglasstinters.net
REPOSTED BY MIDWEST GLASS TINTERS FROM:  FORBES.COM 
At 430 horsepower and with a huge V8 engine, the 2014 Audi R8 will go from 0-60mph in just over four seconds and hit nearly 200 miles per hour. It also gets 11 miles to the gallon in the city–not exactly the ideal model for maximizing range (and beach time!) during a spring weekend away.
But there are a few luxury cars that get exemplary gas mileage. The $39,500 Lexus ES 300h, for instance, gets 40 miles to the gallon in city/highway averaged driving and provides luxurious amenities like leather interiors, bamboo trim and an extended rear seat. It pairs a plush ride with Lexus's most fuel-friendly version to date of the newly revamped midsize sedan.
The same goes for the $32,050 Lexus CT 200h, which gets a whopping 42mph in combined city/highway driving and is the least expensive—and most fuel-efficient—vehicle Lexus offers.
And Cadillac, Detroit's luxury darling, offers a $75,000 ELR plug-in hybrid car that gets 82mpg for its first 37 miles of driving and 33mpg after that. That's not bad considering the brand's big, bad, gas-guzzling image of years past.
"People who buy luxury cars are typically not cash-strapped to begin with, so they may not be particularly concerned with saving money on fuel, but there are other areas of appeal beyond the EPA number–especially with range," says Jack Nerad, the executive market analyst at Kelley Blue Book.
In fact, you might think that well-apportioned, powerful luxury sedans always get worse gas mileage than their more mainstream cousins, but premium automakers like Acura and Lincoln are focusing more than ever on making everything super efficient, super clean, and super lightweight (Exhibit A: carbon fiber everything). They've realized that more often than not, buyers these days who can afford to pick from plenty of options are routinely choosing the most efficient of the lot.
Read on to see other brands on our list of this year's luxury cars with the best gas mileage. You'll be surprised what makes the cut.
Behind the Numbers
The experts at Kelley Blue Book compiled this year's data, which evaluated all 2014 model-year vehicles that promise a combined city/highway rate of 35 mpg or more. Hybrids and plug-ins, diesels, pure electric vehicles and even some gas-only entries made the cut.
The diversity is a good thing, Nerad says, as long as it's managed well.
"More choices sometimes make the choice difficult–but that's a good problem to have," he says.
Still, there is much room for growth when it comes to efficiency, since most of the vehicles in the luxury segment fall woefully behind the ones enumerated here in terms of efficiency. Engine size, vehicle weight and aerodynamics all affect how many miles a car or truck will suck from its tank, and those factors are largely driven by market demands rather than environmental altruism. (One interesting note pertaining to expensive cars: Drag is the dominant player in efficiency on long straight roads like Interstates, and vehicle length has a huge effect on drag, and shorter cars have more drag than longer ones, so in some cases a big luxury car – which can better approximate the aerodynamically superior teardrop shape than a tiny econo-box – might get superior highway efficiency to a smaller one.)
Elon Musk, the founder of Tesla Motors TSLA +2.65%, has led the charge in improving efficiency by creating a 100-percent electric luxury sedan, the Model S, for a competitive price, and his similarly-fueled Model X SUV is due out later this year.
The South African billionaire said when he founded the company that it's up to automakers to push for sustainably fueled and efficient cars.
"The overarching purpose of Tesla Motors (and the reason I am funding the company) is to help expedite the move from a mine-and-burn hydrocarbon economy towards a solar electric economy, which I believe to be the primary, but not exclusive, sustainable solution," Musk says. "Critical to making that happen is an electric car without compromises."
With the cars on this list, at least, so far so good.
TO LEARN MORE ABOUT THE BENEFITS OF AUTO GLASS TINTING, ANSWERS TO FREQUENTLY ASKED QUESTIONS OR FOR A CAR TINTING QUOTE, CONTACT MIDWEST GLASS TINTERS 
 (847) 452-4818 or info@midwestglasstinters.net
REPOSTED BY MIDWEST GLASS TINTERS FROM:  YAHOO AUTOS / CONSUMER REPORTS
While car brand reputation can be a strong influence on purchase decisions, such perceptions can be misleading. The reality is, every brand offers models that perform across a spectrum, with some clearly better than others.
As we see in our annual Car Brand Perception survey, how consumers view brands can often be a trailing indicator and not reflect the current reality. To further illustrate this point, we have compiled a list chronicling the best and worst models by brand based on our overall test scores.
The test performance variation differs from brand to brand, with some brands' worst model being still doing rather well, while others span a wide range, making any generalities quite misleading. Take Audi, for example. Even its worst model, the A5, scores a 74 (out of 100) and meets our performance standards, safety, and reliability criteria to be Recommended. Meanwhile, the best Jeep is the Grand Cherokee Limited. It earns 77 points in our tests, only three points more than the worst Audi. But the Jeep Wrangler Unlimited marks the low point in our current ratings, scoring only a 20. The gap between best and worst can be even broader. Chevrolet, for instance, spans from the Impala (95) to the Spark (36).
The list below includes all brands for which Consumer Reports has tested at least three different models recently, thereby excluding Land Rover, Mini, Ram, Smart, and Tesla.
| Make | Best | Worst |
| --- | --- | --- |
| Acura | Acura TSX (4-cyl.) | Acura RLX Tech |
| Audi | Audi A7 3.0 TDI | Audi A5 Premium Plus (2.0T)* |
| BMW | BMW 328i | BMW 750Li* |
| Buick | Buick Regal Premium I* | Buick Encore Leather |
| Cadillac | Cadillac XTS Premium | Cadillac SRX Luxury |
| Chevrolet | Chevrolet Impala 2LTZ (3.6) | Chevrolet Spark 1LT |
| Chrysler | Chrysler 300 (base, V6) | Chrysler Town & Country Touring-L |
| Dodge | Dodge Durango Limited (V6) | Dodge Journey Limited (V6) |
| Fiat | Fiat 500 Abarth | Fiat 500L Easy |
| Ford | Ford Fusion SE Hybrid | Ford Fiesta SE sedan |
| GMC | GMC Sierra 1500 SLT (5.3L V8) | GMC Terrain SLE1 (4-cyl.) |
| Honda | Honda Accord LX (4-cyl.) | Honda Insight EX |
| Hyundai | Hyundai Sonata Limited (2.0T) | Hyundai Accent GLS sedan |
| Infiniti | Infiniti Q70 (M37, V6) | Infiniti QX80 (QX56) |
| Jaguar | Jaguar XJL Portfolio* | Jaguar XK Convertible* |
| Jeep | Jeep Grand Cherokee Limited (V6) | Jeep Wrangler Unlimited Sahara |
| Kia | Kia Cadenza | Kia Rio EX hatchback |
| Lexus | Lexus LS 460L | Lexus IS250 (AWD) |
| Lincoln | Lincoln MKZ Hybrid | Lincoln MKS (base, 3.7) |
| Mazda | Mazda MX-5 Miata Grand Touring | Mazda2 Touring |
| Mercedes-Benz | Mercedes-Benz E250 BlueTec (AWD) | Mercedes-Benz CLA250 |
| Mitsubishi | Mitsubishi Lancer Evolution GSR | Mitsubishi iMiEV SE |
| Nissan | Nissan 370Z Touring coupe | Nissan Versa SV sedan |
| Porsche | Porsche Boxster 2.7 | Porsche Cayenne (base, V6) |
| Scion | Scion FR-S | Scion iQ |
| Subaru | Subaru Forester 2.5i Premium | Subaru Tribeca Limited |
| Toyota | Toyota Camry Hybrid XLE | Toyota FJ Cruiser |
| Volkswagen | Volkswagen Passat SEL Premium (V6) | Volkswagen Beetle 2.5L (MT)* |
| Volvo | Volvo S60 T5* | Volvo XC90 3.2 |
FOR  AN AUTO WINDOW TINT QUOTE, CONTACT MIDWEST GLASS TINTERS   -
 (847) 452-4818 or info@midwestglasstinters.net
REPOSTED BY MIDWEST GLASS TINTERS FROM:  MOTLEY FOOL
The U.S. auto industry announced in 2013 that it was back in full force with unit sales increasing to 15.6 million, up better than 7% from 2012, and crossing the 15 million mark for the first time since 2007.
A combination of an improving economy, lower unemployment rates, and historically low lending rates have encouraged consumers to jump into what could be a once-in-a-lifetime opportunity to purchase their dream car at a very attractive lending rate.
Needless to say, a lot of thought and effort goes into which car a consumer will purchase. Consumers often look at fuel economy, read reviews online, test drive the vehicle (perhaps a number of times), ask for advice from family and friends, and also plot out how much they're willing to spend on their vehicle over the life of a loan if they choose to finance it.
One thing that consumers often overlook, though, is the dependability of the vehicle they're considering buying. For a new car buyer, the expectation is that they'll encounter few maintenance problems for the first couple of years, and if they do, that their warranty will cover those snafus. For a used car purchaser, dependability is everything since there's rarely any warranty attached to a used car purchase.
Not only is dependability important for your pocketbook in that more dependable vehicles will cost less to maintain, but it's also the silent advertiser for a brand. As J.D. Power & Associates has demonstrated through its research, 56% of car owners who report having no problems return to the same brand, while 42% who reported three or more problems kept their same brand of vehicle with their next purchase. Therefore, vehicle dependability can, at least partially, help us predict which brands' sales may move higher and which brands may struggle based on this vehicle dependability-brand loyalty correlation.
America's five most dependable automotive brands
To that end I turn to J.D. Power & Associates annual vehicle dependability study for 2014. The study itself looks at three-year-old models from a number of brands (i.e., all 2011 models) and asks consumers if they experienced one or more of 202 noted problems. J.D. Power then ranks those car brands from top to bottom based on how many problems were reported per 100 vehicles, commonly known as its PP100 metric. Dependability is especially important this year when you consider that J.D. Power's study uncovered the first rise in reported problems, especially engine and transmission problems, since 1998!
Let's have a look at the five top automotive brands according to J.D. Power's study and then note what brands really stood out, as well as which brands faltered.
As a warning, you may be shocked to discover which brand decisively took the No. 1 spot in vehicle dependability!
No. 5: Buick (112 problems per 100 vehicles)
Rising from the sixth spot into the top five this year is Buick, owned by General Motors(NYSE: GM  ) which had consumers report just 112 problems per 100 vehicles as opposed to 118 PP100 in last year's study from J.D. Power. The real standout for Buick was the Lucerne which took top honors in the large car category, besting Toyota's (NYSE: TM  ) Avalon and Ford's (NYSE: F  ) Taurus. As Foolish auto analyst John Rosevear notes, Buick is doing a really nice job transitioning into a global brand.
No. 4: Acura (109 problems per 100 vehicles)
Honda Motors'  (NYSE: HMC  )  Acura was another big mover in 2014, vaulting higher by four spots to fourth place from eighth with 109 PP100 reported compared to 120 PP100 last year. Like GM's Buick, Acura only took top honors in one category (compact premium CUV) with its RDX, but it also claimed a tie for the third-highest rating in the midsize premium CUV category with the Mercedes-Benz M-class. Honda and Acura are relatively synonymous with economical but dependable vehicles in the U.S., making this ranking not too surprising.
2011 Cadillac CTS-V
No. 3: Cadillac (107 problems per 100 vehicles)
Chalk up another victory for General Motors which can claim its second top-five brand for dependability in Cadillac. Year over year, Cadillac surged 11 spots to No. 3, with vehicle owners reporting only 107 PP100 compared to 128 PP100 last year. This huge jump came in only second to Jaguar which vaulted 13 spots higher in J.D. Power's rankings. Cadillac took home the top honors for its large premium CUV, the Escalade, as well as large premium car, the DTS, which tied for the top spot with the Lexus LS. Cadillac has certainly done its best to focus its efforts on a slightly younger crowd, and these improved dependability ratings should help.
No. 2: Mercedes-Benz (104 problems per 100 vehicles)
Jumping three spots in 2014 to No. 2 with only 104 PP100 compared to 115 PP100 reported in the prior year is Daimler's (NASDAQOTH: DDAIF  ) Mercedes-Benz. What's particularly interesting here is that Mercedes-Benz didn't win any of the 22 vehicle categories as outlined by J.D. Power, but it did place or show in quite a few which speaks to its overall consistency. Mercedes-Benz ranked second in midsize premium car with its E-Class sedan/wagon, second in large premium CUV with its GL-class, second in compact premium CUV with its GLK-class, and tied for third with the Acura MDX in the midsize premium CUV category with its M-class. Simply put, if consumers are going to pay a premium price, they expect premium results, and Mercedes-Benz appears to be delivering on that promise.
And the real shock (at least to me)…
2011 Lexus RX 450
No. 1: Lexus (68 problems per 100 vehicles)
I guess it shouldn't be that much of a shock since Toyota-owned Lexus was first in last year's ratings as well, but I recall shortly after I got my license, nearly two decades ago, how I was admonished from buying a Lexus because of their dependability issues. This rating simply confirms how far the brand has come in less than two decades as its PP100 of just 68 is light years ahead of second-place Mercedes-Benz, and even lower than the 71 PP100 that J.D. Power reported last year. Lexus tied its LS for top large premium car with the Cadillac DTS, was the top midsize premium car with the GS, and nabbed both the No. 1 and No. 2 spots in compact premium car with the ES and IS, and midsize premium CUV with the RX and GX.
Here are J.D. Power's full rankings based on PP100:

Source: J.D. Power 2014 U.S. Vehicle Dependability Study.
Obviously brands in the top five can be construed as winners, but General Motors, Toyota, and Honda deserve special recognition since they brought home eight, seven, and six, of the top category awards, respectively – that's 21 of 22 categories won by just three companies!
As I stated above, Toyota and Honda generally build no-frill vehicles, choosing instead to focus on improving fuel economy and storage space. The end result for years has been a reliable vehicle that will get the consumer from point A to B with ease, and without too many automotive issues.
The real shock here is the dominance by General Motors' vehicles and the total absence of Ford, save for a runner-up effort in the midsize pickup category with its Ranger. GM is hoping to translate these key wins into strong sales for its recently redesigned trucks, the Silverado and Sierra, which it hopes will give Ford's dominant F-Series a run for its money. Early sales of GM's Silverado have been mixed with winter weather and parts shortages eating into total unit sales, but as Foolish auto guru John Rosevear recently pointed out, it's actually spending fewer days on dealership lots than either of its foes, signaling that GM may indeed be on the up-and-up.
Ford Motor Company might just win me back as a customer in 2015 with its revised MyFordTouch infotainment system that includes traditional buttons and knobs.
There's a chance I could kick my Lexus to the curb because of its convoluted controls and mouse on the console.  Operating the devices makes me take my eyes off the road far too often.
New MyFordTouch System Might Delight 50+Don't get me wrong, I love mobile technology, probably a little more than the average Baby Boomer, because I train my contemporaries on how to use it.  But I don't like being a distracted driver while trying to change the radio stations or make a voice activated phone call in my car.  In fact, it kind of scares me.
A little history:
In 2008 I leased my first Ford crossover– a Lincoln MKX.  In the 37 years I'd been driving, it was my first Ford product.  I was a GM girl for most of my life, even though I was driving a Lexus at the time.  But my Boomer girlfriends were all driving MKXs and they seemed pretty happy.
As a Detroiter, watching the car companies in a free fall, I decided to support my hometown, turn in my Lexus 330 crossover, and try the Lincoln.
It was my first car with voice activated controls and a touch screen.
My experience with the Lincoln during the next three years and the dealership were not great, but the biggest problem was the voice activated touch screen.  The system didn't always pair with my phone, it didn't recognize my voice, and it often acted on commands I wasn't giving.  In short, it was a real hassle to drive.  Not to mention that it was dangerous– as I was spending so much time trying to talk to it.
However, the poor experience was compounded by the dealer's inability to train me how to use this vehicle.
"Read the manual, it's all there," I recall the salesman saying.  "Here's a card, go to your computer and check all out all the features."
The trouble was, I couldn't use my computer in the car when I was trying to operate it, and there was no trainer at the dealership to answer questions.
To be fair—Lexus has a person who helps train new buyers on using the car's information system and he was extremely helpful.  But the car's system's design is just too long and drawn out for my taste.  It takes three or four mouse clicks just to change the radio station.
Real Training Needed
So I'm looking forward to testing the new MyFordTouch system.  I hope it comes with some real training support.  As someone in the training industry, I know that training pays for itself.
When a company is selling a product that costs $30,000-$70,000 per unit, as is the case with Ford, it would make sense to train people carefully on how to use the computer systems.  As more "connected car" options become available, I'm guessing auto companies would like to sell them to customers.  But without training, I doubt the Boomers will want even more gadgets they can't operate.  Also,  in addition to educating drivers, training is a great way to  earn customer loyalty.
So I welcome exploring the new MyFordTouch system and I hope it comes with some real training support.  If it does, Ford might get me back from the Lexus I love that has an infotainment system I find difficult to use.
And remember car techie designers– nothing about mobile apps or technology are intuitive to the 50+ market. We didn't grow up with mobile—so app developers please stop saying that.  You can make apps easier for us to use but they will never be intuitive.
REPOSTED BY MIDWEST GLASS TINTERS FROM:  YAHOO SMALL BUSINESS ADVISOR