REPOSTED BY MIDWEST GLASS TINTERS FROM:  MOTLEY FOOL
The U.S. auto industry announced in 2013 that it was back in full force with unit sales increasing to 15.6 million, up better than 7% from 2012, and crossing the 15 million mark for the first time since 2007.
A combination of an improving economy, lower unemployment rates, and historically low lending rates have encouraged consumers to jump into what could be a once-in-a-lifetime opportunity to purchase their dream car at a very attractive lending rate.
Needless to say, a lot of thought and effort goes into which car a consumer will purchase. Consumers often look at fuel economy, read reviews online, test drive the vehicle (perhaps a number of times), ask for advice from family and friends, and also plot out how much they're willing to spend on their vehicle over the life of a loan if they choose to finance it.
One thing that consumers often overlook, though, is the dependability of the vehicle they're considering buying. For a new car buyer, the expectation is that they'll encounter few maintenance problems for the first couple of years, and if they do, that their warranty will cover those snafus. For a used car purchaser, dependability is everything since there's rarely any warranty attached to a used car purchase.
Not only is dependability important for your pocketbook in that more dependable vehicles will cost less to maintain, but it's also the silent advertiser for a brand. As J.D. Power & Associates has demonstrated through its research, 56% of car owners who report having no problems return to the same brand, while 42% who reported three or more problems kept their same brand of vehicle with their next purchase. Therefore, vehicle dependability can, at least partially, help us predict which brands' sales may move higher and which brands may struggle based on this vehicle dependability-brand loyalty correlation.
America's five most dependable automotive brands
To that end I turn to J.D. Power & Associates annual vehicle dependability study for 2014. The study itself looks at three-year-old models from a number of brands (i.e., all 2011 models) and asks consumers if they experienced one or more of 202 noted problems. J.D. Power then ranks those car brands from top to bottom based on how many problems were reported per 100 vehicles, commonly known as its PP100 metric. Dependability is especially important this year when you consider that J.D. Power's study uncovered the first rise in reported problems, especially engine and transmission problems, since 1998!
Let's have a look at the five top automotive brands according to J.D. Power's study and then note what brands really stood out, as well as which brands faltered.
As a warning, you may be shocked to discover which brand decisively took the No. 1 spot in vehicle dependability!
No. 5: Buick (112 problems per 100 vehicles)
Rising from the sixth spot into the top five this year is Buick, owned by General Motors(NYSE: GM  ) which had consumers report just 112 problems per 100 vehicles as opposed to 118 PP100 in last year's study from J.D. Power. The real standout for Buick was the Lucerne which took top honors in the large car category, besting Toyota's (NYSE: TM  ) Avalon and Ford's (NYSE: F  ) Taurus. As Foolish auto analyst John Rosevear notes, Buick is doing a really nice job transitioning into a global brand.
No. 4: Acura (109 problems per 100 vehicles)
Honda Motors'  (NYSE: HMC  )  Acura was another big mover in 2014, vaulting higher by four spots to fourth place from eighth with 109 PP100 reported compared to 120 PP100 last year. Like GM's Buick, Acura only took top honors in one category (compact premium CUV) with its RDX, but it also claimed a tie for the third-highest rating in the midsize premium CUV category with the Mercedes-Benz M-class. Honda and Acura are relatively synonymous with economical but dependable vehicles in the U.S., making this ranking not too surprising.
2011 Cadillac CTS-V
No. 3: Cadillac (107 problems per 100 vehicles)
Chalk up another victory for General Motors which can claim its second top-five brand for dependability in Cadillac. Year over year, Cadillac surged 11 spots to No. 3, with vehicle owners reporting only 107 PP100 compared to 128 PP100 last year. This huge jump came in only second to Jaguar which vaulted 13 spots higher in J.D. Power's rankings. Cadillac took home the top honors for its large premium CUV, the Escalade, as well as large premium car, the DTS, which tied for the top spot with the Lexus LS. Cadillac has certainly done its best to focus its efforts on a slightly younger crowd, and these improved dependability ratings should help.
No. 2: Mercedes-Benz (104 problems per 100 vehicles)
Jumping three spots in 2014 to No. 2 with only 104 PP100 compared to 115 PP100 reported in the prior year is Daimler's (NASDAQOTH: DDAIF  ) Mercedes-Benz. What's particularly interesting here is that Mercedes-Benz didn't win any of the 22 vehicle categories as outlined by J.D. Power, but it did place or show in quite a few which speaks to its overall consistency. Mercedes-Benz ranked second in midsize premium car with its E-Class sedan/wagon, second in large premium CUV with its GL-class, second in compact premium CUV with its GLK-class, and tied for third with the Acura MDX in the midsize premium CUV category with its M-class. Simply put, if consumers are going to pay a premium price, they expect premium results, and Mercedes-Benz appears to be delivering on that promise.
And the real shock (at least to me)…
2011 Lexus RX 450
No. 1: Lexus (68 problems per 100 vehicles)
I guess it shouldn't be that much of a shock since Toyota-owned Lexus was first in last year's ratings as well, but I recall shortly after I got my license, nearly two decades ago, how I was admonished from buying a Lexus because of their dependability issues. This rating simply confirms how far the brand has come in less than two decades as its PP100 of just 68 is light years ahead of second-place Mercedes-Benz, and even lower than the 71 PP100 that J.D. Power reported last year. Lexus tied its LS for top large premium car with the Cadillac DTS, was the top midsize premium car with the GS, and nabbed both the No. 1 and No. 2 spots in compact premium car with the ES and IS, and midsize premium CUV with the RX and GX.
Here are J.D. Power's full rankings based on PP100:

Source: J.D. Power 2014 U.S. Vehicle Dependability Study.
Obviously brands in the top five can be construed as winners, but General Motors, Toyota, and Honda deserve special recognition since they brought home eight, seven, and six, of the top category awards, respectively – that's 21 of 22 categories won by just three companies!
As I stated above, Toyota and Honda generally build no-frill vehicles, choosing instead to focus on improving fuel economy and storage space. The end result for years has been a reliable vehicle that will get the consumer from point A to B with ease, and without too many automotive issues.
The real shock here is the dominance by General Motors' vehicles and the total absence of Ford, save for a runner-up effort in the midsize pickup category with its Ranger. GM is hoping to translate these key wins into strong sales for its recently redesigned trucks, the Silverado and Sierra, which it hopes will give Ford's dominant F-Series a run for its money. Early sales of GM's Silverado have been mixed with winter weather and parts shortages eating into total unit sales, but as Foolish auto guru John Rosevear recently pointed out, it's actually spending fewer days on dealership lots than either of its foes, signaling that GM may indeed be on the up-and-up.
Ford Motor Company might just win me back as a customer in 2015 with its revised MyFordTouch infotainment system that includes traditional buttons and knobs.
There's a chance I could kick my Lexus to the curb because of its convoluted controls and mouse on the console.  Operating the devices makes me take my eyes off the road far too often.
New MyFordTouch System Might Delight 50+Don't get me wrong, I love mobile technology, probably a little more than the average Baby Boomer, because I train my contemporaries on how to use it.  But I don't like being a distracted driver while trying to change the radio stations or make a voice activated phone call in my car.  In fact, it kind of scares me.
A little history:
In 2008 I leased my first Ford crossover– a Lincoln MKX.  In the 37 years I'd been driving, it was my first Ford product.  I was a GM girl for most of my life, even though I was driving a Lexus at the time.  But my Boomer girlfriends were all driving MKXs and they seemed pretty happy.
As a Detroiter, watching the car companies in a free fall, I decided to support my hometown, turn in my Lexus 330 crossover, and try the Lincoln.
It was my first car with voice activated controls and a touch screen.
My experience with the Lincoln during the next three years and the dealership were not great, but the biggest problem was the voice activated touch screen.  The system didn't always pair with my phone, it didn't recognize my voice, and it often acted on commands I wasn't giving.  In short, it was a real hassle to drive.  Not to mention that it was dangerous– as I was spending so much time trying to talk to it.
However, the poor experience was compounded by the dealer's inability to train me how to use this vehicle.
"Read the manual, it's all there," I recall the salesman saying.  "Here's a card, go to your computer and check all out all the features."
The trouble was, I couldn't use my computer in the car when I was trying to operate it, and there was no trainer at the dealership to answer questions.
To be fair—Lexus has a person who helps train new buyers on using the car's information system and he was extremely helpful.  But the car's system's design is just too long and drawn out for my taste.  It takes three or four mouse clicks just to change the radio station.
Real Training Needed
So I'm looking forward to testing the new MyFordTouch system.  I hope it comes with some real training support.  As someone in the training industry, I know that training pays for itself.
When a company is selling a product that costs $30,000-$70,000 per unit, as is the case with Ford, it would make sense to train people carefully on how to use the computer systems.  As more "connected car" options become available, I'm guessing auto companies would like to sell them to customers.  But without training, I doubt the Boomers will want even more gadgets they can't operate.  Also,  in addition to educating drivers, training is a great way to  earn customer loyalty.
So I welcome exploring the new MyFordTouch system and I hope it comes with some real training support.  If it does, Ford might get me back from the Lexus I love that has an infotainment system I find difficult to use.
And remember car techie designers– nothing about mobile apps or technology are intuitive to the 50+ market. We didn't grow up with mobile—so app developers please stop saying that.  You can make apps easier for us to use but they will never be intuitive.
REPOSTED BY MIDWEST GLASS TINTERS FROM:  YAHOO SMALL BUSINESS ADVISOR
Now that the count is in for 2013, the numbers are official. Toyota Motor Corp. (TM) was the No. 1 car company in the world. It is quite a comeback from the factory destruction caused by the great 2011 Japanese earthquake and millions of recalls that eventually had CEO Akio Toyoda hauled before Congress and questioned about the safety of his company's vehicles.
Reuters tabulated data that show the Japanese car manufacturer's sales rose 2% to 9.98 million vehicles. General Motors Co. (GM) followed with a 4% improvement to 9.71 million vehicles. Volkswagen was third with an increase of 5% to 9.70 million. At those rates, GM could fall into the third spot in 2014.
While a weak yen gave Toyota an advantage over its non-Japanese rivals, that is only part of the cause. Toyota has regained its reputation for quality. In the United States, this was shown with high scores in carefully watched research data from Consumer Reports and J.D. Power. Toyota's sales rank it third in the U.S. behind GM and Ford Motor Co.   Notably, Volkswagen's sales in America have languished.
The AECA reports that in 2013, in the crippled market of Europe, Toyota's sales dropped a mere 0.2% while overall sales in the region were off by 1.7%. VW, the largest car maker in the region, lost 0.6% of its sales. GM was staggered by a drop of 4.3%. The U.S. company has been unable to turnaround its buckling Europe operations.
GM and VW hold a substantial lead in China, the world's largest car market. Each, along with joint venture partners, sold more than 3 million cars last year in the People's Republic. Toyota lags with less than one million. Because the Chinese car market is so huge, Toyota likely will have to do better there to keep its global position.
Among Toyota's advantages is its broad range of vehicles, which run from it Lexus luxury brand to the Prius, the best-selling hybrid in the world. The Japanese car company offers 23 models in the United States, excluding Lexus models — a number that second-tier manufactures like Chrysler find they cannot match.
Toyota, overcoming tremendous hurdles, has moved back on top.
REPOSTED BY MIDWEST GLASS TINTERS FROM:  YAHOO FINANCE
As we're about to close the door on 2013 and ring in 2014, we decided to take a look back at which vehicles were the most popular on our site. We checked out new and used models subscribers were researching on ConsumerReports.org for the last year based on visits to our info-rich model pages.
Every day potential car buyers look to our independent test scores and reliability survey results to aid their research and help determine the best vehicle to buy for their needs.  We looked at visits to our vehicle model overview pages from Jan. 1 through Dec. 15, 2013, to compile this list of the top 10 most popular new and used cars.
So, what are car buyers looking for? SUVs and sedans are heavily researched among subscribers in new and used categories. All the top new car models listed are from Asian brands and do well in our tests; we often see that our subscribers gravitate toward vehicles that tend to populate our myriad "best" lists. The Honda CR-V and Subaru Forester were quite close in the new car list, with a clear advantage over the third-place Honda Accord. This follows what we have seen in our surveys, that there is much movement in purchase intent toward small SUVs from car owners moving up and down in size. What may be surprising to some is that there are no pickup trucks (the most popular vehicle type) on either list.
Similar models comprise the used-car list. The close race in this group is the near statistical ties between the Toyota RAV4 and Honda CR-V. Another key difference is the BMW 3 Series being the lone European model to find such favor, and the only luxury model in the used list.
From our lists below, presented in rank order, click on the model names to visit their model pages and learn why they are drawing so much attention.
Most popular new cars:
Honda CR-V
Subaru Forester
Honda Accord
Toyota Highlander
Toyota RAV4
Toyota Camry
Subaru Outback
Subaru Impreza
Lexus RX
Hyundai Sonata
Most popular used cars:
Honda Accord
Toyota RAV4
Honda CR-V
Honda Civic
Toyota Camry
Toyota Highlander
Subaru Forester
BMW 3 Series
Honda Pilot
Toyota Corolla
REPOSTED BY MIDWEST GLASS TINTERS FROM:  YAHOO AUTOS
As surely as the sun rises in the east, automakers will inevitably find new wrappers to clothe smaller SUVs that can sell at luxury car prices. Here's the first images of the Lexus LF-NX concept that will be fully revealed in a few days at the Frankfurt auto show, and while it's got more creases on its face than Tommy Lee Jones, it's all but guaranteed to preview an actual Lexus small SUV, the one gaping hole in Toyota's luxury lineup.
While the previous Lexus LF concepts carried their modern style well, the NX shows some of its limitations, namely in making the angry Norelco front end so tall. The back end suffers from a similar problem, with an ungraceful pile-up of lines on the back door and a fender fold that looks deep enough in these photos to store a small dog. Lexus says the LF-NX will sport an all-hybrid power source and typical but unsurprising luxury accoutrements; we'll have live photos to examine soon.
REPOSTED BY MIDWEST GLASS TINTERS FROM YAHOO AUTOS/MOTORAMIC
The folks at at BoldRide are big fans of Lexus IS F (as you can read in our review). There's just something so lovable about a Lexus sedan with the heart of a modern-day muscle car. And sure, while it may not come with all the driving refinement found in cars like the BMW M3, it's bound to go down in history as a cult classic.
But there's a problem- the current IS F is dying a slow, fruitless death. When Lexus announced a few months back that 2014 would be the last year of the mean muscle sedan, our hearts were filled with despair. But alas, there's some forthcoming news on the horizon: word from The Motor Report is that the IS F is indeed making a comeback in 2015- albeit with a new face- and Lexus engineers might be ditching the 5.0-liter V8 in place of something a bit more practical.
"That V8 is a little difficult to meet Euro 6 [emissions standards]," said IS chief engineer Junichiro Furuyama in a recent interview, "To produce more power and torque it runs leaner. That is the problem. We probably need a new engine for the F model."
Reports tell us that there are no plans for a high-powered hybrid Lexus sedan anytime in the near future, but with further restricting of emission standards, the idea that a V6 might take place of the antiquated V8 would make sense.
Expect news on the next-generation of IS F closer to an official release date in 2015.
REPOSTED BY MIDWEST GLASS TINTERS FROM:  BoldRide/Yahoo Autos
The Porsche brand, for the ninth straight year, led J.D. Power and Associates' annual survey of vehicles drivers find most pleasing to own and drive, while the Land Rover Range Rover crossover was the top individual vehicle in the survey.
Luxury brands claimed the top 10 spots of Power's 2013 U.S. Automotive Performance, Execution and Layout study, which was released Wednesday by the global marketing information firm. Audi, BMW, Land Rover and Toyota's Lexus followed Porsche, which like Audi is a unit of Volkswagen AG.
General Motors' Cadillac brand, which finished seventh, was the highest ranking U.S. brand. Lincoln, a division of Ford Motor Co, came in ninth.
The influential survey asks more than 83,000 drivers to rate the experience of owning and driving a vehicle during the first 90 days after they bought or leased it. The responses were gathered between February and May, 2013.
Ram, Chrysler LLC's truck division, was the highest-rated non-luxury brand.
The Land Rover Range Rover was the top scoring vehicle in the entire survey, based on 77 different attributes which measure how satisfied drivers are with their vehicle. This year is the first time a large premium car didn't claim the survey's top spot.
Volkswagen AG had the most segment winners with five vehicles from all its brands receiving high marks. Chevrolet had the highest number of segment award winners for any brand with three — Avalanche, Sonic and Volt.
Daimler AG's Smart unit was the lowest-ranked brand in the survey. Toyota, Jeep, Subaru and Mitsubishi were also in the bottom five.
REPOSTED BY MIDWEST GLASS TINTERS FROM:  REUTERS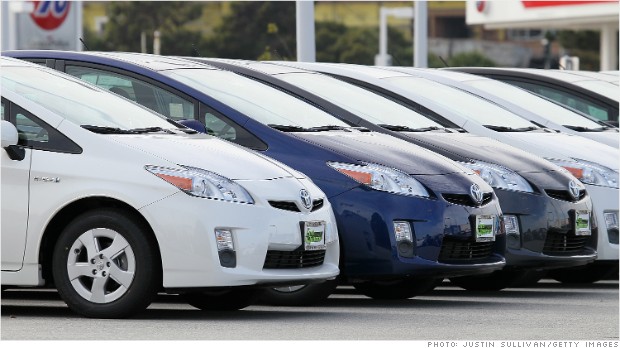 Yesterday it was a Ford recall, and today it's Toyota.
Toyota is recalling nearly a quarter of a million vehicles because of a braking problem.
The Japanese automaker said Wednesday the global recall would affect 242,000 Prius and Lexus hybrid cars made between March and October 2009.  Toyota (TM) said it had received more than 90 complaints from drivers who said they needed to step more heavily on the brake pedal than they were used to.  A spokeswoman said a flaw was allowing nitrogen gas to leak into the brake fluid, reducing the effectiveness of the brakes.  There were no reports of accidents or injuries, she said.  Most of the cars affected are in Japan, where 117,000 vehicles are being recalled, followed by 91,000 in North America, 30,000 in Europe and smaller numbers in other markets.
Toyota Motor Sales, U.S.A., Inc., said it would inspect the brake booster pump assembly on recalled Prius and Lexus HS 250h vehicles and replace it if necessary.  Toyota has been struggling to repair its reputation for reliability and safety after a series of recalls affecting millions of vehicles in recent years.
In April, Toyota said it was recalling 1.7 million cars around the world, including some popular Corolla, Matrix and Tundra models, due to problems with airbags.
Last October, the world's biggest automaker recalled over 7 million cars because of a power window problem that posed a fire risk.
REPOSTED BY MIDWEST GLASS TINTERS FROM: http://money.cnn.com/2013/06/05/news/toyota-recall/index.html?hpt=hp_t3
Self-driving cars are quickly becoming a reality.
Companies like Audi and Lexus are beginning to integrate autonomous operation into their own cars using advanced computer systems, cameras, radars, and sensors that take control of vehicles at highway speeds.
Take for example Audi's new A7 four-door sedan. It's equipped with a range of sensors that allow the car to pilot itself. But this isn't the same type of autonomous driving that Google's cars can achieve.
New York Times reporter, John Markoff wrote about his experience piloting the Audi A7 last month in Jerusalem. He spoke with Mobileye Vision Technologies, the company that designs the camera-only autonomous system for Audi.
Markoff explains:
The Mobileye car does not offer the autonomy achieved by Google's engineers. The Google car, which has been tested for more than 300,000 miles in California traffic, will merge onto freeways, drive safely through intersections, make left and right turns, and pass slower vehicles.
The Mobileye can only drive in a single lane at freeway speeds and is able to stop, slow, and then go back to highway speeds.
Instead of being compared to Google's self-driving technology, Mobileye wants to prove that autonomous driving can be commercialized. But this feat isn't easy to achieve.
Markoff discovered that Google's technology is actually the future of driving. Once it's perfected   the car will be able to drive itself in any situation, including merging in and out of traffic.
Mobileye's technology is complementing expensive cars as a way to justify at $70,000 price tag. Mobileye is more commercial and less intense than Google's self-driving car.
Google usually gets all the attention for its self-driving car initiative, and for good reason. The search giant's autonomous cars are at the forefront of the self-driving car craze.  Google has more advanced technology, more sensors, and more cameras that give the driver a full view of what's going on around each section of the car.
REPOSTED BY  MIDWEST GLASS TINTERS FROM: http://finance.yahoo.com/news/riding-self-driving-supercharged-audi-153637891.html
With the release of our Tesla Model S road test, there have been many questions regarding what other models stand out. Here, we present the current class valedictorians, those cars that have faced our more than 50 tests and managed to earn an A.
Sure, the Tesla Model S may be our newly named prom queen, but there are a dozen other current cars that have scored 90 points or above on a 100-point scale. The most significant takeaway here is the diversity, where we're seeing family sedans, sports coupes, and luxury sedans stand out with impressive overall scores. It is clear, that it isn't necessary to spend $90,000, like we did on our Tesla, to get a great car. It just takes a few minutes of research and your own test drives.
| | | |
| --- | --- | --- |
| Make & model | Price as tested | Overall test score |
| Tesla Model S (base, 85 kWh) | $89,650 | 99 |
| BMW 135i | $37,650 | 97 |
| Infiniti G37 (sedan) | $37,225 | 95 |
| Toyota Camry Hybrid XLE | $29,052 | 93 |
| Audi A6 (3.0T) | $56,295 | 93 |
| Infiniti M37 | $53,825 | 93 |
| Lexus LS 460L | $79,354 | 92 |
| Chevrolet Corvette Z06 | $64,890 | 92 |
| Hyundai Genesis 3.8 (sedan) | $39,850 | 92 |
| Toyota Camry XLE (V6) | $32,603 | 92 |
| Audi A8 L | $91,275 | 91 |
| Honda Accord LX (4-cyl.) | $23,270 | 90 |
| Honda Accord EX-L (V6) | $30,860 | 90 |
REPOSTED BY MIDWEST GLASS TINTERS FROM: http://autos.yahoo.com/news/consumer-reports-names-its-top-scoring-cars-222313172.html