REPOSTED BY MIDWEST GLASS TINTERS FROM:  YAHOO AUTOS / BOLD RIDE
As of late, Honda hasn't been a brand associated with fun-to-drive cars. The new Civic Si barely satisfies our pallets for performance, but there is a a model worth caring about that has long been absent from the lineup. It's the 280-horsepower Civic Type R (concept), and in this fiery guise, it looks epic.
This burning hot hatch will be the first model to employ Honda's new turbocharged 2.0-liter VTEC engine (when produced). The inline-four will put down close to 280 horsepower, all sent to the front wheels, of course.
With all that power, Honda has big plans in mind for its latest hot hatch. They want the Type R to be the fastest front-wheel drive car around the Nurburgring, surpassing the current 8:07.97 lap time set by the Renault Megane 265 Trophy. Game on.
PHOTOS: See More of the 2014 Geneva Motor Show
Of course — with any Type R — we likely won't see it in the US. The Euro-only hatch is currently on display in concept form at the Geneva Motor Show and will likely go on sale later in the year with minor changes. We are red-hot with jealousy.
PHOTOS: See More of the 2015 Honda Civic Type R
FOR  AN AUTO WINDOW TINT QUOTE, CONTACT MIDWEST GLASS TINTERS   -
 (847) 452-4818 or info@midwestglasstinters.net
REPOSTED BY MIDWEST GLASS TINTERS FROM:  MOTLEY FOOL
The U.S. auto industry announced in 2013 that it was back in full force with unit sales increasing to 15.6 million, up better than 7% from 2012, and crossing the 15 million mark for the first time since 2007.
A combination of an improving economy, lower unemployment rates, and historically low lending rates have encouraged consumers to jump into what could be a once-in-a-lifetime opportunity to purchase their dream car at a very attractive lending rate.
Needless to say, a lot of thought and effort goes into which car a consumer will purchase. Consumers often look at fuel economy, read reviews online, test drive the vehicle (perhaps a number of times), ask for advice from family and friends, and also plot out how much they're willing to spend on their vehicle over the life of a loan if they choose to finance it.
One thing that consumers often overlook, though, is the dependability of the vehicle they're considering buying. For a new car buyer, the expectation is that they'll encounter few maintenance problems for the first couple of years, and if they do, that their warranty will cover those snafus. For a used car purchaser, dependability is everything since there's rarely any warranty attached to a used car purchase.
Not only is dependability important for your pocketbook in that more dependable vehicles will cost less to maintain, but it's also the silent advertiser for a brand. As J.D. Power & Associates has demonstrated through its research, 56% of car owners who report having no problems return to the same brand, while 42% who reported three or more problems kept their same brand of vehicle with their next purchase. Therefore, vehicle dependability can, at least partially, help us predict which brands' sales may move higher and which brands may struggle based on this vehicle dependability-brand loyalty correlation.
America's five most dependable automotive brands
To that end I turn to J.D. Power & Associates annual vehicle dependability study for 2014. The study itself looks at three-year-old models from a number of brands (i.e., all 2011 models) and asks consumers if they experienced one or more of 202 noted problems. J.D. Power then ranks those car brands from top to bottom based on how many problems were reported per 100 vehicles, commonly known as its PP100 metric. Dependability is especially important this year when you consider that J.D. Power's study uncovered the first rise in reported problems, especially engine and transmission problems, since 1998!
Let's have a look at the five top automotive brands according to J.D. Power's study and then note what brands really stood out, as well as which brands faltered.
As a warning, you may be shocked to discover which brand decisively took the No. 1 spot in vehicle dependability!
No. 5: Buick (112 problems per 100 vehicles)
Rising from the sixth spot into the top five this year is Buick, owned by General Motors(NYSE: GM  ) which had consumers report just 112 problems per 100 vehicles as opposed to 118 PP100 in last year's study from J.D. Power. The real standout for Buick was the Lucerne which took top honors in the large car category, besting Toyota's (NYSE: TM  ) Avalon and Ford's (NYSE: F  ) Taurus. As Foolish auto analyst John Rosevear notes, Buick is doing a really nice job transitioning into a global brand.
No. 4: Acura (109 problems per 100 vehicles)
Honda Motors'  (NYSE: HMC  )  Acura was another big mover in 2014, vaulting higher by four spots to fourth place from eighth with 109 PP100 reported compared to 120 PP100 last year. Like GM's Buick, Acura only took top honors in one category (compact premium CUV) with its RDX, but it also claimed a tie for the third-highest rating in the midsize premium CUV category with the Mercedes-Benz M-class. Honda and Acura are relatively synonymous with economical but dependable vehicles in the U.S., making this ranking not too surprising.
2011 Cadillac CTS-V
No. 3: Cadillac (107 problems per 100 vehicles)
Chalk up another victory for General Motors which can claim its second top-five brand for dependability in Cadillac. Year over year, Cadillac surged 11 spots to No. 3, with vehicle owners reporting only 107 PP100 compared to 128 PP100 last year. This huge jump came in only second to Jaguar which vaulted 13 spots higher in J.D. Power's rankings. Cadillac took home the top honors for its large premium CUV, the Escalade, as well as large premium car, the DTS, which tied for the top spot with the Lexus LS. Cadillac has certainly done its best to focus its efforts on a slightly younger crowd, and these improved dependability ratings should help.
No. 2: Mercedes-Benz (104 problems per 100 vehicles)
Jumping three spots in 2014 to No. 2 with only 104 PP100 compared to 115 PP100 reported in the prior year is Daimler's (NASDAQOTH: DDAIF  ) Mercedes-Benz. What's particularly interesting here is that Mercedes-Benz didn't win any of the 22 vehicle categories as outlined by J.D. Power, but it did place or show in quite a few which speaks to its overall consistency. Mercedes-Benz ranked second in midsize premium car with its E-Class sedan/wagon, second in large premium CUV with its GL-class, second in compact premium CUV with its GLK-class, and tied for third with the Acura MDX in the midsize premium CUV category with its M-class. Simply put, if consumers are going to pay a premium price, they expect premium results, and Mercedes-Benz appears to be delivering on that promise.
And the real shock (at least to me)…
2011 Lexus RX 450
No. 1: Lexus (68 problems per 100 vehicles)
I guess it shouldn't be that much of a shock since Toyota-owned Lexus was first in last year's ratings as well, but I recall shortly after I got my license, nearly two decades ago, how I was admonished from buying a Lexus because of their dependability issues. This rating simply confirms how far the brand has come in less than two decades as its PP100 of just 68 is light years ahead of second-place Mercedes-Benz, and even lower than the 71 PP100 that J.D. Power reported last year. Lexus tied its LS for top large premium car with the Cadillac DTS, was the top midsize premium car with the GS, and nabbed both the No. 1 and No. 2 spots in compact premium car with the ES and IS, and midsize premium CUV with the RX and GX.
Here are J.D. Power's full rankings based on PP100:

Source: J.D. Power 2014 U.S. Vehicle Dependability Study.
Obviously brands in the top five can be construed as winners, but General Motors, Toyota, and Honda deserve special recognition since they brought home eight, seven, and six, of the top category awards, respectively – that's 21 of 22 categories won by just three companies!
As I stated above, Toyota and Honda generally build no-frill vehicles, choosing instead to focus on improving fuel economy and storage space. The end result for years has been a reliable vehicle that will get the consumer from point A to B with ease, and without too many automotive issues.
The real shock here is the dominance by General Motors' vehicles and the total absence of Ford, save for a runner-up effort in the midsize pickup category with its Ranger. GM is hoping to translate these key wins into strong sales for its recently redesigned trucks, the Silverado and Sierra, which it hopes will give Ford's dominant F-Series a run for its money. Early sales of GM's Silverado have been mixed with winter weather and parts shortages eating into total unit sales, but as Foolish auto guru John Rosevear recently pointed out, it's actually spending fewer days on dealership lots than either of its foes, signaling that GM may indeed be on the up-and-up.
REPOSTED BY MIDWEST GLASS TINTERS FROM: MOTLEY FOOL     
Let me plant this scenario in your head, as I'd bet this has happened to a majority of you reading this right now. I'll admit, it's happened to me. Here's the scenario:
You're at the car dealership, and you've picked out the car of your dreams, or perhaps something to get you from point A to B and/or handle that new addition to your family. You discuss financing options with the dealership and pat yourself on the back for negotiating a notable reduction in price from where you started. By at this point in time, you're quite proud of yourself. You drive the car off the lot and feel like a victor for what might be days or weeks.
Then, one sunny afternoon (or since I live in Seattle, stormy winter's night) while checking the resale value of your car online, you realize that with just a couple thousand miles on what is essentially your brand-new vehicle it's worth thousands, or perhaps even tens of thousands of dollars, less now than what you paid for it just months prior.
This is the plight of the new car purchaser. Consumers can certainly trade down to used cars for a cheaper sticker price, but they'll often pay the penalties of buying as-is with no warranty and could be in line for a number of repairs. If these same consumers choose a new vehicle, their warranty will cover a number of repairs and maintenance options, but they'll deal with their vehicle immediately depreciating once they drive it off the lot.
What the new car purchaser would really prefer to do is find that common ground between buying a new car and not having it depreciate rapidly over time. Unfortunately, the average new car in 2014 is expected to lose 60% of its original value after five years. Thankfully, we have Kelley Blue Book to help us out.
Kelley Blue Book recently released a report detailing 10 car models that hold the highest resale values after the five-year mark. According to its figures, all 10 of these car models maintain at least half of their original value after five years. As a car enthusiast, perhaps nothing surprised me more than what car model held the No. 1 spot!
By understanding which models deliver the best resale, we not only can make smarter decisions as consumers, it could point to which vehicles are likely to drive automakers' sales higher moving forward.
Here are the 10 car models with the highest resale values (all models are 2014).
10. Dodge Challenger: resale value at 36 months (60.8%) / 60 months (50.5%)
Behold the ongoing rebirth of the American muscle car! Because of consumers' seemingly insatiable appetites for horsepower at the moment, seeing the Dodge Challenger squeak in at No. 10 isn't a surprise in the slightest. The Challenger is maintaining high interest among consumers for its reasonable price point — ranging from a tad over $26,000 up to nearly $46,000 — and heart-pumping 305 to 470 horsepower. An aggressive, sleek look coupled with unbridled power should keep Challenger sales rolling strong in 2014.
9. Chevrolet Silverado 1500: resale value at 36 months (59%) / 60 months (50.6%)
What a difference a remodel can make forGeneral Motors' (NYSE: GM  ) Chevy Silverado. It's been roughly eight years since the vehicle has had a major redesign, but it's clear from initial sales of the vehicle that GM has had trouble simply keeping up with demand. Although sales have stagnated over the past two months, as Foolish auto analyst John Rosevear pointed out, the average number of days a Silverado sits in a car dealership's lot before being sold is lower than both of its major domestic rivals. That proves the demand is there and gives us a primary reason Silverado's resale value is so high.
8. Honda CR-V: resale value at 36 months (63%) / 60 months (50.7%)
Why Honda Motor (NYSE: HMC  ) ? Simple: reliability. Consumer perceptions can go a long way to boosting the value of a vehicle in the auto sector, and Honda vehicles exude the idea of being economical, maintaining good gas mileage, and requiring less long-term maintenance relative to their peers. The CR-V is the perfect blend of the above, blending the space of an SUV into a compact form, while still providing reasonable gas mileage and the expectation of years of drivability without issues.
7. Chevrolet Camaro: resale value at 36 months (63.7%) / 60 months (51.9%)
Have I mentioned that Americans are really fascinated with the resurgence of the American muscle car? Perhaps no vehicle has captivated the attention of consumers than the Chevy Camaro, which is the best-selling muscle car — topping Ford's (NYSE: F  ) Mustang and the Dodge Challenger — since 2009. In 2013, the Camaro nosed out the Mustang for the top spot in muscle-car sales and actually left the Challenger eating its dust. With extremely reasonable price points and an engine that cranks out 323-580 horsepower depending on what model you choose, the Camaro's future and its resale value looks bright.
6. Toyota Tundra: resale value at 36 months (63.7%) / 60 months (52.3%)
We have to jump all the way up to the No. 6 spot to see our first appearance of a Toyota(NYSE: TM  ) vehicle — but here's a hint: You'll get used to it! The Tundra is a bit of a curious case, as it's not even close to being among the top 20 vehicles sold. Instead, Ford's F-Series pickups, the Chevy Silverado, and the Dodge Ram run circles around the Tundra in terms of total units sold. What's curious is that it holds the most superior resale value of the bunch, likely having to do with consumer perception of its superior reliability, as well as the fact that it can actually come with a number of equipment add-ons that can give it an edge over its peers.
5. Chevrolet Corvette: resale value at 36 months (67.5%) / 60 months (53.5%)
Surprise! Americans like muscle cars! General Motors is surprisingly cleaning up on thisKelley Blue Book list, but it does have a major redesign of the Chevy Corvette to thank for that.
In years past, you pretty much had to sign over your first born to park a Corvette in your driveway. But the redesign, which comes complete with a new hydroformed aluminum chassis, can be had for a bargain-basement $52,000 MSRP and delivers 455-460 horsepower. As long as longtime Corvette enthusiasts don't balk at the stylistic changes, there's a good chance the Corvette will remain on this list for some time to come.
4. Toyota 4Runner: resale value at 36 months (66.6%) / 60 months (56.2%)
Sometimes minimal change is for the best, as we see with the No. 4 spot on Kelley Blue Books' resale value list with the Toyota 4Runner. It's been four years since there's been a major resdesign of the 4Runner, and this appears to be one of those situations where the automaker says, "If it isn't broke, don't fix it!" The 4Runner relies on consumers' perception of reliability for the Toyota brand and the fact that few midsized off-road capable SUVs remain on the market.
3. Jeep Wrangler: resale value at 36 months (70.3%) / 60 months (59.1%)
In addition to unbridled horsepower, the resale value of genuine off-road vehicles is unparalleled with the Jeep Wrangler. This is the second year in a row the Wrangler has held the No. 3 spot, and it's the highest-ranked American-made brand on the list. With genuine off-road-capable vehicles becoming difficult to come by these days as automakers move more toward luxury features, the Wrangler is likely to remain on this list because of this niche aspect.
2. Toyota Tacoma: resale value at 36 months (73.7%) / 60 months (61.9%)
Yet again, another Toyota vehicle in the top six! Like the previous Toyota models, the historic reputation of Toyota is what appears to drive the value of these vehicle down at a much slower pace over the long term. With few frills added, the Tacoma is simply a reliable midsize truck that consumers can drive the wheels off of without worrying too much about repairs or gas mileage.
And the No. 1 vehicle for best resale value is …
1. Toyota FJ Cruiser: resale value at 36 months (81%) / 60 months (70%)
That's right … the FJ Cruiser. Perhaps one of the odder-looking vehicles on the road takes the best resale value yet again and clinches Toyota the position as top dog for resale value in the U.S. The FJ Cruiser's leading resale value comes from a combination of unique styling, which simply has no comparison, as well as its ability to successfully navigate off road. Being able to combine city and utility functions into a unique body styling earns the FJ Cruiser the honor of America's best resale value vehicle.
CONTACT MIDWEST GLASS TINTERS FOR AN AUTO WINDOW TINT QUOTE  -
 (847) 452-4818 or info@midwestglasstinters.net
The perennial leaders Toyota, Ford, Honda, and Chevrolet stand out as the top brands in consumers' minds based on the 2014 Car-Brand Perception Survey, conducted by the Consumer Reports National Research Center. Several other brands—including Tesla and Subaru—are moving up the rankings.
These scores reflect how consumers perceive each brand in seven categories: quality, safety, performance, value, fuel economy, design/style, and technology/innovation. Combining the scores for those factors gives us the total brand-perception score.
Of course, perception and reality often differ. Perception can often be a trailing indicator, influenced by word-of-mouth, marketing, and anecdotal hands-on experience. Analyzing the data collected from interviews with 1,578 random adults in car-owning households, we see that there is often a notable correlation as to what might inspire someone to think a brand excels. For instance, a company may be known for clever infotainment systems, giving it a perception edge in technology/innovation, but a closer look can reveal satisfaction and reliability concerns among owners.
The annual brand rankings provide a horse-race view of how consumers think of the brands. As you scan the list, and read the full brand-perception report, consider if your own impressions match those of others. And think about what might be affecting the ranking. Doing so will help make you a more critical car shopper and hopefully make it easier to separate the actionable, objective data—such as what's readily available at ConsumerReports.org—from subjective impressions.
| | | |
| --- | --- | --- |
| Best overall | | |
| Brand | Score | Change |
| Toyota | 145 | +4 |
| Ford | 120 | +3 |
| Honda | 109 | -16 |
| Chevrolet | 105 | +13 |
| Tesla | 88 | +41 |
| Subaru | 87 | +40 |
| Mercedes-Benz | 83 | +8 |
| Volvo | 80 | +8 |
| Cadillac | 78 | +15 |
| BMW | 73 | +12 |
| Buick | 59 | +20 |
| GMC | 56 | +12 |
| Audi | 54 | +9 |
| Nissan | 54 | +12 |
| Smart | 53 | +19 |
| Dodge | 53 | -2 |
| Lexus | 52 | +5 |
| Volkswagen | 50 | +15 |
| Hyundai | 41 | -8 |
| Kia | 40 | +5 |
In some cases there was rather dramatic movement, with many brands capturing a higher score. Tesla and Subaru were the big movers, each buoyed by a standout year for headlines, safety accomplishments, and media accolades. Gains made by Buick, Cadillac, Smart, and Volkswagen are noteworthy too.
Toyota's high score seems to reflect the brand's overcoming the damage due to the publicity in 2009 to 2010 regarding sudden acceleration concerns with some its models. As brands gain or lose points throughout the seven factors, the annual shift can add up to a dramatic one. The key here is momentum, and we're seeing many brands on the rise over time.
Read our complete report on the 2014 Car-Brand Perception Survey to see how the brands measured up in the seven categories and which brands are the lowest ranked.
Providing a true reality check, Consumer Reports will be publishing its annual automaker report cards on Feb. 25, ranking the brands based on a composite score that factors road test overall score and predicted-reliability
REPOSTED BY MIDWEST GLASS TINTERS FROM: YAHOO AUTOS/CONSUMER REPORTS 
As we're about to close the door on 2013 and ring in 2014, we decided to take a look back at which vehicles were the most popular on our site. We checked out new and used models subscribers were researching on ConsumerReports.org for the last year based on visits to our info-rich model pages.
Every day potential car buyers look to our independent test scores and reliability survey results to aid their research and help determine the best vehicle to buy for their needs.  We looked at visits to our vehicle model overview pages from Jan. 1 through Dec. 15, 2013, to compile this list of the top 10 most popular new and used cars.
So, what are car buyers looking for? SUVs and sedans are heavily researched among subscribers in new and used categories. All the top new car models listed are from Asian brands and do well in our tests; we often see that our subscribers gravitate toward vehicles that tend to populate our myriad "best" lists. The Honda CR-V and Subaru Forester were quite close in the new car list, with a clear advantage over the third-place Honda Accord. This follows what we have seen in our surveys, that there is much movement in purchase intent toward small SUVs from car owners moving up and down in size. What may be surprising to some is that there are no pickup trucks (the most popular vehicle type) on either list.
Similar models comprise the used-car list. The close race in this group is the near statistical ties between the Toyota RAV4 and Honda CR-V. Another key difference is the BMW 3 Series being the lone European model to find such favor, and the only luxury model in the used list.
From our lists below, presented in rank order, click on the model names to visit their model pages and learn why they are drawing so much attention.
Most popular new cars:
Honda CR-V
Subaru Forester
Honda Accord
Toyota Highlander
Toyota RAV4
Toyota Camry
Subaru Outback
Subaru Impreza
Lexus RX
Hyundai Sonata
Most popular used cars:
Honda Accord
Toyota RAV4
Honda CR-V
Honda Civic
Toyota Camry
Toyota Highlander
Subaru Forester
BMW 3 Series
Honda Pilot
Toyota Corolla
REPOSTED BY MIDWEST GLASS TINTERS FROM:  YAHOO AUTOS
The Toyota Prius has earned top honors for the second year in a row in Consumer Reports' ranking of the best-value cars.
The product-testing organization said Wednesday that the Prius, which retails for $29,230, "has the right combination of performance, reliability and low estimated five-year ownership costs of 47 cents per mile."
To create its rankings, Consumer Reports tested over 200 vehicles currently on the market, looking at road-test scores, reliability and five-year owner-cost estimates. The Honda Fit, this year's runner-up, held the number-one spot in the Consumer Reports ranking for four years running before it was unseated by Toyota's (TM) Prius last year.
The top-performing vehicle among luxury cars was the Lexus ES 300h, while the Honda(HMC) Ridgeline TRS won out among pickups. The Subaru Legacy 2.5i Premium took the top spot among midsized cars.
Coming in at the bottom of the ranking was the Nissan Armada SUV, which gets only 13 miles per gallon of gas and generated a large number of complaints from Consumer Reports subscribers.
REPOSTED BY MIDWEST GLASS TINTERS FROM: CNN MONEY
The Accord is a mid-sized family sedan that is available in hybrid and plug-in hybrid versions as well as fully gasoline-powered versions with four- and six-cylinder engines.
"Mainstream buyers have long found the Accord a popular choice because of its efficiency, functionality safety and value," Green Car Journal editor Ron Cogan said in a statement. "With the addition of exceptional hybrid and plug-in hybrid versions to the already fuel-efficient Accord line, Honda (HMC)'s Accord becomes an even more compelling choice."
The Accord Hybrid gets EPA-estimated 50 miles per gallon in city driving and 47 on the highway. (Hybrid cars often get better fuel economy in low-speed city driving than in highway cruising.)
The Accord Plug-in gets slightly lower city and highway mileage than the non-plug-in hybrid but it can go 12 miles on a charge before using any gasoline, according to EPA estimates.
Even gasoline-powered Accords are very fuel-efficient for their class. The V6 gets 34 mpg on the highway while the four-cylinder gets 36.
The other finalists for the award this year were two diesel-powered cars, the BMW 328d and Audi A6 TDI. Diesel cars are more fuel efficient that gasoline-powered cars. Two compact cars, the Toyota (TM) Corolla and Mazda3, were also finalists for the award.
To be eligible for the award, a car must be all-new or have significant changes for the new model year.
REPOSTED BY MIDWEST GLASS TINTERS FROM CNN MONEY:  http://money.cnn.com/2013/11/21/autos/honda-accord-green-car-of-the-year/index.html?hpt=hp_t2
DETROIT (AP) — For years, the joke in the auto industry was that a mass-produced car that runs on hydrogen was always a decade away.
That will change next year when Hyundai starts selling a Tucson SUV powered by a hydrogen fuel cell. It will be the first mass-market vehicle of its type to be sold or leased in the U.S.
"These things are now ready for prime time," John Krafcik, Hyundai's North American CEO, said last week. His company plans to announce details of the new Tucson on Wednesday at the Los Angeles Auto Show.
Even as the industry focused on battery-powered and hybrid cars, automakers such as Hyundai, Honda and Toyota kept up research on fuel cells. Now they appear to have conquered obstacles such as high costs, safety concerns and a lack of filling stations. These vehicles could help the companies meet stricter future fuel-economy standards.
Automakers have been dabbling in hydrogen-powered cars since the 1960s. General Motors announced a test fleet of hydrogen-powered Chevy Equinoxes in the mid-2000s, and Honda leased about two-dozen FCX Clarity models for $600 per month starting in 2005.
President George W. Bush allocated $1.2 billion for hydrogen research and said in his 2003 State of the Union address: "The first car driven by a child born today could be powered by hydrogen and pollution free." But the program was largely scrapped by the Obama administration, which focused more on battery-powered vehicles.
Hyundai now is making Bush's forecast come true, beating other auto companies to the mass market with Tucsons that have electric motors powered by a stack of hydrogen fuel cells. Hyundai plans to start selling the vehicles in Southern California and eventually spread to other areas as filling stations are built.
Hyundai says it has overcome safety and storage issues with a rear-mounted tank that has passed numerous crash tests without incident. As for filling stations, the California Air Resources Board says there currently are nine open to the public in the state. Legislators recently allocated about $100 million, or $20 million a year, to build 100 more.
Also at the Los Angeles show, Honda Motor Co. is scheduled to show off a fuel-cell concept vehicle, which it says hints at the aerodynamic design of the next generation fuel-cell vehicle to be launched in 2015. Further details weren't available.
Toyota Motor Corp. is scheduled to unveil its own concept fuel-cell vehicle at this week's Tokyo Motor Show. That one also is likely for distribution in the mass market in 2015.
General Motors continues work on its fuel-cell vehicles.
The largest U.S. automaker, which has spent a lot of time and resources on battery-powered cars such as the Chevrolet Volt, has no fuel-cell vehicles currently in its new product pipeline, spokesman Dan Flores said Monday. He said more work needs to be done on cost and infrastructure to make the cars viable.
Hyundai is expected to introduce prices and details of how its cars will be sold or leased at the Los Angeles show. Automakers usually offer leases when they put new technology on the market.
Hydrogen cars likely will help automakers meet new goals from eight key states to put more zero-emissions cars on the road. The states, including California and New York, pledged late last month to work together to put 3.3 million battery-powered cars, plug-in hybrids and other clean-burning vehicles on the roads in those states by 2025. That's more than 15 times as many zero-emission vehicles projected to be in use in the entire U.S. by 2015.
The other states in the pact are Massachusetts, Maryland, Oregon, Connecticut, Rhode Island and Vermont. The eight states together represent about 23 percent of the U.S. auto market.
REPOSTED BY MIDWEST GLASS TINTERS FROM:  YAHOO NEWS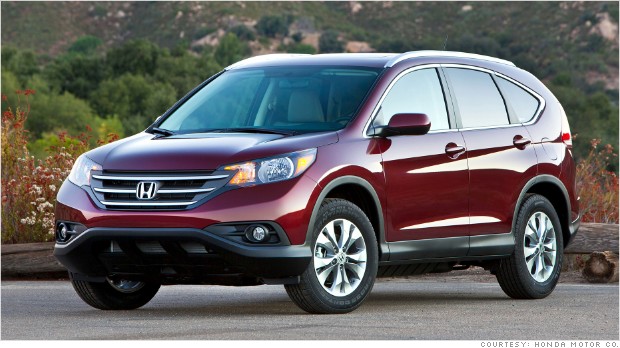 Leader of the pack: The Honda CR-V
To paraphrase Tolstoy, all successful cars are alike but each unsuccessful car is unhappy in its own way. Combine a minivan and an SUV and you get a Pontiac Aztek. Put a station wagon and an SUV together and you get a Chrysler Pacifica. But attach an SUV body to a passenger car platform, and you get an SUV crossover. So as analysts crunched the numbers from August's sales results against the backdrop of the year's biggest auto show in Frankfurt, all anybody was talking about was how crossovers — those streamlined SUVs — were coming to dominate the industry, and how they will unsettle the global competitive landscape.
Consider:
–Sales of small crossovers increased 36% in August, according to Automotive News, and crossovers sales of all sizes now represent more than one-quarter of industry volume — up from essentially zero 20 years ago.
–Consumers are on a pace to buy 300,000 Honda CR-Vs and Ford Escapes, and 200,000 Toyota RAV4s this year. Total crossover sales in 2013 should reach 4 million.
–Japanese brands gained 2.5 points of market share in August, largely on the strength of increased crossover sales. The Detroit Three, which have lagged in crossovers, particularly in the compact and subcompact segments, lost 1.4 points.
–For some premium brands, crossovers are their most popular models: The RX accounts for more than a quarter of all Lexus sales; the MDX and RDX lead Acura's sales charts; and Enclave and Encore are the most popular Buicks.
–Luxury manufacturers — even those who never built an SUV — are jumping into crossovers. Bentley and Jaguar both showed new concepts at Frankfurt, while Tesla is due to introduce the industry's first all-electric crossover, the Model X, for the 2014 model year. Buyers need never worry about damage from mud, rocks, or wild animals. Like most crossovers, these luxury models will never go further off-road than a highway exit ramp.
The flexibility of crossovers has made them the industry's default solution, its no-brainer. When asked at the Frankfurt show whether Jaguar would consider developing its first crossover, Design Director Ian Callum told Automotive News Europe, "Why not? Everyone else is doing it." Even Rolls-Royce is considering developing an crossover. "We are intensively thinking about entering the SUV segment," CEO Torsten Mueller-Oetvoes said in an interview with Bloomberg News. Its sticker price would be north of $300,000.
Crossovers have become the industry's equivalent of a Swiss Army knife. Says analyst Jeremy Acevedo of Edmuds.com: "By borrowing the best aspects of so many different segments with relatively few concessions, crossovers will continue to be an integral and growing segment of the market."
Their growing dominance signals an historic transition for the auto industry. Crossovers represent a once-in-a-generation sea change in car designs and buyer tastes. With
traditional station wagons practically extinct, and minivans in seemingly terminal decline, crossovers are spreading across the landscape like some alien species, strangling lesser varieties. Subaru, whose sales rose 45% in August and is one of the fastest-growingmanufacturers in the industry, has a model lineup that consists almost entirely of crossovers and has a hard time keeping up with demand. "This will be the fastest-growing segment globally for the next five years," says Warren Browne, vice president of AutomotiveCompass.
With Porsche getting ready to complement its Cayenne with the Macon crossover in 2014, just about every automaker is scrambling to add more crossovers to its lineup. In the process, they are being forced to ask some pressing questions:
–How thinly can they slice the crossover market? Crossovers are now available in subcompact, compact, and mid-size sizes, configured in two rows or three, and wearing mainstream or premium nameplates. Is there room for more two-door crossovers like the aggressive Lexus LF-NX concept shown in Frankfurt, convertibles like Nissan's slow-selling Murano, or sport models like Subaru's popular XV Crosstrek?
–What other segments will shrink as crossovers grow? Full-size sedans have been in decline for several years. Are mid-size sedans next? How many buyers are ready to choose functionality over formality, or practicality over pizzazz?
–What is the fate of the traditional SUV? The truck-based vehicles can't compare to crossovers for car-like ride and handling , features, or fuel economy. And while SUVs are still superior for towing or hauling heavy loads, pickups can do the same job more efficiently.
Crossovers came to prominence in the 1990s because they copied many of the best-liked features of SUVs — command seating, high ride height, easy access, available all-wheel drive — with none of the drawbacks — truck frames with truck looks and truck rides. The first ones came out of Japan, where consumers are more open to innovative body styles. After finding success there, Toyota (TM) and Honda raced to be first to sell to U.S. customers. When it became apparent that the RAV4 was going to win by arriving in late 1996, Honda (HMC) took the unprecedented step of making a Japanese-spec CR-V with right hand drive available to automotive journalists for reviews to blunt its impact. The tactic worked, and the CR-V has gone on to join the Civic and Accord as a core Honda model, as well as the bestselling crossover, while the RAV4 resides in third place.
Not all crossovers are created equal. Ford (F, Fortune 500) has struggled with the Flex, which buyers find reminiscent of a minivan, and had sold only 18,166 through August this year, compared with more than 200,000 Escapes. Nissan's brave attempt to design a convertible crossover with the Murano CrossCabriolet suffered from dumpy looks and uncertain handling, and will be discontinued.
Consumer interest in crossovers seems to be gaining steam. In Edmunds' tally of its 50 most researched cars in August, four of the top five were crossovers, with Honda's CR-V leading the pack. Automakers are racing to keep pace. Says Edmunds' Acevedo: "Manufacturers can't ignore the popularity of these models and those doing well in the segment will continue to refine their offerings as those looking for a larger piece of the pie will continue to up the ante." Some analysts believe that in addition to higher sales, crossovers return higher profits because their unibody construction makes them more economical to manufacture and because many crossovers share parts with passenger cars.
For now, all signs point upward. Analyst Browne sees a world in which prosperous buyers will use a sedan to commute and keep a crossover for fun and vacations. In other words, the sky is the limit — until something newer and better comes along.
REPOSTED BY MIDWEST GLASS TINTERS FROM:  CNN MONEY

REPOSTED BY MIDWEST GLASS TINTERS FROM:  TOPRAK CONSULTING GROUP
We just tallied up the first half of the 2013 sales results with all automakers reporting their June new vehicle sales in the U.S. Industry sales as a whole climbed 7.5% compared to the first half of 2012.
There were many questions at the beginning of the year about the longevity of the recovery in car sales. Many thought it wasn't sustainable and that pent-up demand would fade quickly. Well, it didn't. In fact, total sales exceeded even the most optimistic forecast and are currently trending at around 15.7 million for the year.
It turns "pent-up demand" was not a mythical creature and some people actually did need to replace their aging cars.
Small businesses generally make better financial decisions than consumers, because they have to. The last few months saw many small business buyers finally feeling comfortable with their operational prospects and coming back into the marketplace in large numbers. Trucks sales have been unseasonably strong and we are only just getting started.
It's important to note that 85 percent of all new car buyers either finance or lease their vehicles. Which means, finance and lease deals are critical for volume generation for the automakers. Luckily, interest rates can't get any lower and we happen to be in the middle of a perfect storm of ideal lease special creation conditions: historically high residual values and (once again) low interest rates. Lenders are also becoming more generous about who they lend to. It's not like the old days where all you needed was a pulse to get a car loan, but it's also not as restrictive as it was during the worst of the recession. Things are balanced. Balance is good.
"The Big Three" had a great first half. In fact, the first half of 2013 was the first time since 1993 where Ford, GM and Chrysler all gained market share at the same time. That's truly remarkable considering, not that long ago, many were making funeral arrangements for the domestic automotive industry.
Seventeen million in sales has been seen as the stretch goal for new vehicle sales since the recovery began in the industry. We are not quite there yet but it looks like we will be home sooner than we planned. I just upgraded my forecast for 2013 to 15.7 million units from 15.5 million and 16.5 million in 2014. As long as nothing spoils the party, the current trajectory will take us to magical 17 million mark in 2015.
Here is how the top players performed in terms of sales in the first half 2013: