Archive for the 'Technology' Category
At the 2014 Chicago Auto Show, Dodge introduces the new 2014 Journey Crossroad model to SUV shoppers who are looking for a more rugged-looking crossover vehicle. When the Journey Crossroad goes on sale, it will slot between the existing SXT and Limited trim levels, and will start at $25,990 including the $995 destination charge.
To create the new 2014 Dodge Journey Crossroad, the automaker installs revised front and rear bumpers with simulated skid plates, side-sill cladding, Platinum Chrome exterior trim, and dark-tinted headlights and taillights. The Journey Crossroad rolls on unique Hyper Black 19-inch aluminum wheels in a 5-spoke design.
Inside, the Journey Crossroad features black leather seats with light-gray accent stitching and black mesh inserts, as well as plenty of Liquid Graphite trim. Standard equipment includes a Uconnect 8.4 color touch-screen infotainment system, power driver's seat, power heated exterior mirrors, illuminated cup holders, and a keyless passive entry system with push-button starting.
Like the existing Dodge Journey, the new Crossroad model provides 7-passenger seating, reclining second-row seats with integrated child booster seats, fold-flat front passenger's seat with a storage bin under the cushion, and removable storage bins in the second-row floor designed to hold wet items or conceal valuables. Maximum cargo space measures 67.6 cu. ft.
The Journey Crossroad is equipped with a standard 173-horsepower, 2.4-liter 4-cylinder engine, 4-speed automatic transmission, and front-wheel drive. A 283-horsepower, 3.6-liter V-6 engine paired with a 6-speed automatic transmission is optional, and the Journey Crossroad can be fitted with an all-wheel-drive (AWD) system. When taking corners at speeds above 25 mph, the AWD system automatically sends power to the Journey's rear wheels to improve handling.
Dodge says crossover SUV buyers can expect to see the new 2014 Journey Crossroad in showrooms in the spring of 2014.
REPOSTED BY MIDWEST GLASS TINTERS FROM:  YAHOO AUTOS
Ford Motor (NYSE:F) said last week the company will launch 16 new models in North America this year, amid questions about whether automakers are flooding markets with too many cars too quickly.
In an interview on CNBC's "Squawk Box" Ford's president of the Americas Joe Hinrichs said the No. 2 U.S. automaker was confident that the market could absorb the new products despite mass recalls dogging the auto industry. Recently, Ford was forced to recall its Escape sport utility vehicle, costing the company about $300 million.
"All this new product we have coming in with 16 new launches this year, we're very confident we have the processes in place to have successful launches," Hinrichs said.
Meanwhile, the company plans to shut its main F-150 truck factory for 13 weeks this year as part of an effort to make changes to build the 2015 F-150 out of aluminum instead of steel.
On Tuesday, the auto giant posted a higher-than-expected quarterly profit as strength in the core North American market offset losses in Europe and South America.
REPOSTED BY MIDWEST GLASS TINTERS FROM:  YAHOO FINANCE
The first Porsche-designed car was unveiled in Stuttgart, Germany, on Monday. It had been sitting in an old shed in Austria since 1902.
The car is, officially, the 1898 Egger-Lohner electric vehicle, C.2 Phaeton. It's known as P1, signifying Ferdinand Porsche's first design.
It is an electric-power car, developed by Ferdinand Porsche, who founded the namesake sports-car company in 1948. Before that, as a young man with engineering aptitude but no formal engineering training, he was working for car builder Jacob Lohner, who assigned Porsche to come up with an electric drivetrain.
Porsche says it hit the streets of Vienna, Austria, on June 26, 1898, when Ferdinand Porsche was 22. He engraved the code "P1″ (standing for Porsche, number one) onto all the key components.
In the classic case of auto-collector's fantasy come true, P1 was discovered in a warehouse, where it had been untouched since 1902, the car company says.
According to the automaker, Ferdinand Porsche's powertrain was a rear mounted electric drive that weighs a modest 287 lbs. and produces 3 hp. For short periods, up to 5 hp can be achieved in overdrive mode, allowing a top speed of 21 mph.
The first serious test came in a race for electric cars in September 1899. The contestants had to complete 24 miles with three passengers on board.
Ferdinand Porsche piloted the P1 across the finish line 18 minutes ahead of the second-place racer, the car company's history shows. Perhaps more important, P1 was among fewer than half the racers able to finish. The others dropped out because of technical problems.
The Phaeton designation (in mythology, a reference to the son of the god Eos) refers to an open car with front and back seats, derived from horse-drawn carriages of similar configuration.
The car demonstrates that automaker Porsche's turn toward eletrification hardly is a new development.
Today, one of its quicker models is the $100,000 Panamera gas-electric hybrid sedan. A TV ad shows it driving faster than electric wires can spread news of its performance.
Porsche also fields the 918 Spyder gas-electric hybrid race car. In contrast to P1, the 918 racer has a combined gas-electric power rating of 887 hp (127 hp maximum from the electric motor), and can go 10 times as fast as P1 — 211 mph (though only 93 mph on electric power only).
REPOSTED BY MIDWEST GLASS TINTERS FROM:  USA TODAY
(CNN) – At full speed, the Rimac Concept_One is little more than a cherry red blur, flashing from one corner of the horizon to the other in the blink of an eye.
If its projected performance figures prove to be true, this radical electric concept car — the brainchild of an award-winning young Croatian designer — could accelerate faster than all but two of the fastest supercars on earth.
The Rimac Concept_One's figures are impressive. Not just for an electric car, but for traditional petrol-engine cars as well.
For years electric vehicles have been regarded as the frumpy inner-city siblings of their hardier countryside 4×4 brethren or zippier track-friendly supercar sisters. Electric vehicles have tended to have names like Leaf, Buddy or Spark as opposed to Vanquish, Venom or Phantom.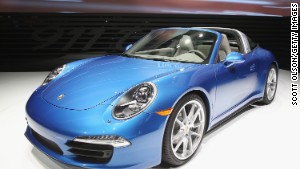 Automakers show off new cars in Detroit
All this may be set to change when Rimac goes into production. First unveiled at Frankfurt Motor Show in September, 2011, the Concept One is an electric vehicle that aims to be even faster than the Bugatti Veyron. Its precocious 25-year-old inventor, Mate Rimac, says that the car produces 1018 horsepower, can accelerate from 0 to 100 kph (62 mph) in just 2.8 seconds, has a top speed of 305 kph (190 mph), and can travel 600 kilometers (372 miles) on a single charge.
Mate Rimac says that he has always been motivated by the desire to demonstrate the superiority of electric over petrol-powered cars: "I have two passions; cars and technology," Rimac says. "Technology because Nikola Tesla was born in Croatia, and he invented the electric motor that is used in so many applications today. And I knew simply by theory that this motor is so much better to drive a car — even a sports car.
"I decided to combine my two passions, technology and cars and make an electric car that can prove the electric motor is much better even on the racetrack. Not just city cars for boring stuff, but to show people that the future will be interesting — that one day when petrol is gone and you only have electric cars in the world, you won't have to compromise in terms of performance, speed or (how) far (it can go)."
While he was still in high school, Rimac bought a lime green BMW for less than €1000 and began modifying it with new parts. "I couldn't wait to pull out (the motor) and put batteries and electric motors inside instead of the gas engine," Rimac says. After several years of rebuilding and alteration, Rimac set a world record with his car, which became the fastest accelerating electric car in the world. The car is still recognized in the Guinness Book of World Records for the fastest quarter mile by an electric vehicle.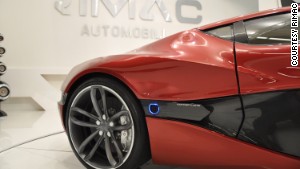 After setting five separate world records with his modified BMW, Rimac began to work towards building his very own car from scratch. He enlisted the help of the highly-regarded young car designer Adriano Mudri, and began work on the Concept_One.
Now Rimac is turning his dream car into a reality on a shoestring budget: "In the car industry, it's common to design a new car with 1 billion to 5 billion dollars. But, most of those cars carry over components from previous versions — engines, gear boxes and stuff. We had to design a car (including) the whole technology under the skin, (while) the company itself didn't have a desk to put a computer on. And we did all that with less than 0.1% of the budget which is usual in the car industry," Rimac says.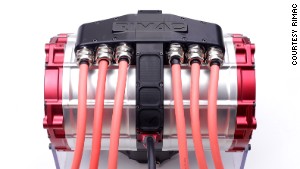 Preliminary impressions from the automotive press have been generally positive, although many, such as GTspirit.com, said that they approached the concept of a vehicle that has "no sound, no downshift and no smell of burnt petrol" with trepidation. Some also disputed the figures Rimac has released, suggesting that their projected performance statistics may be ambitious.
Still, the notion that an electric car might soon not just match, but outperform the best petrol vehicles on the planet is certainly a captivating one. When Rimac releases a production car into the wild in the not-too-distant future, the eyes of the world will certainly be watching.
REPOSTED BY MIDWEST GLASS TINTERS FROM:  CNN
Now that the count is in for 2013, the numbers are official. Toyota Motor Corp. (TM) was the No. 1 car company in the world. It is quite a comeback from the factory destruction caused by the great 2011 Japanese earthquake and millions of recalls that eventually had CEO Akio Toyoda hauled before Congress and questioned about the safety of his company's vehicles.
Reuters tabulated data that show the Japanese car manufacturer's sales rose 2% to 9.98 million vehicles. General Motors Co. (GM) followed with a 4% improvement to 9.71 million vehicles. Volkswagen was third with an increase of 5% to 9.70 million. At those rates, GM could fall into the third spot in 2014.
While a weak yen gave Toyota an advantage over its non-Japanese rivals, that is only part of the cause. Toyota has regained its reputation for quality. In the United States, this was shown with high scores in carefully watched research data from Consumer Reports and J.D. Power. Toyota's sales rank it third in the U.S. behind GM and Ford Motor Co.   Notably, Volkswagen's sales in America have languished.
The AECA reports that in 2013, in the crippled market of Europe, Toyota's sales dropped a mere 0.2% while overall sales in the region were off by 1.7%. VW, the largest car maker in the region, lost 0.6% of its sales. GM was staggered by a drop of 4.3%. The U.S. company has been unable to turnaround its buckling Europe operations.
GM and VW hold a substantial lead in China, the world's largest car market. Each, along with joint venture partners, sold more than 3 million cars last year in the People's Republic. Toyota lags with less than one million. Because the Chinese car market is so huge, Toyota likely will have to do better there to keep its global position.
Among Toyota's advantages is its broad range of vehicles, which run from it Lexus luxury brand to the Prius, the best-selling hybrid in the world. The Japanese car company offers 23 models in the United States, excluding Lexus models — a number that second-tier manufactures like Chrysler find they cannot match.
Toyota, overcoming tremendous hurdles, has moved back on top.
REPOSTED BY MIDWEST GLASS TINTERS FROM:  YAHOO FINANCE
Toyota has brought its A game to the 2014 Detroit Auto Show, showing off the striking FT-1 Concept. Short for "Future Toyota," the FT-1 is, we're imagining, the supposed Supra Concept we reported on early in December.
Penned by the Calty Design Research team, the FT-1 draws inspirations from the FT-HS and the Lexus LF-LC concepts from 2007 and 2012, respectively. We certainly see a bit of Lexus LF-A in the design, while there's more than a hint of Formula One in the FT-1′s pointed nose.
"Our team was heavily influenced by Toyota's sports car past, especially Celica and Supra, and we sought to capture some of that history. It is an aggressive, track-focused sports car concept with a presence that has been amplified for shock and awe," said Alex Shen, Calty's Studio Chief Designer.
The FT-1′s interior is what Toyota calls a "place of business," which would be a funny description of a Toyota, if the FT-1 didn't look the way it did. The cabin is snug, while a colored heads-up display adds to the sense that this is more cockpit than cabin.
While it may be a concept, it will be available to drive soon, as Toyota worked with Polyphony Digital to add the FT-1 to Gran Turismo 6. According to the press release, which you can view below, the low-slung concept will be available for download tomorrow. Until then, be sure to peruse our full gallery of live images from the floor of Cobo Hall and the press release below.
PRESS RELEASE
From Virtual to Reality? Toyota FT-1 Concept Sets the Pace for Future Design
Company answers Akio Toyoda's call for design revolution, more heart-pounding design
Stunning design draws on Toyota's rich sports car history
Calty Design Research celebrates 40th anniversary with ultimate design concept
January 13, 2014
Fabulous Toyota FT-1 Concept Is Ready to Drive January 14
Toyota's Calty Design Research Celebrates Its 40th Year and a Rich Sports Car Design Heritage
DETROIT, Michigan (Jan. 13, 2014) – Toyota virtually blew the doors off the North American International Auto Show with the reveal of the stunning FT-1 sports car concept. First devised by Calty Design Research in the Sony PlayStation Gran Turismo game environment, FT-1 leapt from the screen to the stage in a race-inspired press conference at COBO Hall.
The name says it all. FT-1 stands for "Future Toyota," and the number "1″ represents the ultimate. According to its designers at Calty Design Research, the FT-1 Concept is the ultimate expression of a Toyota coupe design, building upon Toyota's rich sports coupe heritage dating back to the 2000GT, Celica, Supra, MR2 and most recently Scion FR-S. In addition, the concept draws inspiration from Calty's more recent sports car concept work such as FT-HS (2007) and the Lexus LF-LC (2012).
The project started nearly two years ago and represents a labor of love by a passionate, dedicated and gifted Calty design team. "The FT-1 is a dream-project for a designer and car enthusiast like myself," said Alex Shen, Calty's Studio Chief Designer. "Our team was heavily influenced by Toyota's sports car past, especially Celica and Supra, and we sought to capture some of that history. It is an aggressive, track-focused sports car concept with a presence that has been amplified for shock and awe."
The FT-1′s audacious design represents the pinnacle of Calty's 40th year of operation. Guided by the Toyota design ethos of Vibrant Clarity, a unique fusion of both emotional and rational factors that delivers a more exciting and dramatic design expression with unique Toyota identity, the concept is a spiritual pace car for Toyota Global Design. The goal of this ideological shift is to develop future generations of products that better connect emotionally with Toyota's global consumer base.
Traditionally, Toyota's design decisions have been driven by consensus among a large group of stakeholders. Under Akio Toyoda's stated directive to invigorate Toyota products with energy, passion and "Waku-Doki" (translation: a palpable heart-pounding sense of excitement), the approval process has been streamlined. This new approach aims to produce cars that connect more deeply with customers, generating a more satisfying ownership experience that complements Toyota's legendary reputation for quality, dependability and reliability.
"Function-sculpting" design language yields curved, muscular, expressive body forms seemingly shaped by the wind. Inlets, ducting, and vents are features of the exterior design that help reinforce its track–ready nature with elements of purposeful airflow management. At higher speeds a retractable rear wing deploys and tilts forward to create additional downforce. The body's athleticism is expressed with taut surfaces and dramatic fender forms that seduce the eyes when covered in an unapologetically red hue.
The front engine rear-wheel drive configuration locates the cockpit far rearward within the wheelbase to improve weight distribution. This design element also helps create the classic sportscar proportions one would expect from a vehicle poised to dominate even the most challenging road course. The cockpit's wraparound windshield and side glass openings are a distinct nod to the design of the legendary Toyota 2000GT.
The interior is a focused, highly functional "place of business" that locates the driver at the controls behind an F1 inspired steering-wheel. The intimate, low slung cockpit has its A-pillars set far back to help optimize cornering vision and sensation of the cabin's intimacy. A delta-shaped display zone surrounds and integrates the driver to provide an exhilarating sense of being connected to the vehicle. The cockpit's sense of minimalism adds to the purposefulness of the driver-focused environment with an emphasis on light weight components such as the composite seat covered with just the right amount of padding in only the areas that come into contact with the driver. A color heads-up display keeps the driver's attention on the road ahead, with vital information projected just above the steering wheel within the driver's line of sight.
While technical specifications do not accompany the concept, one can assume that the FT-1 represents an ideally balanced front-engine, rear wheel-drive layout that is powered by a high-technology, high performance internal combustion engine. Beneath a transparent glass hood, an ambiguous engine cover hides a powerplant left to the imagination of the onlooker.
In preparation for pitching the concept to Toyota management, Calty worked with Polyphony Digital, creators of the popular Gran Turismo driving simulator, to bring FT-1 to life in a virtual world that captured the excitement, passion and performance conveyed by the concept model. Toyota executives were offered the opportunity to take FT-1 for a timed lap around a computer-generated Fuji Speedway. Behind the wheel of the concept, Toyota president Akio Toyoda, an accomplished race car driver, completed the virtual circuit faster than his best real-world lap time at Fuji in his LFA. From that moment, he was convinced and the concept was approved to be built in model-form for the international auto show circuit.
For Toyota, this concept embodies the possibilities of the new and exciting design mission ahead. "Sports cars represent the ultimate driving expression in its purest form. As car enthusiasts ourselves, this is the kind of project we dream about working on," said Calty Design Research president Kevin Hunter. "Beyond its obvious five-alarm visual impact, FT-1 is symbolic of a new chapter for Toyota Global Design. This provocative concept truly captures the passion, excitement, and energy of the Toyota we are evolving into and embodies elements of the emotion and performance that Toyota will imprint upon future production designs."
About Toyota
Toyota, the world's top automaker and creator of the Prius, is committed to building vehicles for the way people live through our Toyota, Lexus and Scion brands. Over the past 50 years, we've built more than 25 million cars and trucks in North America, where we operate 14 manufacturing plants (10 in the U.S.) and directly employ nearly 40,000 people (more than 37,000 in the U.S.). Our 1,800 North American dealerships sold more than 2.3 million cars and trucks in 2012 – and about 80 percent of all Toyota vehicles sold over the past 20 years are still on the road today.
Toyota partners with philanthropic organizations across the country, with a focus on education, safety and the environment. As part of this commitment, we share the company's extensive know-how garnered from building great cars and trucks to help community organizations and other nonprofits expand their ability to do good. (NYSE:TM)
Discovery Channel's Fast N' Loud is one of the latest and greatest motoring shows on TV. It's no Top Gear, but it does have that certain charm that keeps viewers (and us) coming back to watch week after week.
If you remember, the Gas Monkey Garage team took on the daunting task of building a nearly totaled Ferrari F40. Loads of cash and many sleepless nights later, and the project was finally finished, only to be completely bought out by original investor Dennis Collins. Yesterday, it went back up for sale at the Barrett-Jackson auction in Scottsdale, and sold for a cool $675K.
PHOTOS: See More of the 1992 Gas Monkey Garage Ferrari F40
Now, $675K alone for a Ferrari F40 isn't all that impressive. We've seen some million dollar examples in the past — even Gas Monkey Garage's Facebook page says that Dennis "wishes it had gone for much more." But what's even more interesting is the man behind the winning bid — none other than baseball legend Reggie Jackson. Apparently, a man who has a fine taste in automobiles.
Also on the auction block was a custom 2014 COPO Camaro built by the Gas Monkey Crew (pictured), which reportedly sold for a whopping $106K. We'd say they're heading home with a pretty heavy wallet this year.
PHOTOS: See More of the 2014 Chevrolet COPO Camaro
REPOSTED BY MIDWEST GLASS TINTERS FROM:  BOLD RIDE
Cadillac is in the midst of a resurgence, and the debut of the gorgeous ATS Coupe at the Detroit Auto Show today makes its future look even brighter.
At the reveal, GM's luxury brand made another, less spectacular announcement: It's changing its logo. The new look was first shown in August on the Elmiraj concept, and now we know it will be on all new cars starting mid-2014.
The wreath is gone, and the crest is lower and wider. "Sleek and streamlined," Cadillac says, just like its current lineup.
"This new Crest matches the lower, longer, leaner mantra of our current car designs," Andrew Smith, Cadillac's executive design director, said in a press release. The crown last seen before the 2000 redesign has not reappeared — no need to look cocky.
Here's a closer look:
And the evolution. Click to enlarge:
REPOSTED BY MIDWEST GLASS TINTERS FROM:  YAHOO NEWS
It's been a clean sweep for Chevrolet in the North American Car and Truck of the Year awards event, with its 2014 Corvette Stingray sports car receiving top honors in the car category and its 2014 Silverado 1500 receive the same in the category for trucks and utilities. It is the first time Chevrolet has won both awards in the same year. The Silverado last won the truck category in 2007 while its been since 1998 since a Corvette was picked for the car category.
View Complete photo gallery of the 2014 Corvette Stingray
View Complete photo gallery of the 2014 Chevy Silverado
Finalists in the car category included the 2014 Cadillac CTS and 2014 Mazda 3, while in the truck category the 2014 Acura MDX and 2014 Jeep Cherokee were among the finalists. Some other top contenders were the 2014 BMW 4-Series and X5, 2015 Mercedes-Benz CLA-Class, and the 2014 Land Rover Range Rover Sport.
The announcement of the winners this morning at the 2014 Detroit Auto Show ends weeks of diligent testing of all the nominee vehicles by a panel of 49 judges comprised of automotive journalists from the U.S. and Canada. Among them was our own Marty Padgett.
They base their vote on a number of factors including innovation, design, safety, handling, driver satisfaction and value.
REPOSTED BY MIDWEST GLASS TINTERS FROM:  YAHOO AUTOS
It's easy to be dubious when an unknown car company claims it's built a 640 hp, 21st-century muscle car from scratch out of a small plant in the suburbs of Detroit. Then, despite no evidence of reality bar a fancy video with more Hollywood effects than a James Cameron flick, goes on to announce it's received orders overseas where buyers are willing to spend $250,000 sight unseen. I was suspicious.
The Equus Bass770 resembles the American dream; a glorious fastback muscle car evoking memories of the 1960s and '70s, yet with all the modern luxuries and technologies today's wealthy expects. It's perhaps the most beautiful, evocative muscle car in decades. And yet, despite alarm bells ringing louder than Thor, the car pictured above is actually real. I've seen it with my own two eyes.
Better still, at the Detroit auto show, I've seen not one, but three Bass770s — one in red; one in white; one in blue.
Equus, based in Rochester Hills, Mich., began working on the Bass770 six years ago. Its aim was to create the ultimate dream car; one that's undeniably unique and unequivocally American. When small builders attempt to realize their lofty ambitions, inevitably it becomes a mismatch of leftovers from various scrap yards. Equus, however, created its frame from scratch out of superformed aluminum lined with carbon-fiber inner panels. This helps the Bass770 tip the scales at just 3,640 lbs. — 480 lbs. lighter than a Camaro ZL1.
Ditching the '60s muscle car stigma of atrocious brakes, Equus opts for carbon ceramic matrix rotors by Brembo. GM's magnetic ride suspension comes equipped, too, promising a driving experience as smooth as Frank Sinatra. The engine, a 6.2-liter supercharged V-8 featuring 640 hp and 605 lb.-ft. of torque, is the LS9 from a Corvette ZR1, capable of dashing to 60 mph in 3.4 seconds and reaching a top speed of 200 mph, while routing said performance to the rear wheels via a six-speed, dual clutch manual transmission.
It's a stunning work of retro-flavored modern engineering, and in the metal, it looks as beautiful as depicted in the video below. Every edge is perfectly finished; the interior is wrapped in more leather than Catwoman, and for an extra $50,000 or so, Equus will grant you a bespoke Bass770 — just in case your neighbor on Palm Islands has one too. According to Equus, opting for this allows you to select things like "unlimited" power, body enhancements and rare materials.
Sound like smoke and mirrors?
Equus claims to have already pre-sold 20 cars to buyers in China and the Far East, even though it's yet to begin actual production. In two weeks, when licensing gets finalized, it plans to open the doors to U.S. customers, with an aim to sell an ambitious 100 Bass770s per year. Many ambitious start-up automakers never make their sales goals, but a few have found a path to survival. We'll see how many $250,000 Equus Bass770s show up the Detroit show next year.
REPOSTED BY MIDWEST GLASS TINTERS FROM YAHOO AUTOS