Archive for the 'Technology' Category
REPOSTED BY MIDWEST GLASS TINTERS FROM:  HUMANSAREFREE
The recent announcement that the Quant e-Sportlimousine, which is a salt water powered car, has been certified for use on European roads is a big sign that the Oil Cartels are losing the energy war.
Since the early 1900s, the Oil Cartels, which are controlled by the Controllers, have been harassing and silencing alternative energy inventors who pose a threat to the Oil Cartels. One of the greatest alternative energy inventors that they silenced was Nikola Tesla.
Unlike traditional cars that run on gasoline, the Quant e-Sportlimousine runs on an electrolyte flow cell power system made by NanoFlowcell that has the ability to generate an astonishing 920 horsepower (680 kW).
This salt water powered car can go from 0-62 mph (100 km/h) in 2.8 seconds and has a top speed of 217.5 mph (350 km/h). The Quant e-Sportlimousine is built by the German company Quant.
Electrolyte flow cell technology has been around for decades, but it wasn't until recently that certain car manufacturers were given the permission to start building cars that run on electrolyte flow cell technology.
This type of alternative energy technology will eventually make gasoline powered cars obsolete, because using electrolyte flow cell technology to power cars is a lot more efficient and much cleaner than using gasoline.
TO LEARN MORE ABOUT THE BENEFITS OF CAR WINDOW TINTING, ANSWERS TO FREQUENTLY ASKED QUESTIONS , MORE INFORMATION ABOUT AUTO GLASS TINTING IN CHICAGO, OR FOR A CAR TINTING QUOTE, CONTACT MIDWEST GLASS TINTERS 
 (847) 452-4818 or info@midwestglasstinters.net
REPOSTED BY MIDWEST GLASS TINTERS FROM:   YAHOO AUTOS
Everybody wants to own a keeper. A car that provides so much personal satisfaction that the years and miles can just fly by, while the enduring qualities of that daily driver remain picture perfect.
The hard part for most folks comes down to hype.
To sell more cars, manufacturers continue to promote short-term quality studies that have little or nothing to do with the long-term ownership experience. For example, J.D. Power's Initial Quality Study only covers the first 90 days of ownership, while its long-term survey tracks three-year-old vehicles over a short 12 month span.
In a market where the average car and truck is now over 11 years old, a long-term reliability study requires a much longer view of car ownership. For those of us who are looking to find a good used car, or even feel concerned about how a new car will hold up, we should be able to know the longevity of a vehicle for the entire life cycle instead of just a random early point in time.
This is why Nick Lariviere and myself have developed the Long-Term Quality Index. With over 550,000 data samples from all over the country, we have been able to look specifically at measuring the three key ingredients that tell you how well a given model has performed in today's marketplace; mileage, age and condition.
To make this study fair and impartial, we have also taken two unique steps that represent a first for long-term reliability studies in the auto industry. The first is removing owner bias. Certain people will always recommend a car simply because that's what they bought in the past and if something bad happens, they won't tell you about it. Others are just oblivious to the thumping of a bad transmission, or the knocking of a bad motor. That is why we only have mechanics and skilled professionals appraise the vehicle's condition.
Second, we focus exclusively on condition and longevity. Cars that are either 18 years or older, or have 180,000 or more miles, have endured well past the average life-span of the average vehicle.
In our study, we're finding that only a chosen few can routinely achieve these two levels of longevity without a major mechanical defect. It's this level of engineering excellence that we want to highlight in our study.
So what have we found so far? Some of what you might expect, but a lot of surprises.
The Over-300,000 Club Is Still Pretty Exclusive: Five types of vehicles make up more than 60% of the cars and trucks with at least 300,000 miles. They are:
By our calculations, these models are about 2.5 times more likely to hit 300,000 miles than any other vehicle.
One Nissan model is greater than all of Volkswagen:
We're not talking about a mid-sized Altima, or the Sentra compact which has become the official taxi south of the border. The biggest surprise so far in the study has been the Nissan Maxima. Older models (2002 and earlier) with the 3-liter engine and four-speed automatic offer exceptional long-term reliability.
In the long-term reliability study, 1,038 Maximas out of 4,825 have gone over 180,000 miles (21%), versus only 785 Volkswagens out of 14,518 (5.4%)
Cadillac has VW levels of long-term reliability:
Both brands have abysmal long-term reliability with Cadillac scoring the same 5.4% as Volkswagen, which is less than half of the industry average. Head gasket issues for most years of the Northstar V-8 along with high maintenance costs make older Cadillacs a nadir when it comes to finding a long-term keeper.
How bad does it get for Cadillac? Well, here's a shocker for you.
Cadillac Cars = Older Kias: If you removed the Cadillac Escalade, which is nothing more than a full-sized primped-up version of the less expensive Chevy Tahoe and GMC Yukon, the Cadillac brand becomes a true bottom dweller. Kias that were made before Hyundai's takeover of that brand show similar levels of long-term failure.
The Honda Accord Crushes Nearly All of Europe: Thanks in great part to the sound reliability of older Volvos, all European brands are barely able to beat the number of Accords that have been traded-in with over 180,000 miles. The Honda Accord's tally of 3,826 trade-ins with over 180,000 out of 12,398 nearly beats Audi, BMW, Jaguar, Land Rover, Mercedes, VW, Volvo, Saab, Porsche, and BMW's sub-brand MINI combined. These European models required a staggering 67,484 vehicles and an army of old Volvos to surpass the mileage tally of one popular Honda model.
British Roots Do Not Bear Reliable Fruit: You have about as much chance of dying from an injury this year as you do buying a Land Rover and a Jaguar with outstanding reliability. The chances of both vehicles combined lasting over 180,000 miles before getting kicked to the curb is an eye-popping 1,700:1.
The Accord and Camry Are Workhorses: Even with well-known transmission issues for certain six-cylinder Honda Accords, the two most popular mid-sized vehicles continue to be kept for far longer periods of time than their competition. The Accord and Camry have remained cars worth keeping with 28% of all Accords traded-in with over 180,000 miles, and 24% of all Toyota Camrys following suit. Both are more than twice the industry average of 11%.
Exceptional Reliability Is Still A Rare Thing: A lot of manufacturers have applied cost-cutting measures and decontenting methods to extremes. These engineering shortcuts often don't reveal themselves until after the vehicle goes beyond 100,000 miles. However, there is still a very wide gulf that separates the market leaders from the market laggards as those miles and years add up.
TO LEARN MORE ABOUT THE BENEFITS OF CAR WINDOW TINTING, ANSWERS TO FREQUENTLY ASKED QUESTIONS , MORE INFORMATION ABOUT AUTO GLASS TINTING IN CHICAGO, OR FOR A CAR TINTING QUOTE, CONTACT MIDWEST GLASS TINTERS 
 (847) 452-4818 or info@midwestglasstinters.net
REPOSTED BY MIDWEST GLASS TINTERS FROM:   WALL STREET CHEAT SHEET
The world's seven largest automakers don't seem spooked by the record level of recalls throughout the industry, and neither of the consumers. Cumulatively, auto sales surged 5.8% during the month of October, and on an annualized basis, global sales should reach or exceed 16 million cars for the eighth month in a row.
Growth rates at Jeep and Ram put Fiat Chrysler in a leading position, and Chevrolet and GMC both saw gains as well, though Cadillac served as an anchor and GM gained just 0.5% for the month. Nissan, Toyota, and Honda all saw meaningful gains, though Ford's sales haltered.
"For Ford, the slow month was not unexpected. The company is currently undergoing some serious revamps to its production process as it gears up for the unleashing of the all-aluminum F-150 pickup truck," Sam Becker from the Autos Cheat Sheet wrote. "General Motors, on the other hand, is still trying to claw its way back from an absolutely disastrous beginning to the year, in which the company was forced to recall millions of vehicles."
As for the top 10 best-selling vehicles of the month, there were few surprises, but recent model updates and refreshes have done their part to boost growth for several vehicles. See how the top selling vehicles in the country faired in our ranking below, courtesy of Cars.com's Kicking Tires blog.
An 11.6% decline in sales to 24,154 units versus the October from a year ago put the Honda Civic in tenth place, a few spots behind its usual 7th-5th place finishes. While other compacts have been renewed for 2015, the Civic is still riding its 2014 refresh, which seems to be losing its spark; sales for the year through October sit at 277,584, or 1.2% below the same 10 months of 2013.
9. Chevrolet Cruze
Though it's very much the same car from 2014, Chevrolet made a few tweaks to its popular Cruze for the 2015 model year, and the results appear to have made quite a splash. Sales of the compact carleapt 51% over October of last year, and sales of the car for the year to date of 232,403 units puts the Cruze ahead of the same period last year by 9.7%.
8. Ford Escape
Despite little to no change for the 2015 model year, Ford's popular crossover SUV got a 12% boost to 24,919 units for October, putting its year-to-date tally at 255,081 vehicles sold since January. This translates into a year-to-date gain of 1.8%, which is admirable for the Escape, which is starting to age against newer competition.
Toyota's venerable Corolla seemed to get off to a slower start coming off its redesign for the 2014 model year, but it has kept up enough steam throughout the year to maintain its rank of 7th for October on a 5.6% gain, or 24,959 units. Overall, the venerable Corolla — which was one of the first cars to wear Toyota's new design language — is up 10.3% on the year, to 283,764 cars.
6. Honda Accord
The Accord has been on a winning streak this year, occasionally outselling the consumer favorite Camry and at one point, even the Chevrolet Silverado for a second place finish in the monthly rankings. Sales in October tempered, however, to 27,128 units, which is still good for a solid 7.8% gain, and the car is up 7.9% on the year with 331,510 units moved.
With the 2015 model year refresh hitting dealerships about now, the Honda CR-V is seeing a reigniting of consumer interest. October sales spiked to 29.7%, or 29,257 units, to leave the popular crossover SUV up 7.4% on the year, at 270,272 models sold since January.
4. Toyota Camry
America's favorite midsize sedan has gotten a healthy redesign for the 2015 model year, to help shed its beige personality with a sportier, bolder appearance. Now arriving at dealers, the new Camry saw October sales surge 13.8% to 33,164 cars, leaving its year-to-date sales up 5.7% at 368,142 units with two selling months left in the year.
Ram has been on fire this year, essentially from start to finish. That streak continued through October, as the brand sold 39,834 pickups, to seal a 33.5% spike over October's sales from last year. This leaves Ram's pickups — the 1500 line and the larger heavy duties as well — at 359,702 models sold since January, or a 22.9% leap over the same sales period of 2013.
After a disconcertingly slow start for Chevy's updated line of pickups, the portfolio has thrown the salesthrottle open and sold 46,966 pickups in October, for a handsome 10.1% year-on-year gain over October of 2013. So far this year, Chevrolet has sold 429,119 of the bow tie-branded pickups, leaving the truck 6.4% in the green for the year so far.
1. Ford F-Series
As Ford readies to transition from the 2014 to 2015 model year F-Series pickups, the company has seen a dip in sales leading up to the awaited release — perhaps in anticipation. That streak continued through October with 63,410 units moved, or down 0.6% from October of 2013. To date, Ford has sold 620,447 trucks, which falls behind the first 10 months of last year by 0.5%.
TO LEARN MORE ABOUT THE BENEFITS OF CAR WINDOW TINTING, ANSWERS TO FREQUENTLY ASKED QUESTIONS , MORE INFORMATION ABOUT AUTO GLASS TINTING IN CHICAGO, OR FOR A CAR TINTING QUOTE, CONTACT MIDWEST GLASS TINTERS 
 (847) 452-4818 or info@midwestglasstinters.net
REPOSTED BY MIDWEST GLASS TINTERS FROM:  YAHOO AUTOS
Overwhelming. That was our first reaction as we began the task of choosing the best new car for our annual Yahoo Autos Car of the Year. The previous winners — the Tesla Model S in 2013, and the Chevrolet Corvette Stingray in 2014 — had been drawn from a tight pack of favorites. The 2015 model year offered dozens of new models, yet not one had emerged as the front-runner by the time we assembled in California last month.
That would hold true as we winnowed our choices down to 17 vehicles and ran them through our most extensive battery of tests to date — with hundreds of miles of driving loops and countless sessions around our autocross course. We set loose at speed, opened and closed everything with a hinge and debated questions from the nature of transportation in the 21st century to seat-fabric stitching to whether 707 hp was too much or just enough.
2015 Yahoo Autos Car of the Year. Photo illustration by Robert Kerian
Yes, our gathering included the whooping Dodge Challenger Hellcat, along with that other high-end piece of Detroit iron, the Chevy Camaro Z28. Ford sent the new Ford Mustang Ecoboost, while the luxury performance world was represented by the Alfa Romeo 4C and BMW M235i. From the more affordable side came the Honda Fit, Subaru WRX and a pair of new midsize sedans, the Hyundai Sonata and Chrysler 200C. For luxury cars, we invited the Mercedes-Benz C-Class, Hyundai Genesis, Kia K900, Acura TLX and Maserati Ghibli. Rounding out our class was the Mercedes GLA-Class and the quirky BMW i3 electric car.
When we ran our final poll, none of the editors chose the same top three models — yet only one car landed on most lists and topped a majority, proving itself worthy of our highest endorsement. For 2015, our Yahoo Autos Car of the Year honor belongs to the new Volkswagen Golf GTI.
As we have in years past, the editors at Yahoo Autos weighed five categories when making their choices: Performance, efficiency, value, design and engineering — not just how well individual pieces worked, but how they meshed as a whole. Because we were judging so many different types of vehicles, managing editor Justin Hyde offered what he called the Westminster Kennel Club rule: A car has to be among the best in its breed before it can compete for the top prize.
In that light, the GTI might seem like a dachshund winning Best in Show. The previous generations of the 40-year-old hot hatchback brand have built a fervent but limited fan base in the United States. "A lot of people who were attracted to the GTI over the years would walk away because it was too small, too expensive or too European for them," said Hyde. "This 2015 edition should make them reconsider."
Built from VW's new MQB chassis — an attempt to make a Lego-like kit of parts to underpin almost any size and style of vehicle — the 2015 GTI has grown longer, lower and lighter; about two inches in overall length and wheelbase, about 80 lbs. fewer overall. On the inside, those extra inches have gone into cargo space; the GTI now has 22.8 cu. ft. behind the rear seats, more than our favorite compact car from 2014, the Mazda3.
Outside, the new dimensions and sharper bodywork make the GTI the most attractive model VW sells on these shores. Inside, the cabin and sightlines feel solid and Germanic in the best sense. The interior "brings Audi-level refinement," said contributing editor Steve Siler. "I wish the styling had evolved a bit more, because no one will be able to tell how much better it is merely by looking."
Power comes from the traditional 2-liter turbo four, boosted this year to 210 hp and 258 lb-ft of torque, paired with either a six-speed manual or six-speed, dual-clutch automatic with launch control.
But that's not exactly what we drove. Instead, our tests of a four-door automatic GTI included what VW calls the Performance Pack — a set of upgrades that adds 10 hp, better brakes and a trick new style of limited-slip differential known as VAQ. Like its competitors such as the Ford Focus ST, the regular GTI has software that can lightly blip an individual front brake to even power delivery. The VAQ goes much further; it's a set of electric clutches and software controls on the front driveshaft that anticipates what wheel needs more power. In the right moment, VAQ can send the engine's entire grunt to one wheel, and add power when coming out of a turn to nearly eliminate understeer.
No other front-wheel-drive car in the world has this technology, and it's the key innovation that defines the GTI and set it apart on our custom-built autocross route. You might assume, that, being front-wheel drive, the GTI would have a hard time navigating the tight, twisty course we constructed — the kind that makes such cars stumble into curve-destroying understeer.
Only it didn't. The GTI managed a 44.9 second lap time in editor/racer Alex Lloyd's hands, bumper to bumper with that of the Ford Mustang and not too far off the more powerful, rear-wheel-drive BMW M235i. The only hint of understeer came under hard acceleration from tighter turns. Trail-braking into a corner, the hot hatch is lively — the rear end dances on its toes. At corner apex, the slowest part of the turn, there's a delightful pivot around the front axle that none of us have personally experienced before from a front-wheel drive machine.
The GTI also beat the 707-hp Challenger Hellcat on our autocross, by a decent margin. Admittedly, the big ol' Hellcat isn't at home on such a tight course, but it's an able demonstration of the GTI's prowess. The GTI's time was a far cry from the 40.5-second fast lap set by the Camaro Z28, but then the Z28 was built to go fast around a track and little else.
The GTI, however, can ably serve as a Costco-to-schoolhouse shuttle. The rear seat of the GTI was more comfortable than some of the midsize cars we tested. The suspension lets you feel the road but not so much that you tire of driving around rough urban pavement. And, as we've seen, it can handle itself on track with more poise and dignity than expensive cars whose handing was their calling card. Did we mention it was faster than a Subaru WRX?
"Out on the streets, it's composed with excellent road feedback that makes you feel connected," said road test editor Aki Sugawara, "yet it's still refined enough to pass as a luxury car."
When we ran down our five categories, the Golf GTI shined in all of them. As equipped, our GTI was rated at 25 mpg city/33 mpg highway. Sticker price on our full-boat edition was $31,040, but the regular GTI starts around $24,000 for a two-door stick (with the traditional plaid-cloth seats), and the performance pack will list for $1,495 when it becomes available next month.
The GTI "constantly delivers more than you expect," said Lloyd. "It's a lovely cruiser, nippy and fun during city driving, and downright magnificent for a front-wheel drive machine on the autocross." For all those reasons and more, we're glad to welcome the Volkswagen Golf GTI into our garage of vehicles we've deemed worthy of being a Yahoo Autos Car of the Year.
Five other cars impressed us enough to earn their own individual accolades as the best new vehicles in the performance, enthusiast, luxury, value and green categories, and several others came close. Click the tiles below to see what cars prevailed, and which ones left us wanting more.
TO LEARN MORE ABOUT THE BENEFITS OF CAR WINDOW TINTING, ANSWERS TO FREQUENTLY ASKED QUESTIONS , MORE INFORMATION ABOUT AUTO GLASS TINTING IN CHICAGO, OR FOR A CAR TINTING QUOTE, CONTACT MIDWEST GLASS TINTERS 
 (847) 452-4818 or info@midwestglasstinters.net
REPOSTED BY MIDWEST GLASS TINTERS FROM:  WALL STREET CHEAT SHEET
Vehicles can convey status, personality, or even individuality with the decorations we place on them. When we see a person driving a mini-van covered in bumper stickers that read "my child earned the honor roll at School Hall elementary," it's relatively easy to note that vehicle more than likely belongs to a parent, and one who is proud of her children's achievements. Or, when we see a nicely-dressed person driving a $100,000 car, we peg that individual as wealthy.
Buying a new car — or new used car — is exciting. It's a time when you can change the image that came along with your old vehicle, and it's also a time when you can shop for the state of the art features and technology that may not have been on the market when you purchased your last vehicle. For those who drive a "beater," buying a new car is especially exciting, as a smooth ride, well-functioning systems, and comfort may not have been present in you old car. Some people look forward to simply having a car that won't break down periodically.
In the midst of all of the excitement, people make mistakes when buying a car. We scoured the internet and spoke to a few dealerships to find out some of these mistakes, and how to avoid them.
Failing to evaluate your personal budget and finances
Before you even walk into the dealership, you should examine your budget with a fine-toothed comb. Find out exactly how much you can afford to spend on a vehicle payment, warranties and extras, insurance (including gap insurance), and your max budget for the total price of the vehicle. The worst thing you can do is base your vehicle's price and payment amount on the advice of the dealership, and what they will approve you for.
If you intend on trading in a vehicle, know your car's appraisal value prior to visiting the dealership and also, know the exact amounts (if any) that you owe on your previous vehicle loan. There are a variety of websites that will provide you with an estimated appraisal amount in a matter of a few moments. "Be sure to print out the details and bring them with you to the dealership. If you don't think you're getting a fair deal, you might be better off selling the car on your own, either to a private party or to the used-car superstore CarMax," suggests Edmunds.com.
Failing to consider the options
The people who walk into the dealership, pick a car, sign the papers, and let the dealership staff lead the transaction often end up spending more than they wanted to. Enter each dealership prepared. If possible, obtain pre-approval from a bank or credit union so that the dealership has to compete with those rates if they want to finance you for a vehicle. If they can't compete, obtain the loan from your credit union or bank. Having that option provides you with the upper hand.
Also, contact your insurance company, as well as some other insurance companies, prior to shopping. Try and find out the estimated cost to insure your top picks so you can factor insurance costs into your decision making process. It's also prudent to find out if your insurance company provides gapinsurance coverage and if so, how much it costs. This way, when the finance office offers you gap coverage, you can make an informed decision.
Finally, give yourself some wiggle room. Save enough of a 
down payment
 to be able to decide how much you want to put down, instead of being in a situation where you barely have enough to cover a down payment.
REPOSTED BY MIDWEST GLASS TINTERS FROM:  YAHOO AUTOS
Acura had high hopes for its newest gateway vehicle, the ILX compact sedan, which was introduced at the 2012 Detroit Auto Show. The idea behind its creation seemed logical enough: by basing an Acura model on the Honda Civic, the automaker could lower the price of entry and attract a younger, hipper audience to the brand.
What the automaker didn't count on was the likes of Mercedes-Benz and Audi entering the segment with compact sedans of their own, priced just a couple of grand higher than the ILX. Acura attempted to tempt buyers with a few sweeteners for 2014 but now a much more substantial update is coming.
Yes, Acura has confirmed that for the 2016 model year the ILX will receive some styling updates, a new powertrain and a substantially upgraded interior. Acura also released this teaser image of its 2016 ILX, which shows new graphics and clear lenses for the tail-lights.
The ILX currently offers the choice of 2.0- or 2.4-liter four-cylinder gasoline engines. A hybrid option was available at launch but dropped for the 2015 model year.
We'll get our first look at the updated car at the 2014 Los Angeles Auto Show, which commences November 18.
TO LEARN MORE ABOUT THE BENEFITS OF CAR WINDOW TINTING, ANSWERS TO FREQUENTLY ASKED QUESTIONS , MORE INFORMATION ABOUT AUTO GLASS TINTING IN CHICAGO, OR FOR A CAR TINTING QUOTE, CONTACT MIDWEST GLASS TINTERS 
 (847) 452-4818 or info@midwestglasstinters.net
REPOSTED BY MIDWEST GLASS TINTERS FROM:  YAHOO AUTOS
The world's very first Porsche was uncovered in remarkably good condition — in a shed in Austria (via The Atlantic Cities).
The act of automotive archaeology took place in January.
The "Egger-Lohner electric vehicle, C.2 Phaeton model," or P1 for short, was designed and built by Ferdinand Porsche himself, first hitting the streets of Vienna on June 26, 1898.
A little over a year later, in September 1899, Porsche demonstrated the power of his new model with a first-place finish at the  International Motor Vehicle Exhibition in Berlin. His new car finished 18 minutes ahead of the second-best competitor, with half of the vehicles failing to complete the race due to technical difficulties.
According to USA Today, the P1 was stored in an old shed in 1902.
Though it may look a lot like a horse-drawn carriage, the P1 was an electric car.  Its "octagon" motor could travel up to 50 miles at a time, hitting a maximum speed of about 22 miles per hour.  According to Porsche, the engine could deliver 3 horsepower during usual performance with bursts of up to 5 horsepower as it reached its maximum speed.
The entire vehicle weighed some 3,000 pounds and relied on more than 1,000 pounds of battery.
The original wood and metal frame remains, which includes the steering wheel and a dashboard measuring voltage and amperage.
Porsche engraved "P1″ (Porsche number 1) on all of the vehicle's essential parts, subtly taking credit for the design and giving it its unofficial name. You can just make out a P1 in the center of the axle below.
The P1 is now be on display at the Porsche Museum in Stuttgart, Germany. Blue translucent plastic was inserted to give visitors a better idea of what the car's original seating would have looked like, though the bright color may be a bit deceiving.
Photos Courtesy of Porsche
TO LEARN MORE ABOUT THE BENEFITS OF CAR WINDOW TINTING, ANSWERS TO FREQUENTLY ASKED QUESTIONS , MORE INFORMATION ABOUT AUTO GLASS TINTING IN CHICAGO, OR FOR A CAR TINTING QUOTE, CONTACT MIDWEST GLASS TINTERS 
 (847) 452-4818 or info@midwestglasstinters.net
REPOSTED BY  MIDWEST GLASS TINTERS – AUTO   FROM:  THE HUFFINGTON POST
Tesla's much-anticipated somewhat affordable electric car will be called the Model 3.
The electric carmaker hopes to start selling the smaller, cheaper offering by early 2017, CEO Elon Musk said in an interview published late Tuesday night by British car magazine Auto Express.
The car will cost around $35,000, about half as much as its top-rated Model S, making the car about as expensive as lower-end Lexus sedans, mid-range Hondas and the Chevrolet Volt.
"I can confirm that the next vehicle Tesla will produce after Model X will be a mass-market electric car known as Model 3," Liz Jarvis-Shean, a Tesla spokesman, told The Huffington Post Wednesday. "We don't have any more details to share at this point."
Auto Express provided HuffPost with mock-up renderings of the car, which Musk said would be unveiled in 2016:
Known for months as the Model E, it became fodder for salacious headlines as the car would have finished off an erotic acronym alongside models S and X. In June, Ford sued Tesla to prevent it from using the name.
"I thought this is crazy, Ford's trying to kill sex," Musk said. "So we'll have to think of another name."
But the company wiggled "SEX" back into the picture.
"The new model is going to be called the Model 3," he added, "We'll have three bars to represent it and it'll be S III X!"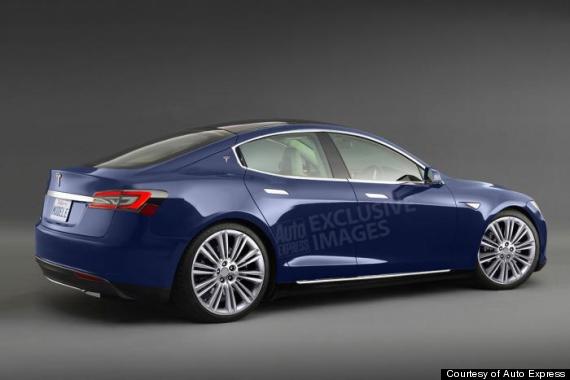 The Model 3 will be Tesla's third generation battery-powered electric car. During a meeting last March with the California Public Utilities Commission, Musk revealed that the car and its battery would be 20 percent smaller and could go 200 miles on a single charge. He said it would be half the price of the $71,000 Model S.
"In order to achieve that, you better reduce the cost of the battery," Musk is seen saying in a video that surfaced on YouTube of the meeting. "Since the car is 20 percent smaller, you've got to get a 50 percent reduction."
Tesla's "gigafactory" should help to cut costs. By 2020, the company expects the battery assembly plant to produce more lithium-ion packs in a year than were created in the entire world last year.
But the car could still get stuck in the Silicon Valley company's pipeline traffic jam.
It's behind the already-delayed Model X, an SUV-crossover, which will go into production next year, a Tesla executive told HuffPost last month. Buyers have already paid about up to $5,000 to reserve the cars.
"We don't like to carry inventory," Diarmuid O'Connell, Tesla's vice president of business development, told HuffPost at the time. "We'll be delivering as soon as we produce."
Until then, the Model 3 — which was supposed to debut in 2015 — is a back-burner priority.
"Our focus continues to be on Model S and preparing for the introduction of Model X," Jarvis-Shean said.
TO LEARN MORE ABOUT THE BENEFITS OF CAR WINDOW TINTING, ANSWERS TO FREQUENTLY ASKED QUESTIONS , MORE INFORMATION ABOUT AUTO GLASS TINTING IN CHICAGO, OR FOR A CAR TINTING QUOTE, CONTACT MIDWEST GLASS TINTERS 
 (847) 452-4818 or info@midwestglasstinters.net
REPOSTED BY  MIDWEST GLASS TINTERS – AUTO   FROM:  CNN MONEY
BMW Group is recalling 1.6 million of its popular 3 Series vehicles, making it the latest global automaker to issue a massive recall based on concerns over safety.
Last month the U.S. National Highway Traffic Safety Administration said seven automakers — BMW, Honda (HMC), Nissan (NSANF), Toyota (TM), Mazda (MZDAF), Chrysler andFord (F) – would be recalling vehicles to fix a possible safety defect in air bag inflators built by the Japanese firm, Takata.
Thousands of GM (GM) vehicles have also been recalled over similar Takata-built airbag problems.
The recall affects BMW cars manufactured between mid-1999 and mid-2006. The company said roughly 574,000 cars could be recalled in the U.S.
This follows a NHTSA investigation into six reports of airbag inflator ruptures that occurred in other vehicles, all of which happened in Florida and Puerto Rico. High levels of humidity are believed to contribute to the airbag problem. Over 7.9 million vehicles have been recalled globally due to the problem.
BMW said it had not received any reports about problems with its airbags.
Including an earlier announcement, BMW has now recalled about 1.8 million 3 Series vehicles over these airbag issues. Toyota, Honda, Nissan and Mazda have also recalled millions of vehicles related to issues with the Takata-made airbag inflators.
Takata said last month it would work with the automakers to replace the problematic parts in Puerto Rico, Florida, Hawaii, and the Virgin Islands — places that are known to have high humidity.
TO LEARN MORE ABOUT THE BENEFITS OF CAR WINDOW TINTING, ANSWERS TO FREQUENTLY ASKED QUESTIONS , MORE INFORMATION ABOUT AUTO GLASS TINTING IN CHICAGO, OR FOR A CAR TINTING QUOTE, CONTACT MIDWEST GLASS TINTERS 
 (847) 452-4818 or info@midwestglasstinters.net
REPOSTED BY MIDWEST GLASS TINTERS FROM:  LA  TIMES
The best advice about trading in your car is to avoid it.
You'll always get more money selling it on your own, sometimes thousands more.
A quick tour of Kelley Blue Book's KBB.com used-car valuation service shows you why. Take a 2010 Honda Accord EX sedan in "very good" condition with 50,000 miles on the odometer and see what it is worth.
Kelley says that the trade-in value is $13,054 and that it would sell to a private party for $14,549. That's a $1,500 difference, but the gap could be bigger because many dealers don't offer the full Kelley Blue Book trade-in value. They try to buy at low wholesale and sell at the top retail price.
Trading in a car also complicates the purchase of a new car, giving the dealer an opening to inject more profit into the deal by low-balling your car. It's also much easier for a buyer to negotiate one transaction — a car purchase — rather than adding a second transaction into the deal.
But we understand some people don't want the hassle of selling a car themselves. It means advertising the vehicle, letting strangers drive it, negotiating the price and sometimes accepting thousands in cash. If the car is expensive, you might have to wait for a buyer to get a loan. There's also transfer paperwork to handle.
So if you're going to trade in your car, take some basic steps to ensure you get a fair deal.
First, nail down the price for your new car before discussing the price for your trade.
Many dealers prefer to negotiate both prices at the same time, leaving them an opening to play the deals off each other. If you insist on getting more for your trade — or simply a fair price — the dealer may try to charge you more for the new car. Or vice versa: If you insist on a great deal for the new car, they'll try to knock down your trade-in price.
You're under no obligation to tell the dealer you have a trade until you've agreed on the new-car price. If they ask, simply insist that you won't talk about the price of the trade-in until you've come to terms on the new purchase.
As you negotiate this part of the transaction, you need to start with solid information about what your old car is worth.
The easiest way to do this is to take it to the nearest CarMax used-car dealer. CarMax is the biggest seller of used cars in the U.S. and has more than 120 stores spread nationwide. The company will evaluate your car for free and make you an offer that is good for seven days. It will also identify any major problems that could hurt your car's value.
Use the CarMax price as the lower limit for what you will accept from the dealer. It also gives you a second potential buyer. If the dealer insists on low-balling you, you can always just sell the car to CarMax.
Kelley Blue Book also offers an online service where you can get "instant" offers for your car from dealers. It doesn't always generate an offer, but it will provide you with a list of dealers that might be interested in buying your car even if you don't plan to purchase a new vehicle from them.
If you can't get a satisfactory price from either CarMax or the dealer, you can always return to the option of selling it to a private buyer — at a retail price, instead of wholesale. If you're determined to sell it quickly, price it below retail cars of the same model and year, but still above what CarMax offered. It should get snapped up.
TO LEARN MORE ABOUT THE BENEFITS OF CAR WINDOW TINTING, ANSWERS TO FREQUENTLY ASKED QUESTIONS , MORE INFORMATION ABOUT AUTO GLASS TINTING IN CHICAGO, OR FOR A CAR TINTING QUOTE, CONTACT MIDWEST GLASS TINTERS 
 (847) 452-4818 or info@midwestglasstinters.net