Archive for the 'Buyer Tips' Category
REPOSTED BY MIDWEST GLASS TINTERS FROM: COMPUTER WORLD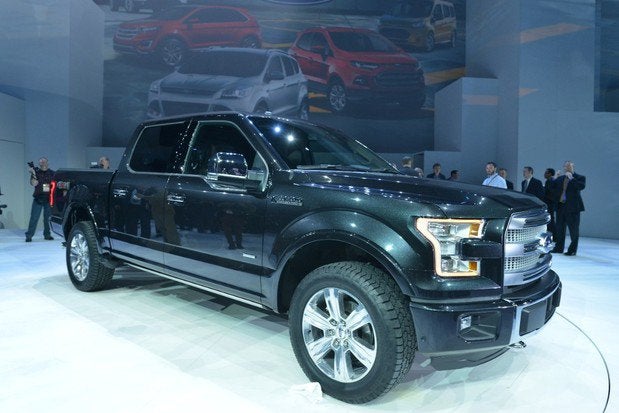 The new 2015 Ford F-150 is still a big car, but 360-degree camera views will make its surroundings easier to see when you drive.
Automakers are constantly adding new tech features to cars, but it can be hard to stay on top of the news. These ten innovations in current (or soon to debut) cars and trucks provide a few extra safety and convenience benefits. They show that technology rarely stands still, especially if you are trying to merge onto the highway in your morning commute.
1. First car to support Android Auto and Apple CarPlay
Vehicle: 2016 Kia Optima
This sedan is the first to support the latest smartphone integration services. You connect an Android phone or iPhone to the USB connection in the car. On the 8-inch touchscreen, Android Auto or Apple CarPlay kick in automatically and you can access the phone for music playback, navigation, and making calls. Kia also lets you access the functions by voice in the car.
2. The truck that helps you tow safely
Vehicle: 2015 Ford F-150
Trucks have historically been slow to adopt new tech features like lane-keeping. The F-150 not only warns you if you are leaving the lane (by pulsing on the steering wheel), but can slow down if you are taking a corner too fast — dangerous in all conditions but especially while towing. The truck also knows if there is a taillight out in your trailer.
3. The goggles that help you drive
Vehicle: Mini Cooper
Details are still a bit scarce, but the Augmented Vision tech for the Mini Cooper could be a game-changer. The glasses project an augmented reality display as you drive. You can see how far you need to go when backing into a parking spot. Arrows appear on the highway to show you where to turn. No details on how much it will cost or when it will be available.
4. A touchscreen that works like an iPad
Vehicle: 2016 Jaguar XF
Jaguar has radically improved the touchscreen in the new XF luxury sedan. It now works more like an iPad. The 10.2-inch capacitive screen lets you swipe and make other gestures like pinch to zoom. You can add shortcuts to the most commonly used functions, and even change the desktop wallpaper. The screen uses a quad-core processor and has a solid state drive.
5. The car that brakes at intersections
Vehicle: 2016 Volvo XC90 T6
Debuting this summer, the sporty-looking XC90 has a brand new tech feature not found in any other car. As you drive through an intersection, the car can look for a vehicle coming toward you in the opposing oncoming lane. If it looks like that car might try to turn in front of you or is heading for a collision with your front bumper, the car can brake automatically.
6. The smartwatch that starts your car
Vehicle: 2015 Hyundai Genesis
BMW isn't the only car company that lets you tap into your car with a smartwatch. The Blue Link smartwatch app, which works today with the 2015 Hyundai Genesis, lets you start the car, lock or unlock the doors, and even find the car in a crowded parking lot. The app works with most Android watches like the Moto 360; there will probably be an Apple Watch version.
7. Computer-controlled eyes that watch the road
Vehicle: 2015 Subaru Legacy
Many cars use sensors that looks for lane-markings and other vehicles. They can brake automatically or keep you centered in a lane. The Subaru Legacy uses a sensor called EyeSight that is mounted inside the windshield that looks for other cars and obstructions. It has more fidelity than most and won't get obscured by snow or ice. It's the only sensor the Insurance Institute for Highway Safety (IIHS) rated as "superior" in their tests.
8. Share a 4G signal in a low-cost car
Vehicle: 2015 Chevy Trax
Having a 4G hotspot in your $40,000 truck is one thing — you could probably spring for extra data connections on your devices. The 2015 Chevy Trax costs just over $20,000, so it makes more sense. Passengers can tap into the 4G signal. The service is free for three months or up to 3GB (whichever comes first). After that, fees start at just $5 per month.
9. An attention monitoring system that watches how you steer
Vehicle: 2016 Nissan Maxima
The upcoming 2016 Nissan Maxima, which should debut this year, has an interesting safety feature. (You may have seen it in much more expensive luxury models from Mercedes-Benz.) As you drive, the car monitors your steering patterns — say, if you keep jutting to the left and right. A coffee cup appears in the display asking if you need a break and a chime reminds you to pay attention. An indicator shows your level of attention.
10. AWD that predicts tire slip
Vehicle: 2016 Mazda CX-3
Most all-wheel drive (AWD) systems engage only after the car senses tire slip. The 2016 Mazda CX-3 is the first to use a more intelligent sensing system. The car knows when road conditions might be icy, wet or snow-packed. For example, a built-in thermostat reads the temp. The car actively engages the AWD before any tire slip occurs.
TO LEARN MORE ABOUT THE BENEFITS OF CAR WINDOW TINTING, ANSWERS TO FREQUENTLY ASKED QUESTIONS , MORE INFORMATION ABOUT AUTO GLASS TINTING IN CHICAGO, OR FOR A CAR TINTING QUOTE, CONTACT MIDWEST GLASS TINTERS 
REPOSTED BY MIDWEST GLASS TINTERS FROM:   BOLD RIDE
Engine at the front, drive at the back. That's been the staple of the Corvette since it was introduced in 1953. Alternatively, so has the idea of a mid-engined variant. Up until now, we haven't seen said mid-engine Corvette reach the production line, but rumors have been swirling, and the idea is becoming more of a reality today than ever before.
There have been plenty of reports and even a few test mules spotted, but we won't know whether a mid-engine Corvette is actuallyhappening until we see one in the flesh. For now, we can only imagine. That's where our ace rendering artist Hansen Art comes in.
The concept you see here is our interpretation of a possibly upcoming mid-engine Corvette. And it's pretty radical, as it should be.
From front to back, the new Corvette will get a massive makeover. Though, it won't lose too many styling cues from the Stingray we know and love. The front end gets a huge boost in aerodynamics without that big engine in the way, and the grille will provide more downforce than the underlying Z06.
Engineers are also likely to also ditch many of the heavier fiberglass body panels in place of lighter, stiffer carbon fiber. Just like any good supercar.
Move the engine from the front to the back— sounds simple enough, right? While the idea may sound elementary, the engineering required in restructuring an entire vehicle could hypothetically take years. But thanks to a robotic frame fabrication tool GM cooked up for the C7 Corvette, stretching and shaping a new frame for the engine transfer won't take rocket science. Just engineering science…and time.
With that reworked frame, Chevy will probably stick the same 6.2-liter V8 found in the current 'Vette back there, albeit with a turbocharger or two. It's relatively new, eeks out huge amounts of power when need be, and definitely worthy of powering a world-class Corvette hypercar. Expect somewhere north of 750 horsepower to be present.
When it's all said and done, if Chevy does decide to move  forward with the mid-engine Corvette project, it's bound to be something special. A radical, American design paired with a powerful engine and a modern chassis should put cars like the Porsche 918 and McLaren P1 on notice.
After all, Americans can build world-class hypercars too.

TO LEARN MORE ABOUT THE BENEFITS OF CAR WINDOW TINTING, ANSWERS TO FREQUENTLY ASKED QUESTIONS , MORE INFORMATION ABOUT AUTO GLASS TINTING IN CHICAGO, OR FOR A CAR TINTING QUOTE, CONTACT MIDWEST GLASS TINTERS 
REPOSTED BY MIDWEST GLASS TINTERS FROM:   FORBES
This week the New York International Auto Show opens with a series of high-profile global vehicle debuts. As the competitive energy within the auto industry escalates every carmaker is being pushed to produce models with more compelling design, cutting-edge technology, superior performance and improved fuel efficiency. And while the New York auto show has always provided a first glimpse at a few key cars and trucks, this year's show has more crucial global debuts than I've seen in my 20 years in the industry. That's great news, not only for the show itself but for consumers and car enthusiasts looking for one last hurrah in the traditional auto show calendar (the New York auto show is always the last big show until fall). Normally I'd have to struggle to list 10 big deal world debuts in the Big Apple AAPL -0.97%, but the 2015 New York International Auto is bursting with all-new, never-before-seen cars that will play critical roles in each brand's upcoming product plan. This will be a high-level look at each vehicle. You can see more details and breaking news from the show floor all week at Kelley Blue Book.
1. Lincoln Continental Concept: The attractive styling and advanced features seen on Lincoln's new Continental concept are almost overshadowed by the car's name — it's not an acronym! It's encouraging to see Lincoln embrace its rich history with a sleek luxury sedan wearing an iconic badge. Convincing serious — and notoriously elitist — luxury buyers that Lincoln is a genuine player in the premium market will be a long road, but a car like the Lincoln Continental Concept will shorten the journey if it materializes as a production model with the same flare seen on the show stand. Given Lincoln's recent launch in China a car like the Continental, with its premium interior and first-class rear seating, is a smart step toward bolstering the brand's global appeal.
2. 2016 Chevrolet Malibu: After struggling to establish the current Malibu in the ultra-competitive midsize sedan category Chevrolet is set to make a splash with its all-new 2016 version. The sleek shape wraps around an all-new interior while featuring a long list of high-tech features. Parents will be able to monitor their children's driving behavior, and a new hybrid model will offer class-leading fuel efficiency of at least 45 mpg.  Looks like Chevrolet will finally give the segment leaders in this category something to worry about.
3. 2016 Cadillac CT6: It's been too long since Cadillac offered a competitive, top-tier luxury sedan, which means the CT6 can't arrive soon enough. As the brand continues to rebuild its image a worthy competitor to iconic models like the BMW 7 Series and Mercedes-Benz S-Class will go a long way toward establishing Cadillac's premium pedigree. I'm not sold on the latest naming convention, as I feel it will lead to more confusion than the existing nomenclature, but if the CT6 provides a powerful blend of advanced luxury features and capable performance the name won't hold it back.
4. Honda Civic: Honda's next Civic will re-establish it as a fun-to-drive car offering high-tech drivetrain choices and advanced technology. The Civic established Honda as a viable Japanese automaker in the U.S., but recent versions haven't lived up to its iconic status. The 2016 Civic should correct that trajectory, offering styling and performance that will stand out in the crowded compact car segment. It's rumored a wide range of Civic body styles will be offered on this all-new platform, and if they all look as good in the showroom as Honda's concept looked on stage the Civic should repeat the original model's success with a new generation of young buyers.
5. 2016 Lexus RX: The RX has been Lexus' most successful model since it was introduced nearly 20 years ago. This means the brand has to balance bringing in new customers without alienating the existing fan base when redesigning the RX. This new version offers a more aggressive look than past models, reflecting Akio Toyoda's mantra to increase his products' emotional appeal while maintaining their high quality and refinement. Did the designers go too far with this one? We'll know soon enough, but the latest RX will surely maintain its balance of luxury, technology and functionality, which will overcome any potential styling quirks in the eyes of traditional Lexus customers.
6. 2016 Scion iA and iM: Toyota's Scion division has never delivered the kind of consistent, high-volume traffic its parent company, Toyota, wanted when it introduced the "youth brand" back in 2002. A combination of funky styling and low-cost materials, both designed to appeal to young buyers, seemed to turn away as many shoppers as it pulled in. With two all-new models debuting in New York Toyota is clearly refusing to admit defeat. The sedan, which sits on the Mazda 2 platform, offers styling that suggests Scion has finally found the right balance between low cost and "cheap." However, while the new sedan and hatch look fine there's still no SUV in the line-up, and in today's world that's an undeniable handicap for any brand trying to grow volume.
7. 2016 Jaguar XF: Jaguar caused quite a stir when the new F-Type debuted last year, yet it needs to refresh the rest of its line-up if it wants to increase sales and stay competitive in the luxury market. The new XF retains much of the previous car's look, but a lighter, stronger chassis and improvements in drivetrain and suspension technology, along with a more advanced driver interface, will enhance the XF's performance and appeal. Jaguar's upcoming SUV will truly expand the brand's customer base when it debuts next year. Until then the updated XF will give luxury sedan shoppers a compelling reason to consider the brand.
8. 2016 Toyota RAV4 Hybrid: The market for hybrid vehicles remains a tiny niche, and as fuel prices faltered in 2014 so did the market for hybrids. Toyota itself has shown increased dedication to fuel cell technology and is planning to introduce a consumer-ready fuel cell car next year. But hybrids remain a key component of the automaker's near-term plan, and an all-new RAV4 Hybrid will debut in New York. The compact SUV segment is the hottest slice of the U.S. market right now, which means a RAV4 Hybrid, all by itself, could significantly increase total hybrid sales.
9. 2016 Kia Optima: Kia's efforts to inject visual appeal across its model line have paid off in recent years. The current Optima is considered one of the best looking cars in the midsize sedan category, which puts pressure on Kia's design team to improve an already attractive model. Thankfully they succeeded with the latest Optima, keeping the same sleek profile while enhancing details to further elevate its on-road presence. The Optima's sales volume hasn't yet approached segment leaders, but it's visual appeal continues to bring in new customers, consistently moving that number in the right direction.
10. 2016 Nissan Maxima: The large (non-premium) sedan category isn't dead…yet, though sales over the last decade confirm it's fading fast. The reason why is easy to explain: why would anyone spend more for a sedan that's only slightly larger than today's midsize family sedans (Accord, Altima, Camry, etc.) when those sedans offer not only comparable interior volume but also the same degree of premium features? For example, the distance between an Altima and Maxima has all but vanished, though fans of the original "four-door sports car" can take heart that Nissan hasn't surrendered. At one time the Maxima owned the large sedan category, and an all-new one will appear in New York to defend what's left of its turf.
TO LEARN MORE ABOUT THE BENEFITS OF CAR WINDOW TINTING, ANSWERS TO FREQUENTLY ASKED QUESTIONS , MORE INFORMATION ABOUT AUTO GLASS TINTING IN CHICAGO, OR FOR A CAR TINTING QUOTE, CONTACT MIDWEST GLASS TINTERS 
REPOSTED BY MIDWEST GLASS TINTERS FROM:   YAHOO AUTOS
Cars are more than just a means to get from point a to point b. They can be works of rolling automotive art. Legendary designers such as Marcello Gandini, Giorgetto Giugiaro, and more recently Ian Callum are artistic geniuses as much as they're "car guys."
While beauty is without a doubt purely in the eye of the beholder, there are certain cars whose sleek lines, luscious curves, or sheer aggression make them universally loved. Well, at least universally loved here at Business Insider.
Thus, this list contains what we consider to be the ultimate collection of automotive elegance on sale today.
10. Volkswagen Scirocco: Based on the fantastic Volkswagen GTI, the Scirocco offers a wide stance and an aggressive, angular front headlight-and-grille combo.
Although the Scirocco is sold around the world, it is doesn't look like the stylish coupe will be coming to America anytime soon.
9. Chevrolet Corvette Stingray: The Vette has always been beautiful to its devoted followers, but the current generation Stingray is without a doubt the prettiest version of the American idol that we've seen in decades.
The Vette perfectly blends elements from its more than 60 years of history with the design needs of a modern sports car. Which is one of the reasons we named the Stingray Business Insider's first annual Car of the Year.
8. Peugeot RCZ: While most Americans may be unfamiliar with this French sports coupe, the RCZ has been racking up the awards since its debut in 2009 — including Top Gear's 2010 Coupe of the Year.
The RCZ's soft, flowing curves and classic "double bubble" roofline make for one gorgeous silhouette.
7.Maserati GranTurismo: Even though the GranTurismo has been on sale since for nearly a decade now, the GT's elegant lines are truly timeless.
The GranTurismo's Pininfarina-designed body offers a perfect balance between feminine and masculine features — with its rounded edges elegantly offset by its aggressive front fascia.
6. BMW i8: The BMW i8 looks like no other car on the road today.
With the i8, BMW has successfully blended a cacophony of materials, textures, and angles to create a harmonious composition.
5.Lamborghini Aventador: A Lamborghini should neither be boring nor conventionally beautiful. Fortunately, the flagship Aventador isn't.
The Aventador's aggressive lines and stealth-fighter-like edges make for a menacing beauty that's perfect for Lambo's attention-hoarding ethos.
4. Ferrari LaFerrari: People tend to find Ferraris attractive simply because they are Ferraris. But the reality is that the company created some misses. The Ferrari LaFerrari isn't one of them.
Designed in-house at Ferrari, LaFerrari is a bold melange of classic elements from Maranello's supercars of yore. It lines are sleek, evocative of a space-ship, yielding the ultimate Ferrari hypercar.
3. Aston Martin Vanquish: Like the English spy who is most famous for driving Aston Martins, the pressure on the Vanquish to live up to expectations is great. But Aston's top-of-the-line grand tourer delivers!
With the Vanquish, designer Marek Reichman gave form to a seductively styled modern interpretation of the classic Aston Martin supercar.
2. Pagani Huayra: The 230-mph Huayra is the second all-new model to emerge from the Italian workshop of Horacio Pagani. It serves as the successor to the widely praised Zonda.
In may ways, Horacio Pagani is an automotive Steven Jobs. No detail, no matter how minute is overlooked. Everything from the design of the car's active aerodynamics to the "ding" sound the shifter makes is carefully and deliberately crafted.
The result is a hypercar with a rocket-ship body and a sort of steampunk interior — utterly original!
1. Jaguar F-Type: Designer Ian Callum once told me a Jaguar design must possess beauty, simplicity, and sense of visual prowess.
With the F-Type, Sir Ian has checked all of those boxes — and then some.
The F-Type's feline curves and muscular stance mean this cat from Coventry is ready to pounce.
Here's why the Jaguar F-Type is the most beautiful car I've ever seen….
TO LEARN MORE ABOUT THE BENEFITS OF CAR WINDOW TINTING, ANSWERS TO FREQUENTLY ASKED QUESTIONS , MORE INFORMATION ABOUT AUTO GLASS TINTING IN CHICAGO, OR FOR A CAR TINTING QUOTE, CONTACT MIDWEST GLASS TINTERS 
REPOSTED BY MIDWEST GLASS TINTERS FROM: MOTOR AUTHORITY 
There are some minor changes in store for the 2016 Nissan GT-R, including a new 45th Anniversary Gold Edition celebrating the GT-R's heritage.
Wearing the same Silica Brass color that adorned the R34 2001 Skyline GT-R M-Spec, only 30 of the special 45th Anniversary 2016 GT-Rs will be offered in the U.S.
In addition to the special paint, the Gold Edition anniversary car also gets a gold-tone VIN plate in the engine compartment and a commemorative plaque on the interior center console. It's based on the Premium model.
What will the Gold Edition cost you? That's not clear yet—but you can bet it'll cost more than the three standard forms of the GT-R: Premium, Black Edition, and NISMO.
Prices for those three standard models doesn't change from last year, however. The Premium starts at $101,770 plus $1,595 destination and handling; the Black Edition is $111,510 plus $1,595; and the NISMO is $149,990 plus $1,595.
Changes for the 2016 model year are minimal: the Premium and Black Edition get five more horsepower (for a total of 550 horsepower), and the Premium gets new 20-spoke RAYS wheels finished in a near-black color. The GT-R NISMO's output remains unchanged at 600 horsepower.
The 2016 Nissan GT-R is available now.
TO LEARN MORE ABOUT THE BENEFITS OF CAR WINDOW TINTING, ANSWERS TO FREQUENTLY ASKED QUESTIONS , MORE INFORMATION ABOUT AUTO GLASS TINTING IN CHICAGO, OR FOR A CAR TINTING QUOTE, CONTACT MIDWEST GLASS TINTERS 
REPOSTED BY MIDWEST GLASS TINTERS FROM:  CRAIN'S CHICAGO BUSINESS
The 2016 Ford GT Supercar
This year's Chicago Auto Show at McCormick Place is all about muscle. Automakers at the event this weekend are unveiling the most powerful, technologically advanced engines ever seen for street-legal vehicles.
Research continues on electric and hydrogen and hybrid technologies in Detroit and Palo Alto, but this year's show, at a moment when gas prices hover around $2 a gallon, is focused squarely on horsepower. BMW, Acura and Mercedes-AMG are each showing off new cars with approximately 550 horsepower.
Here's what else to see:
The new racing-derived Ford GT supercar concept debuts with a turbocharged V-6 engine that generates 600 horsepower.
Cadillac will show off its CTS-V ultra sedan with an eight-speed transmission producing 640 horsepower in what is essentially a Corvette V-8 power plant.
The Nissan GT-R LM Nismo race car, with 600 horses, will be here on its way to competing at the 24 Hours of Le Mans. A Nismo street concept with a bit less muscle will be available for viewing, too.
The new Dodge SRT Charger Hellcat, which with 707 horses is being touted as the most powerful sedan ever built, may be the ultimate in muscle. (Visitors can get the feel of driving it by hopping into the Hellcat simulator positioned close to the real thing.)
The 2016 Cadillac CTS-V, with a 640 horsepower engine, is the most powerful in Cadillac's history, allowing the car to reach a top speed of 200 mph. But it's a rear-wheel drive, a liability in snowy Chicago winters. Figure on the car stickering at $70,000 and above.
The 2015 Bugatti Veyron.
If you missed it at last year's show, don't miss the French-made 2015 Bugatti Veyron 16.4, a mid-engined sports car that generates a whopping 1,001 horsepower from an 8-liter, 16-cylinder engine. It rolls from 0-to-60 miles per hour in an eye-blink of 2.5 seconds and cruises at a top speed reputed to approach 260 mph. It gets just 7 miles per gallon in city driving, but then anybody paying up $2 million or so for this ultimate road machine probably doesn't much notice the current price of gas at the pump, much less pump his own.
The 2015 Buick Avenir
It's not all about muscle, however:
The Buick Avenir, a rakish four-door with swooping lines and a boattail-styled rear, will remind some of the 1970s Riviera. Extras include an ionic air filtration system inside and an active fuel-management system that deactivates cylinders when not needed. The Avenir is not ready for production yet, but the 2016 Buick Cascada, the brand's first convertible in 25 years, will be for sale this fall, probably at around $40,000.
Kurt Schiele, co-owner of BMW, Jaguar and Toyota dealerships in Elmhurst, is looking forward to the appearance of the Toyota FT-1 concept car, the brand's first serious sports car since the late 1990s, when the Supra expired. Schiele says the silhouette of the car flies in the face of Toyota's ordinarily conservative designs. "It's crazy and radical but flows together smoothly," he says. He expects it will eventually come into production with a price tag of $50,000 or less.
The 2016 Lincoln MKX has adaptive headlamps that curve with the road and a 360-degree camera to give maximum views.
An all-new 2016 Honda Pilot, which got its last update in 2009, will be shown for the first time with plenty of bells and whistles.
Aston Martin will show off the DB9 in a "carbon edition" that advertises less weight, while its latest V-12 engine generates 510 horsepower.
The 2016 Acura NSX is unique for that brand in that it was designed entirely by American engineers and will be built at the company's Marysville, Ohio, plant. It will start at around $150,000, about the same as the new Ford GT, which is built to compete, performance-wise, with the likes of Ferrari and Lamborghini.
The Honda FCV concept car runs on hydrogen fuel cells with a range of 300 miles on a single tank of compressed hydrogen (taking three minutes to refuel).
The Chicago Auto Show runs from 9 a.m. to 10 p.m. Saturday through Feb. 21 and 9 a.m. to 8 p.m. on Feb. 22. Admission is $12, $6 for seniors 62 and older and $6 for children aged 7 to 12 (free for children 6 and under).
TO LEARN MORE ABOUT THE BENEFITS OF CAR WINDOW TINTING, ANSWERS TO FREQUENTLY ASKED QUESTIONS , MORE INFORMATION ABOUT AUTO GLASS TINTING IN CHICAGO, OR FOR A CAR TINTING QUOTE, CONTACT MIDWEST GLASS TINTERS 
 (847) 452-4818 or info@midwestglasstinters.net
REPOSTED BY MIDWEST GLASS TINTERS FROM:  YAHOO AUTOS
More than 30,000 people a year still die on American roads, and while that toll has been steadily declining for a decade, it still represents a massive, unending tragedy. Around the world, those figures are climbing, as more people spend more time behind the wheel. Nothing drives advocates of tech such as driverless cars like the potential for sharply reducing the cost in human lives of driving.
Last week came a piece of good news in that fight: We are closer than we thought to cars that could prevent all their drivers from dying in a wreck. The bad news? There's still decades of work ahead.
The Insurance Institute for Highway Safety, the research arm of the nation's auto insurance companies, studied driver deaths between 2009 and 2012 for mass-market vehicles. (It did not examine passenger deaths due to unreliable data.) Overall, it found that new models with newer technology, especially stability control, had cut the overall death rate in vehicles by a third in the three years since it had last run the numbers. Had vehicle tech been frozen at 1985 levels, the IIHS estimates by 2012 an additional 7,700 people would have died in crashes.
| | | | | |
| --- | --- | --- | --- | --- |
| Vehicle | Deaths per million registered vehicle years | Multi-vehicle crashes | Single-vehicle crashes | Rollovers |
| Audi A4 4WD | 0 | 0 | 0 | 0 |
| Honda Odyssey | 0 | 0 | 0 | 0 |
| Kia Sorento 2WD | 0 | 0 | 0 | 0 |
| Lexus RX 350 4WD | 0 | 0 | 0 | 0 |
| Mercedes-Benz GL-Class 4WD | 0 | 0 | 0 | 0 |
| Subaru Legacy 4WD | 0 | 0 | 0 | 0 |
| Toyota Highlander hybrid 4WD | 0 | 0 | 0 | 0 |
| Toyota Sequoia 4WD | 0 | 0 | 0 | 0 |
| Volvo XC90 4WD | 0 | 0 | 0 | 0 |
| Honda Pilot 4WD | 2 | 0 | 2 | 0 |
| Mercedes-Benz M-Class 4WD | 3 | 3 | 0 | 0 |
| Ford Crown Victoria | 4 | 4 | 0 | 0 |
| GMC Yukon 4WD | 4 | 0 | 4 | 0 |
| Acura TL 2WD | 5 | 5 | 0 | 0 |
| Chevrolet Equinox 2WD | 5 | 3 | 2 | 0 |
| Chevrolet Equinox 4WD | 5 | 5 | 0 | 0 |
| Ford Expedition 4WD | 5 | 5 | 0 | 0 |
| Ford Flex 2WD | 5 | 0 | 5 | 0 |
| Mazda CX-9 4WD | 5 | 0 | 5 | 5 |
The IIHS calculates its death rate per years registered of a particular model; the industry average is 28 deaths per one million registered years for 2011 models in 2012; in 2008, the rate was 48. When it dug deeper, the IIHS found nine 2011 models that had no recorded deaths of drivers — the first time the group had found any such vehicles. Six of them were SUVs; overall, SUVs had the lowest death rates of any vehicle type, mostly due to the mandate of electronic stability controls and the physics of larger vehicles offering more protection from the forces of a crash than smaller ones. (Compared to 2004 models, SUVs from the 2011 model-year on have a rollover rate that's 75 percent less.)
But the IIHS also gave out a warning that the gap betwen the best and the worst cars at preventing fatal crashes had widened. The rates in the IIHS study are corrected for demographics (young drivers who typically buy smaller vehicles tend to crash more frequently) but even after that adjustment, small cars dominate the most lethal list:
| | | | | |
| --- | --- | --- | --- | --- |
| Vehicle | Deaths per million registered vehicle years | Multi-vehicle crashes | Single-vehicle crashes | Rollovers |
| Kia Rio | 149 | 96 | 54 | 15 |
| Nissan Versa sedan | 130 | 44 | 87 | 51 |
| Hyundai Accent | 120 | 65 | 53 | 16 |
| Chevrolet Aveo | 99 | 65 | 31 | 10 |
| Hyundai Accent | 86 | 43 | 48 | 20 |
| Chevrolet Camaro coupe | 80 | 19 | 60 | 25 |
| Chevrolet Silverado 1500 Crew 4WD | 79 | 40 | 36 | 17 |
| Honda Civic | 76 | 46 | 29 | 10 |
| Nissan Versa hatchback | 71 | 37 | 33 | 20 |
| Ford Focus | 70 | 55 | 13 | 5 |
| Nissan Cube | 66 | 38 | 29 | 6 |
| Chevrolet HHR | 61 | 34 | 25 | 9 |
| Chevrolet Suburban 1500 2WD | 60 | 31 | 28 | 9 |
| Chevrolet Aveo | 58 | 58 | 0 | 0 |
| Mercury Grand Marquis | 57 | 33 | 25 | 0 |
| Jeep Patriot 2WD | 57 | 44 | 9 | 3 |
| Mazda 6 | 54 | 34 | 17 | 3 |
| Dodge Nitro 2WD | 51 | 7 | 50 | 40 |
| Honda Civic | 49 | 28 | 21 | 8 |
"The complete elimination of traffic deaths is still many decades away, and, along with vehicle improvements, getting there will require changes in road design and public policy that can help protect all road users," said David Zuby, IIHS executive vice president and chief research officer."Still, the rise in the number of vehicles with zero driver deaths shows what's possible."
The newest vehicles have gone well beyond stability control to include tricks like automatic emergency braking and radar-based cruise control to slow down the vehicle automatically in traffic. The safety benefits of those technologies have not yet been fully measured, but their real benefit may not become visible until they're available outside luxury models — especially the small cars that still pose the greatest risk.
TO LEARN MORE ABOUT THE BENEFITS OF CAR WINDOW TINTING, ANSWERS TO FREQUENTLY ASKED QUESTIONS , MORE INFORMATION ABOUT AUTO GLASS TINTING IN CHICAGO, OR FOR A CAR TINTING QUOTE, CONTACT MIDWEST GLASS TINTERS 
 (847) 452-4818 or info@midwestglasstinters.net
REPOSTED BY MIDWEST GLASS TINTERS FROM:  YAHOO FINANCE
Tesla Motors Inc. (TSLA) drivers were more likely than Porsche owners — or anyone else — to say they'd buy their cars again in this year's edition of the closely watched Consumer Reports buyer survey.
Tesla's Model S luxury electric sedan topped the U.S. survey a second year in a row, scoring 98 out of a possible 100, after posting a 99 last year. This year's No. 2 brand, Porsche, scored an average of 87 out of 100 across its model lines. Palo Alto, California-based Tesla, co-founded and led by billionaire Elon Musk, said last month that it expects to sell 50,000 Model S cars next year.
"Not only is the Tesla roomy, comfortable, and a lot of fun to drive, but it also has low operating costs," Consumer Reports said.
The survey may bolster the 11-year-old carmaker's image as the leader in the business of making high-end electric cars. It comes about a year after U.S. regulators started a four-month investigation into fires that took place after Tesla's cars struck road debris.
The investigation ended without a formal recall, giving Musk more room to expand sales of the Model S and develop the long-awaited Model X SUV, whose delivery Tesla postponed again last month. It's now expected in the third quarter of 2015.
Tesla shares fell 1.6 percent to $227.79 at 10:20 a.m. in New York. The stock gained 54 percent this year through yesterday, outpacing the 11 percent rise in the Russell 1000 Index.
Sports Cars
The next three most satisfying vehicles in the Consumer Reports Survey, after the Model S, were sports cars: General Motors Co. (GM) 's Chevrolet Corvette Stingray, with a 95 percent satisfaction rating, and Volkswagen AG's Porsche Cayman and Boxster, which tied for third with 91 percent of buyers saying they'd purchase them again.
The survey covered 350,000 vehicles from one to three years old and took into account "attributes such as styling, comfort, features, cargo space, fuel economy, maintenance and repair costs, overall value, and driving dynamics," Consumer Reports said.
Hybrid, electric and diesel-powered cars outscored gas engines throughout the survey, with the Chevrolet Volt and Toyota Motor Corp. (7203)'s Prius leading the compact-car category and Honda Motor Co. (7267)'s Accord Hybrid and Ford Motor Co. (F)'s Fusion Energi atop the list of mid-sized sedans.
TO LEARN MORE ABOUT THE BENEFITS OF CAR WINDOW TINTING, ANSWERS TO FREQUENTLY ASKED QUESTIONS , MORE INFORMATION ABOUT AUTO GLASS TINTING IN CHICAGO, OR FOR A CAR TINTING QUOTE, CONTACT MIDWEST GLASS TINTERS 
 (847) 452-4818 or info@midwestglasstinters.net
REPOSTED BY MIDWEST GLASS TINTERS FROM:  YAHOO AUTOS
If there was any doubt that we'll see a spate of new plug-in hybrids over the next few years, a set of three different announcements from BMW last week should put that to rest.
The Bavarian maker of "ultimate driving machines" launched a long-wheelbase 5-Series sedan for China with a plug-in hybrid powertrain, showed a prototype 3-Series plug-in hybrid sport sedan, and described a new Power eDrive system that produces a remarkable 670 horsepower.
It's long been known that BMW will introduce a plug-in hybrid X5 sometime next year.
That mid-size SUV will compete with the 2016 Volvo XC90 T8 'Twin Engine', a plug-in hybrid model of the refreshed 2016 Mercedes-Benz ML-Class SUV (to be renamed GLE at that time), and perhaps an updated 2016 Mitsubishi Outlander Plug-In Hybrid–among others.
BMW X5 e-Drive plug-in hybrid prototype, test drive, Woodcliff Lake, NJ, April 2014
The plug-in BMW X5 uses a powertrain that combines a 240-horsepower turbocharged 2.0-liter four-cylinder engine with a 70-kilowatt (95-hp) electric motor sandwiched between the engine and an adapted version of BMW's eight-speed automatic transmission, in which the electric motor replaces the conventional torque converter.
The lithium-ion battery holds 9.9 kilowatt-hours, of which about 6 kWh are usable for power.
Versions of that powertrain are now spreading into other BMW models across the globe.
The BMW 530Le introduced last week at the Guangzhou Motor Show, for example, is a long-wheelbase 5-Series sedan sold in China, where extra space in the rear seat is crucial for businesspeople with chauffeurs and new owners who haven't learned to drive.
Combined power output of the engine and electric motor is given as 272 hp, similar to that of the X5 plug-in hybrid, which was expected to be 270 hp or higher. Unlike the X5, however, the 530Le does not include all-wheel drive.
BMW Concept X5 eDrive plug-in hybrid
The same powertrain will also soon go into a production version of the smaller 3-Series sedan, as previewed by a so-called "prototype" version shown to European media last week at BMW Innovation Days.
Also a rear-wheel-drive vehicle, the plug-in hybrid 3-Series sedan has peak power of 245 hp and 295 lb-ft of torque. BMW quotes an electric range of 22 miles (likely 15 to 18 miles on U.S. test cycles), and an electric-only top speed limited to 74.5 mph.
Additional models are likely to follow as well.
But BMW is clearly thinking beyond its current system to future generations of plug-in hybrids. And it's using components from its BMW i3 and i8 electric cars to boost their performance.
At the same Innovation Days event, the company showed a system it calls Power eDrive, which uses a 200-kW (268-hp) electric motor to power the rear wheels. This lets the vehicle run much of the time solely on electric power alone.
BMW 5-Series GT development prototype for Power eDrive plug-in hybrid system, Nov 2014
A combined engine-motor-transmission combination powers the front wheels as well, making the car a through-the-road hybrid, for longer distances. This time, though, the front motor is rated at 150 kW (201 hp).
Installed in a BMW 5-Series GT mule, the battery pack occupied the tunnel and the space below the rear seats ahead of the rear axle.
The system is the next stage of vehicle electrification, the company said, with the goal of maximizing the amount of time a vehicle operates in all-electric mode, which naturally boosts its efficiency.
Combined with battery packs of up to 20 kilowatt-hours, the output of these systems will be more than 500 kW (670 hp), letting the vehicle operate solely on electric power throughout two-thirds of its usage cycle.
The Power eDrive system will be a natural choice for more upmarket vehicle types, BMW suggests, where it will combine largely electric operation and dynamic response with unlimited long-distance capabilities.
With multiple first-generation plug-in hybrid models due over the next three years, and a second-generation system that maximizes electric driving time in the wings, BMW's commitment to electrifying its model range is now clear.
We can't wait to drive the cars.
TO LEARN MORE ABOUT THE BENEFITS OF CAR WINDOW TINTING, ANSWERS TO FREQUENTLY ASKED QUESTIONS , MORE INFORMATION ABOUT AUTO GLASS TINTING IN CHICAGO, OR FOR A CAR TINTING QUOTE, CONTACT MIDWEST GLASS TINTERS 
 (847) 452-4818 or info@midwestglasstinters.net
REPOSTED BY MIDWEST GLASS TINTERS FROM:  WALL STREET CHEAT SHEET
Everyone loves shopping for a new car. Actually, no one does. It's right up there with looking for an apartment in the winter or pricing caskets. The only part that is ever fun is test-driving a car you know you would never buy. But that's not really shopping. That's borrowing somebody's car for a joy ride.
When it comes to comparing model specs, looking for discounts, factoring in finance terms, understanding fuel economy quotes, and looking at resale value (matching pre-owned versus new models), there is little to love about the car buying process. It only gets worse when an unethical auto dealer is trying to put one over on you. Then it's anarchy.
However, you still need a car. The best way to proceed is to do your homework and never rush into any purchase. To help with dealers out to scam unwitting consusmers, CarBuyingTips.com compiled a 10 best (or worst) car dealer scams consumers should have on the radar when walking into a dealership. Here's a look at the scams you should be ready to avoid.
1. The lost financing scam
Signing a deal for a new car is foolish if you don't have the loan terms locked in already. Leaving the dealership in a new car with on-the-spot financing leaves you open to this scam. After a few weeks, you learn from the dealer that your loan application was rejected. Now you have to accept a higher annual percentage rate (APR) on the dealer's new loan because the original rate is no longer available.
In reality, any rate that was pre-approved with an accurate credit score should go through. CarBuyingTips.com pegs 680 as the Mendoza Line for credit scores. Below that figure, you are getting a higher rate. Above it, you get the optimal rates. These days, there are so many free credit score services that you should go in knowing the deal. If you have a credit rating below 680 but the dealer offers you an extremely low rate, the "financing evaporated" scam may be in the works.
2. The 'your credit sucks' scam
In this scam, dealers suggest your credit has seen better days, downgrading it by a hundred or so points. That gives them the right to give you a worse financing deal and pick up some extra cash on the loan end. Of course, this scam is easily avoidable if you check your credit before you head into a dealership. When the dealer says he wanted you to get a better deal but your credit score was 640, you can ask him to go ahead and double-check that number. Before you left the cozy confines of your home, your credit rating was 780 (or 840, etc.).
3. Car dealer never pays off trade-in loan
Trading in a car with a loan balance still on it is risky. CarBuyingTips.com shows where it's most dangerous: when a car dealer "forgets" to pay off the loan and you are stuck with the balance because you never got paperwork guaranteeing he would. A car ought to be paid off in full if you are trading it in or otherwise be sold to a buyer on the open market. Dealers would be especially shady if they tried this scam, but it has been done in the past.
4. The 'you need a co-signer' scam
Let's say you are having trouble getting a loan for your car, for whatever reason. A dealer might suggest you just get a co-signer to obtain approval and head down the road. That solution might sound appealing until you realize (either as a co-signer or the original party) that the co-signer with good credit ended up being the only one with the loan. It's a scam because you wouldn't have gotten the car without that loan and wouldn't have gotten the loan without someone else's credit. Catch this one before it's too late by reading every bit of paperwork. The co-signer is the one at risk.
5. The 'online lenders are deadbeats' scam
If you roll into the dealership with a pre-approval and blank check from an online lender, you should be on your merry way once you choose the right automobile. Unfortunately, you may find your dealer refusing to accept the check because he claims online lenders are deadbeats who bounce them. Then he will hit you with a loan package at higher percentage rates. His scam is convincing you other people are trying to scam him. It's creative, but you can blow up the scam by walking out on the deal. Considering the dealer left his morals at the door, you would be advised to do so.
6. The warranty scam
CarBuyingTips.com identifies two warranty scams that are fairly common. In the first, dealers hit you with a forced warranty for several thousand dollars that supposedly comes from the bank (it doesn't). In the second system, a warranty is snuck into the terms of your deal so it inflates the monthly price. Forced warranties are illegal, so call the bluff and tell them you want to take it home and run through it with your attorney. The terms will change immediately.
7. The dealer prep scam
"Dealer Prep" fees are supposed to compensate dealers for the exhausting work done in the trenches after your car arrives off the truck but before you drive it off the lot. According to CarBuyingTips.com, that amounts to removing the plastic covers from the seats and windows. That would hardly be worth the $600 you might see attributed to "Dealer Prep" in a line on your invoice. This fee is almost always negotiable. Again, it is a fee that will be reduced or disappear if you take the deal off the table.
8. The trade-in loan payoff scam
This scam is mostly out in the open. A dealer offers to pay off your lease or existing loan so you can ditch your old ride and get yourself into a (cue the Bob Barker voice) A NEW CAR! You are still paying the remainder of your loan and any penalties involved with breaking a lease, so you're doubling down on payments in the end. CarBuyingTips.com says dealers typically try to sneak in longer financing terms (six, seven years) in order to get the payment near or even below your current monthly bill.
9. The no-warranty wrecked car scam
Why would anyone buy an as-is, no-warranty car from a dealership? You might as well pick a seller off Craigslist blindfolded and accept whatever terms are being offered. In the no-warranty scam, wrecked cars are gussied up to look like they had a long weekend rather than a funeral. There are ways to check where a car came from and whether it was totaled in the past. If you see the no-warranty offer on a car, chances are it is one of these vehicles.
10. The refinancing scam
In the 10th and possibly most sinister scam CarbuyingTips.com documented, the dealer gets back sometime after the car is in your possession. He congratulates you on this being your lucky day (Christmas come early, etc.) and says he's got a way better financing package available. Say you pay $350 a month; well now he's got a deal for $305. All you have to do is get back in the dealership, sign some papers, and you're living on Easy Street.
If you fielded such a call, you would probably wonder how you were so lucky. The opposite was true. All the dealer did was extend the term of the loan to get you paying less longer. Yes, the APR went up in the new deal. It's one nasty scam, but just one of many out there in the auto consumer jungle.
TO LEARN MORE ABOUT THE BENEFITS OF CAR WINDOW TINTING, ANSWERS TO FREQUENTLY ASKED QUESTIONS , MORE INFORMATION ABOUT AUTO GLASS TINTING IN CHICAGO, OR FOR A CAR TINTING QUOTE, CONTACT MIDWEST GLASS TINTERS 
 (847) 452-4818 or info@midwestglasstinters.net