REPOSTED BY MIDWEST GLASS TINTERS FROM:   CNBC.COM
Who says pickup trucks aren't glamorous?
New data from TrueCar forecasts that the latest pickups from Ford (F) and Ram (FCA-IT) will be the most popular models sold in 2014 among all vehicles with average transaction prices higher than $50,000.
Eight of the 10 best-sellers above that threshold are pickups or SUVs, and six are not luxury brands, according to TrueCar.
Ford's F-Series, the Chevy Silverado/GMC Sierra and Ram pickup are projected to sell a combined 350,000 vehicles above $50,000.
It's easy to see why these trucks remain the profit drivers at the Big Three. Take the F-Series pickup.
TrueCar estimates Ford will sell more than 751,000 of the F-Series this year, with nearly 190,000 going for more than $50,000.
That means the best-selling vehicle in the country will generate about $32 billion in revenue, with nearly $11 billion coming from higher-end models, according to TrueCar projections.
John Krafcik, president of TrueCar, said the results underscore the fact that people often misunderstand pickup trucks, which are no longer just for moving around. Instead, they have increasingly become high-end vehicles, he said.
TO LEARN MORE ABOUT THE BENEFITS OF CAR WINDOW TINTING, ANSWERS TO FREQUENTLY ASKED QUESTIONS , MORE INFORMATION ABOUT AUTO GLASS TINTING IN CHICAGO, OR FOR A CAR TINTING QUOTE, CONTACT MIDWEST GLASS TINTERS 
 (847) 452-4818 or info@midwestglasstinters.net
 AUTO GLASS TINTING GIFT CERTIFICATES  - WE'VE GOT THEM!
CALL US AT 847-452-4818 OR VISIT US AT   WWW.MIDWESTGLASSTINTERS.NET
TO LEARN MORE ABOUT THE BENEFITS OF CAR WINDOW TINTING, ANSWERS TO FREQUENTLY ASKED QUESTIONS , MORE INFORMATION ABOUT AUTO GLASS TINTING IN CHICAGO, OR FOR A CAR TINTING QUOTE, CONTACT MIDWEST GLASS TINTERS 
 (847) 452-4818 or info@midwestglasstinters.net
 REPOSTED BY MIDWEST GLASS TINTERS FROM:  YAHOO NEWS
If you thought the Ferrari LaFerrari was fast or exclusive, think again. This special, hardcore track-only limited edition is bigger, more powerful and rarer in every way.
Making its first real-world appearance at the Yas Marina Circuit in Abu Dhabi this month, Ferrari describes the car as "completely uncompromising" and promises that those lucky few that get to own one will get an "unprecedented driving experience."
The FXXK is 194mm longer and 59mm wider than the standard LaFerrari hypercar on which it's based. It also delivers 1021bhp from its combination of a naturally aspirated 6.3-liter V12 and electric motor working in unison. The Formula One-inspired KERS energy recovery system has also had some serious tweaks so that the driver has more control over how that energy boost is used.
The 'Qualify' setting delivers maximum performance within a limited number of laps; while 'Manual Boost' will give the car an extra edge on demand, upping the torque levels to maximum at the turn of a dial. The energy can also be returned to the car's battery via the Fast Charge mode, or leaving the KES system in 'Long Run' mode will return energy, boost and acceleration consistently.
Ferrari won't reveal other performance statistics, but it's safe to say that a car that is not restricted by road car regulations or by race car rules either — the FXXK will only every compete with other FXXKs — it will have a faster 0-100km/h time than the LaFerrari's (under 3 seconds) and should also go past the standard car's 217mph (350km/h) top speed, too.
If you like the sound of the FXXK and fancy snapping one up, you'll need to be chosen for Ferrari's driver development program so you'll have to already have the standard LaFerrari in your garage in order to qualify for consideration.
TO LEARN MORE ABOUT THE BENEFITS OF CAR WINDOW TINTING, ANSWERS TO FREQUENTLY ASKED QUESTIONS , MORE INFORMATION ABOUT AUTO GLASS TINTING IN CHICAGO, OR FOR A CAR TINTING QUOTE, CONTACT MIDWEST GLASS TINTERS 
 (847) 452-4818 or info@midwestglasstinters.net
REPOSTED BY MIDWEST GLASS TINTERS FROM:  ONE GOOD THING BY JILLEE  
While the weather where I live has yet to turn anywhere near "frightful"…I know it's only a matter of time before it does! Every winter I vow to be better prepared for all the unique challenges that winter driving presents, but never really have gotten my act together. This year I vow to do things differently! To that end I am making my list of handy tips and tricks and checking it twice! You can take a peek at it too!
Then take a peek at the end of the post for how to enter to win a $200 Amazon Gift Cardto buy everything you need to get yourself and your car all decked out for winter!
Here are some of the most unexpected and helpful winter car care tips I have found to help survive winter driving:
Fixing foggy windshields
Cold months often mean constantly being plagued with fogged up windshields and windows, a dangerous condition if you're on the road. To quickly clear fog without leaving a smudgy mess behind, keep a chalkboard eraser in your car.
Alternatively, rolling down the window and letting some fresh air in will quickly defog windows.
Fog-PROOFING your windshield
Put shaving cream on the inside of your windows and then wipe it off. Shaving cream has a lot of the same ingredients that commercial defoggers have, and it leaves a layer on the window to keep the fog off.
Fill a stocking with kitty litter which absorbs water and keep that in your car overnight.
Before you turn your car off each night, open the windows and let cold air in. The moisture from you breathing in your car will be replaced with dryer air.
Don't leave water bottles or other drinks in your car because the water becomes frost on the inside windows of your car.
Also, the AC is one of the best defoggers around. The compressor takes the humidity out of the air.
SOCKS in the GLOVE box
Tons of people swear by this trick! During winter, keep a spare pair of socks in your car's glove-box to put on OVER your shoes. This trick gives you better traction in case you have to push your car over ice, or you just need to walk in snow and ice for some reason.
Spare socks are cheap, compact, and always useful. Plus they're convenient as a makeshift cloth in a pinch.
Socks as windshield wiper covers
Those extra socks can also come in handy for your wiper blades. Use an extra pair to cover your windshield wipers at night to keep the snow off of them. Raise the wipers off of the windshield and cover them up for easier de-icing in the morning.
Wiper blades frozen to your windshield
Soak a soft cloth with full-strength rubbing alcohol and wipe each blade. The alcohol will keep the blades from sticking to the window so they'll function properly even on the coldest day of the year.
Ice-Scraper in a pinch
If you find yourself with frozen car windows but no ice scraper, you have a couple options – grab a spatula if you're at a home, or use any plastic card in your wallet to get under the ice and scrape it away. Hopefully you'll never forget your ice scraper again!
Mother Nature's windshield defroster
Whenever you can, make sure to park your car facing east. Since the sun rises in the east, it will naturally defrost your windshield in the morning so you won't be stuck scraping ice in the freezing cold. With this trick you should be able to use your windscreen wipers to do the not-so-heavy-lifting for you.
Cheap and easy DIY de-icer
If parking facing east isn't possible (or the sun isn't cooperating)…mix three parts vinegar with one part water and spray the mixture onto your windshield to prevent ice from forming.
Keep plenty of windshield washer on hand
Here is an easy do-it-yourself recipe using basic household ingredients – Homemade Windshield Washer Fluid.
De-ice frozen car doors, locks, and handles
There are several clever ways to do this:
Heat your car key with a match or lighter, then gently push the heated key into the lock to melt the ice as you apply pressure. Just be careful as that key will be hot!
Another option is to take a regular drinking straw and blow directly onto the frozen lock. The heat from your breath should melt the ice in no time.
Rubbing your key or door handle with a squirt of hand sanitizer will have the same effect. The alcohol in the hand sanitizer will melt the ice and shortly allow you to unlock your car.
Keep doors from freezing
Sometimes putting WD-40 in the keyhole before the winter will keep any ice from forming in there in the first place.
Cooking spray in the cracks of your doors and on the rubber will prevent them from freezing shut at night. Water that melts during the day runs in between your doors and freezes, but cooking spray keeps the water from resting in the cracks in the first place.
Frosty side mirrors
To prevent ice from forming on side mirrors, cover them the night before with plastic bags secured with rubber bands or clothespins. When you remove the bags in the morning, the mirrors will be ice-free.
Increase headlight visibility
With the harsh weather and road conditions, headlights are especially important during the winter. Cover each light with toothpaste and rinse off with warm water. This will drastically improve the clarity of your lights and is MUCH cheaper than the kits they sell at the store that provide the same service.
Headlight protection
For added clarity, apply a layer of wax after you've removed the toothpaste. It will keep snow and water from sticking to them for weeks!
Keep your car's "underthings" clean!
Make sure to clean your car often during the winter, as de-icing products can damage a car after prolonged exposure. To clean all the dirt, salt, and ice off the more difficult to reach under-carriage, run a lawn sprinkler underneath the car on a slightly warmer day. Just slide it under your car and drive back and forth over it. It will work
 wonders.
Easy ways to get un-stuck
Keep keep a couple twenty pound bags of kitty litter in your trunk on snowy days. They'll put some weight on your back tires — which is great for traction if you have rear-wheel drive — and if you do get stuck you'll have something to provide a little traction. Just spread some under the tires and under your feet. A small shovel is helpful as well.
Another great trick for getting your car out of a snowbank? Your floor mats. Take out a floor mat and use that under the spinning tire. Place your front floor mats under your tires to give you some traction when on an icy surface. Just don't forget to pick them back up after you get moving.
And finally……
A quick & easy emergency kit
Hopefully you'll never have to use it, but if you do, it could literally be a lifesaver!
Unzip a winter coat. Inside, place extra socks and underwear, knit hat, gloves, scarf and snow pants. Zip the coat back up. You now have a compact emergency
 cold outfit.
Also – a candle and some matches (it will heat your car and add light,) a warm blanket, charged mobile phone, hand/foot warmers, flashlight, bottle of water and energy bars are really necessities if you do any kind of winter driving more than walking
 distance from civilization.
Now we should all be ready to face whatever driving challenges winter has in store for us this year!
TO LEARN MORE ABOUT THE BENEFITS OF CAR WINDOW TINTING, ANSWERS TO FREQUENTLY ASKED QUESTIONS , MORE INFORMATION ABOUT AUTO GLASS TINTING IN CHICAGO, OR FOR A CAR TINTING QUOTE, CONTACT MIDWEST GLASS TINTERS 
 (847) 452-4818 or info@midwestglasstinters.net
REPOSTED BY MIDWEST GLASS TINTERS FROM:   YAHOO AUTOS
With winter upon most of the country, it seems the right time to make a list of the 5 best cars  for winter driving. A list comprised of a few select cars able to brave the freezing temperatures and snowy hell that will undoubtedly befall great swaths of the country.
From SUVs to sedans and even a few wildcards, these 5 cars will help you brave the winter weather all while having a good time doing it.
5. 2015 Subaru WRX STI
It's a favorite for enthusiasts that live in an area that has the phrase Polar Vortex in the vocabulary. The WRX STI has remained the dominant winter car throughout its time here in the States.
Couple the rally heritage with interior space to fit your friends, and you've got the makings of one of the most perfect snow hooning machines on the planet. Add a set of snow tires and it's a snow bound supercar!
4. 2015 GMC Yukon
This truck is your family hauler most days, which means it barely sees the mud-strewn areas that it can rightfully handle. We had it for a week and it just plowed through everything we could throw at it; including a 500-mile road trip that seemed like it only took ten minutes.
Couple that wonderful V8 to the incredible 4WD system, and this truck is one of the most capable snow conquerors around.
It's most likely invincible. However, if you ever are stuck, an occurrence we highly doubt is possible, you can always just relax in the back and watch Empire Strikes Back! You don't even have to slice open a Tauntaun because this big boy has seat warmers throughout the cabin.
3. Mercedes-Benz G63 6×6 Brabus Edition
Whether you're a oil sheik in the Middle East, a rich playboy in California, or a Russian oligarch, this is the ride for when you want off-roading performance, but want to stay classy. And show off how much cash you have to burn. The Mercedes-Benz G63 6×6 tuned by Brabus is possibly the most ostentatious automobile on the list.
It's size could be compared to some small battleships and the interior is designed for someone with more money than taste. Nothing matters when you're behind the wheel of this behemoth. Not sand, not snow, not the poor. Nothing. It will conquer all, and leave you with a satisfied look on your face while doing it. Polar Vortex be damned, nothing can stop this bruiser.
However, while its potent 700-horsepower engine can hit 60 in just 4.4 seconds, sometimes what you need is suspension travel. Something to help you go right over those snowplow made berms.
2. Local Motors Rally Fighter
This truck/Baja buggy is one of the most insane things we've ever been in. It's just ridiculous in its entirety. And that's why we love it. Because of its ridiculous stats and technical engineering, the Rally Fighter hits our #2 spot with all the force that LS motor can muster.
Take away the crowd-sourced body and that wonderful sounding LS motors, and you would think you were staring at something that was purposely built for off-road racing. Races like Baja, or Dakar. Not something that could take your kids to school in on a public road.
The Rally Fighter is just one of those Frankenstein's monster kind of cars. It combines all the right ingredients and then throws the entire thing on its head for sheer lunacy. It's one of the quintessential off-road machines. However, it doesn't hit our top spot, because nothing can compete with the original hoon.
1. Ken Blocks Hoonicorn 1965 Mustang
If you haven't seen this epically awesome, wonderfully insane, adjective inducing, KO punch to environmentalism, where have you been? Before it even debuted, spy shots had everyone talking about what a monster this next iteration of Gymkhana car would be. No one, though, expected what actually came out of Ken Block's insane mind.
845 horsepower comes from a Roush Yates 410 cubic inch Ford V8 out of a NASCAR Sprint Cup Car. That was then matted to a 6-speed Sadev sequential all-wheel drive transmission, which turned 720lb-ft of torque and a set of Pirelli Trofeo R tires to pure smoke.
Who needs suspension travel or snow tires when you have 845 horsepower powering all four wheels? It is the ultimate snow hooning machine. Nothing can compare.
TO LEARN MORE ABOUT THE BENEFITS OF CAR WINDOW TINTING, ANSWERS TO FREQUENTLY ASKED QUESTIONS , MORE INFORMATION ABOUT AUTO GLASS TINTING IN CHICAGO, OR FOR A CAR TINTING QUOTE, CONTACT MIDWEST GLASS TINTERS 
 (847) 452-4818 or info@midwestglasstinters.net
REPOSTED BY MIDWEST GLASS TINTERS FROM:  YAHOO FINANCE
Tesla Motors Inc. (TSLA) drivers were more likely than Porsche owners — or anyone else — to say they'd buy their cars again in this year's edition of the closely watched Consumer Reports buyer survey.
Tesla's Model S luxury electric sedan topped the U.S. survey a second year in a row, scoring 98 out of a possible 100, after posting a 99 last year. This year's No. 2 brand, Porsche, scored an average of 87 out of 100 across its model lines. Palo Alto, California-based Tesla, co-founded and led by billionaire Elon Musk, said last month that it expects to sell 50,000 Model S cars next year.
"Not only is the Tesla roomy, comfortable, and a lot of fun to drive, but it also has low operating costs," Consumer Reports said.
The survey may bolster the 11-year-old carmaker's image as the leader in the business of making high-end electric cars. It comes about a year after U.S. regulators started a four-month investigation into fires that took place after Tesla's cars struck road debris.
The investigation ended without a formal recall, giving Musk more room to expand sales of the Model S and develop the long-awaited Model X SUV, whose delivery Tesla postponed again last month. It's now expected in the third quarter of 2015.
Tesla shares fell 1.6 percent to $227.79 at 10:20 a.m. in New York. The stock gained 54 percent this year through yesterday, outpacing the 11 percent rise in the Russell 1000 Index.
Sports Cars
The next three most satisfying vehicles in the Consumer Reports Survey, after the Model S, were sports cars: General Motors Co. (GM) 's Chevrolet Corvette Stingray, with a 95 percent satisfaction rating, and Volkswagen AG's Porsche Cayman and Boxster, which tied for third with 91 percent of buyers saying they'd purchase them again.
The survey covered 350,000 vehicles from one to three years old and took into account "attributes such as styling, comfort, features, cargo space, fuel economy, maintenance and repair costs, overall value, and driving dynamics," Consumer Reports said.
Hybrid, electric and diesel-powered cars outscored gas engines throughout the survey, with the Chevrolet Volt and Toyota Motor Corp. (7203)'s Prius leading the compact-car category and Honda Motor Co. (7267)'s Accord Hybrid and Ford Motor Co. (F)'s Fusion Energi atop the list of mid-sized sedans.
TO LEARN MORE ABOUT THE BENEFITS OF CAR WINDOW TINTING, ANSWERS TO FREQUENTLY ASKED QUESTIONS , MORE INFORMATION ABOUT AUTO GLASS TINTING IN CHICAGO, OR FOR A CAR TINTING QUOTE, CONTACT MIDWEST GLASS TINTERS 
 (847) 452-4818 or info@midwestglasstinters.net
REPOSTED BY MIDWEST GLASS TINTERS FROM:  YAHOO AUTOS
If there was any doubt that we'll see a spate of new plug-in hybrids over the next few years, a set of three different announcements from BMW last week should put that to rest.
The Bavarian maker of "ultimate driving machines" launched a long-wheelbase 5-Series sedan for China with a plug-in hybrid powertrain, showed a prototype 3-Series plug-in hybrid sport sedan, and described a new Power eDrive system that produces a remarkable 670 horsepower.
It's long been known that BMW will introduce a plug-in hybrid X5 sometime next year.
That mid-size SUV will compete with the 2016 Volvo XC90 T8 'Twin Engine', a plug-in hybrid model of the refreshed 2016 Mercedes-Benz ML-Class SUV (to be renamed GLE at that time), and perhaps an updated 2016 Mitsubishi Outlander Plug-In Hybrid–among others.
BMW X5 e-Drive plug-in hybrid prototype, test drive, Woodcliff Lake, NJ, April 2014
The plug-in BMW X5 uses a powertrain that combines a 240-horsepower turbocharged 2.0-liter four-cylinder engine with a 70-kilowatt (95-hp) electric motor sandwiched between the engine and an adapted version of BMW's eight-speed automatic transmission, in which the electric motor replaces the conventional torque converter.
The lithium-ion battery holds 9.9 kilowatt-hours, of which about 6 kWh are usable for power.
Versions of that powertrain are now spreading into other BMW models across the globe.
The BMW 530Le introduced last week at the Guangzhou Motor Show, for example, is a long-wheelbase 5-Series sedan sold in China, where extra space in the rear seat is crucial for businesspeople with chauffeurs and new owners who haven't learned to drive.
Combined power output of the engine and electric motor is given as 272 hp, similar to that of the X5 plug-in hybrid, which was expected to be 270 hp or higher. Unlike the X5, however, the 530Le does not include all-wheel drive.
BMW Concept X5 eDrive plug-in hybrid
The same powertrain will also soon go into a production version of the smaller 3-Series sedan, as previewed by a so-called "prototype" version shown to European media last week at BMW Innovation Days.
Also a rear-wheel-drive vehicle, the plug-in hybrid 3-Series sedan has peak power of 245 hp and 295 lb-ft of torque. BMW quotes an electric range of 22 miles (likely 15 to 18 miles on U.S. test cycles), and an electric-only top speed limited to 74.5 mph.
Additional models are likely to follow as well.
But BMW is clearly thinking beyond its current system to future generations of plug-in hybrids. And it's using components from its BMW i3 and i8 electric cars to boost their performance.
At the same Innovation Days event, the company showed a system it calls Power eDrive, which uses a 200-kW (268-hp) electric motor to power the rear wheels. This lets the vehicle run much of the time solely on electric power alone.
BMW 5-Series GT development prototype for Power eDrive plug-in hybrid system, Nov 2014
A combined engine-motor-transmission combination powers the front wheels as well, making the car a through-the-road hybrid, for longer distances. This time, though, the front motor is rated at 150 kW (201 hp).
Installed in a BMW 5-Series GT mule, the battery pack occupied the tunnel and the space below the rear seats ahead of the rear axle.
The system is the next stage of vehicle electrification, the company said, with the goal of maximizing the amount of time a vehicle operates in all-electric mode, which naturally boosts its efficiency.
Combined with battery packs of up to 20 kilowatt-hours, the output of these systems will be more than 500 kW (670 hp), letting the vehicle operate solely on electric power throughout two-thirds of its usage cycle.
The Power eDrive system will be a natural choice for more upmarket vehicle types, BMW suggests, where it will combine largely electric operation and dynamic response with unlimited long-distance capabilities.
With multiple first-generation plug-in hybrid models due over the next three years, and a second-generation system that maximizes electric driving time in the wings, BMW's commitment to electrifying its model range is now clear.
We can't wait to drive the cars.
TO LEARN MORE ABOUT THE BENEFITS OF CAR WINDOW TINTING, ANSWERS TO FREQUENTLY ASKED QUESTIONS , MORE INFORMATION ABOUT AUTO GLASS TINTING IN CHICAGO, OR FOR A CAR TINTING QUOTE, CONTACT MIDWEST GLASS TINTERS 
 (847) 452-4818 or info@midwestglasstinters.net
REPOSTED BY MIDWEST GLASS TINTERS FROM:  WALL STREET CHEAT SHEET
Everyone loves shopping for a new car. Actually, no one does. It's right up there with looking for an apartment in the winter or pricing caskets. The only part that is ever fun is test-driving a car you know you would never buy. But that's not really shopping. That's borrowing somebody's car for a joy ride.
When it comes to comparing model specs, looking for discounts, factoring in finance terms, understanding fuel economy quotes, and looking at resale value (matching pre-owned versus new models), there is little to love about the car buying process. It only gets worse when an unethical auto dealer is trying to put one over on you. Then it's anarchy.
However, you still need a car. The best way to proceed is to do your homework and never rush into any purchase. To help with dealers out to scam unwitting consusmers, CarBuyingTips.com compiled a 10 best (or worst) car dealer scams consumers should have on the radar when walking into a dealership. Here's a look at the scams you should be ready to avoid.
1. The lost financing scam
Signing a deal for a new car is foolish if you don't have the loan terms locked in already. Leaving the dealership in a new car with on-the-spot financing leaves you open to this scam. After a few weeks, you learn from the dealer that your loan application was rejected. Now you have to accept a higher annual percentage rate (APR) on the dealer's new loan because the original rate is no longer available.
In reality, any rate that was pre-approved with an accurate credit score should go through. CarBuyingTips.com pegs 680 as the Mendoza Line for credit scores. Below that figure, you are getting a higher rate. Above it, you get the optimal rates. These days, there are so many free credit score services that you should go in knowing the deal. If you have a credit rating below 680 but the dealer offers you an extremely low rate, the "financing evaporated" scam may be in the works.
2. The 'your credit sucks' scam
In this scam, dealers suggest your credit has seen better days, downgrading it by a hundred or so points. That gives them the right to give you a worse financing deal and pick up some extra cash on the loan end. Of course, this scam is easily avoidable if you check your credit before you head into a dealership. When the dealer says he wanted you to get a better deal but your credit score was 640, you can ask him to go ahead and double-check that number. Before you left the cozy confines of your home, your credit rating was 780 (or 840, etc.).
3. Car dealer never pays off trade-in loan
Trading in a car with a loan balance still on it is risky. CarBuyingTips.com shows where it's most dangerous: when a car dealer "forgets" to pay off the loan and you are stuck with the balance because you never got paperwork guaranteeing he would. A car ought to be paid off in full if you are trading it in or otherwise be sold to a buyer on the open market. Dealers would be especially shady if they tried this scam, but it has been done in the past.
4. The 'you need a co-signer' scam
Let's say you are having trouble getting a loan for your car, for whatever reason. A dealer might suggest you just get a co-signer to obtain approval and head down the road. That solution might sound appealing until you realize (either as a co-signer or the original party) that the co-signer with good credit ended up being the only one with the loan. It's a scam because you wouldn't have gotten the car without that loan and wouldn't have gotten the loan without someone else's credit. Catch this one before it's too late by reading every bit of paperwork. The co-signer is the one at risk.
5. The 'online lenders are deadbeats' scam
If you roll into the dealership with a pre-approval and blank check from an online lender, you should be on your merry way once you choose the right automobile. Unfortunately, you may find your dealer refusing to accept the check because he claims online lenders are deadbeats who bounce them. Then he will hit you with a loan package at higher percentage rates. His scam is convincing you other people are trying to scam him. It's creative, but you can blow up the scam by walking out on the deal. Considering the dealer left his morals at the door, you would be advised to do so.
6. The warranty scam
CarBuyingTips.com identifies two warranty scams that are fairly common. In the first, dealers hit you with a forced warranty for several thousand dollars that supposedly comes from the bank (it doesn't). In the second system, a warranty is snuck into the terms of your deal so it inflates the monthly price. Forced warranties are illegal, so call the bluff and tell them you want to take it home and run through it with your attorney. The terms will change immediately.
7. The dealer prep scam
"Dealer Prep" fees are supposed to compensate dealers for the exhausting work done in the trenches after your car arrives off the truck but before you drive it off the lot. According to CarBuyingTips.com, that amounts to removing the plastic covers from the seats and windows. That would hardly be worth the $600 you might see attributed to "Dealer Prep" in a line on your invoice. This fee is almost always negotiable. Again, it is a fee that will be reduced or disappear if you take the deal off the table.
8. The trade-in loan payoff scam
This scam is mostly out in the open. A dealer offers to pay off your lease or existing loan so you can ditch your old ride and get yourself into a (cue the Bob Barker voice) A NEW CAR! You are still paying the remainder of your loan and any penalties involved with breaking a lease, so you're doubling down on payments in the end. CarBuyingTips.com says dealers typically try to sneak in longer financing terms (six, seven years) in order to get the payment near or even below your current monthly bill.
9. The no-warranty wrecked car scam
Why would anyone buy an as-is, no-warranty car from a dealership? You might as well pick a seller off Craigslist blindfolded and accept whatever terms are being offered. In the no-warranty scam, wrecked cars are gussied up to look like they had a long weekend rather than a funeral. There are ways to check where a car came from and whether it was totaled in the past. If you see the no-warranty offer on a car, chances are it is one of these vehicles.
10. The refinancing scam
In the 10th and possibly most sinister scam CarbuyingTips.com documented, the dealer gets back sometime after the car is in your possession. He congratulates you on this being your lucky day (Christmas come early, etc.) and says he's got a way better financing package available. Say you pay $350 a month; well now he's got a deal for $305. All you have to do is get back in the dealership, sign some papers, and you're living on Easy Street.
If you fielded such a call, you would probably wonder how you were so lucky. The opposite was true. All the dealer did was extend the term of the loan to get you paying less longer. Yes, the APR went up in the new deal. It's one nasty scam, but just one of many out there in the auto consumer jungle.
TO LEARN MORE ABOUT THE BENEFITS OF CAR WINDOW TINTING, ANSWERS TO FREQUENTLY ASKED QUESTIONS , MORE INFORMATION ABOUT AUTO GLASS TINTING IN CHICAGO, OR FOR A CAR TINTING QUOTE, CONTACT MIDWEST GLASS TINTERS 
 (847) 452-4818 or info@midwestglasstinters.net
REPOSTED BY MIDWEST GLASS TINTERS FROM:  YAHOO AUTOS
Peter Thiel is wrong. His famous comment on the failed promise of the internet — "We wanted flying cars, instead we got 140 characters" — is about to be upended as the first actual flying cars take to the roads and skies.
Bloomberg reported on the progress of the biggest name in the flying car business, Terrafugia, which is nearing the culmination of a decade-long effort to build, drive, fly, market and, yes, sellflying cars to the dreamers who have always wanted one.
OK, the Terrafugia Transition is more of a "roadable airplane" than a flying car. But as Terrafugia founder Carl Dietrich notes in the Bloomberg profile by Josh Dean, that's a market that's crying out to be served:
Critics say flying cars are unlikely to be both great airplanes and great automobiles. But that misses the point, says Dietrich, who explains the Transition is intended to expand the definition of an airplane, solving a number of persistent problems in the process.
The Transition is a versatile vehicle, as flying cars go. It runs on regular gas, can be parked in a regular garage, and provides the flexibility to fly when the weather is good and drive when it isn't, as Dean points out.
At about $280,o0o, it's priced in the ballpark of some exotic supercars. So it could be a very cool toy, but there's also a business case: If you need to cover a lot of ground in a short period of time, the Transition unlocks America's underutilized network of small, regional airfields.
So Thiel is right: We have had to get by with 140 characters of innovation, up to this point.
But the flying cars we always wanted are finally coming. And if Thiel wants to get a "light sport aircraft" license and is willing put down a $10,000 deposit, he can both have one — and fly it.
TO LEARN MORE ABOUT THE BENEFITS OF CAR WINDOW TINTING, ANSWERS TO FREQUENTLY ASKED QUESTIONS , MORE INFORMATION ABOUT AUTO GLASS TINTING IN CHICAGO, OR FOR A CAR TINTING QUOTE, CONTACT MIDWEST GLASS TINTERS 
 (847) 452-4818 or info@midwestglasstinters.net
REPOSTED BY MIDWEST GLASS TINTERS FROM:  JALOPNIK
This year's LA Auto Show has been kind of a strange one. There have been a few good debuts, but also a ton of stuff we've seen online and at other auto shows, and not many surprises overall. But there's a very nice surprise waiting in the Toyota section of the floor: this gorgeous white 1967 Toyota 2000GT.
Granted, there are a lot of really cool new cars at the LA Auto Show this year, amazing and stylish and efficient machines that are safer and better-performing than at any point in car history.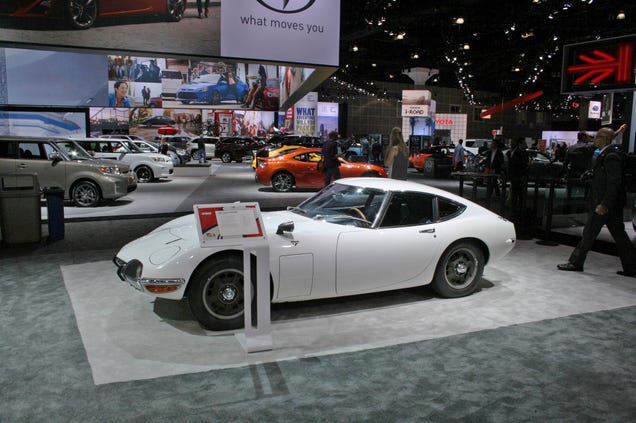 But this 2000GT is cooler. It just is. Real talk. End of story.
If you aren't familiar with the 2000GT, it has a pretty fascinating back story. Think of it as kind of like the Lexus LFA of its day, except with vastly more historical significance. The car first showed up as a concept in 1965, back when the fledgling Japanese auto industry wasn't taken very seriously on the world stage, and was more known for making motorcycles than cars.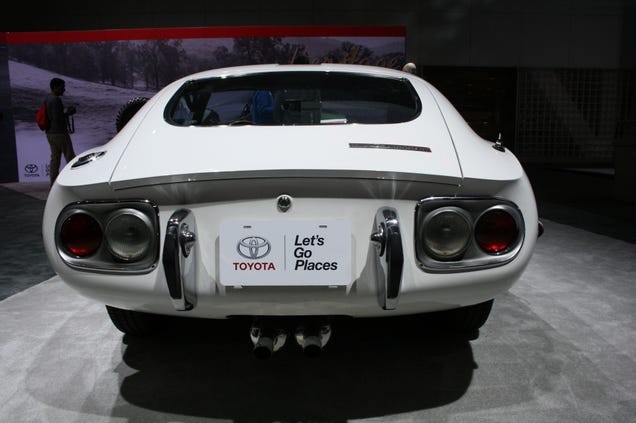 The 2000GT was a sucker punch to the whole world, shocking proof that once-war torn Japan could make cars that inspired lust as well as anyone else. Largely credited to German-born designer Albrecht Goertz, who also penned the stunning BMW 507 and later the Datsun 240Z/Nissan Fairlady Z, the 2000GT echoed many sports cars of its time, including the Jaguar E-Type and others. Power came from a 150 horsepower 2.0-liter inline six that offered performance on par with the Porsche 911 of the day.
Then as now, it was a fantastically rare machine. Only 337 were ever produced, and just 54 made it to North America. The one at the LA show is a left-hand drive model, curiously enough.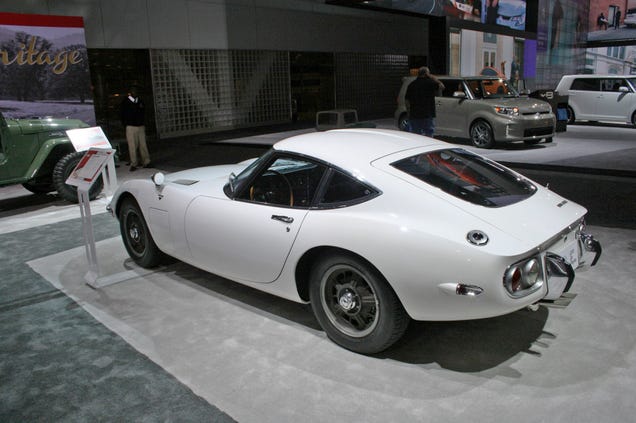 Even today, the car looks amazing. With its swooping curves and classic sports car profile, it has certainly aged well. The interior is incredibly tasteful mashup of wood and leather. The car held its own against anything from Europe or America.
It's at the auto show near a 1961 Land Cruiser and an IMSA GTP racer from the early 1990s. If you're down there, stop by and say hi. This 2000GT would probably be happy to know it's still appreciated.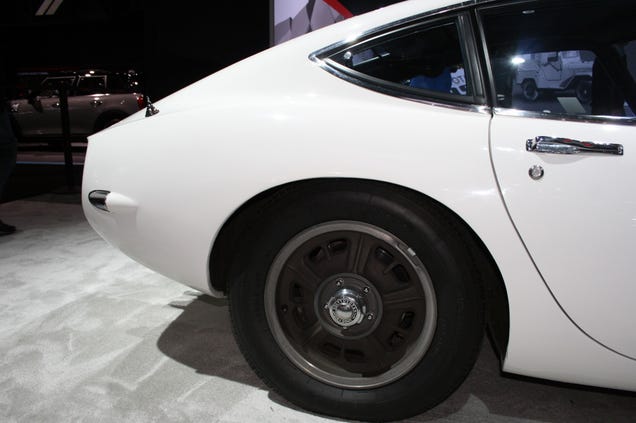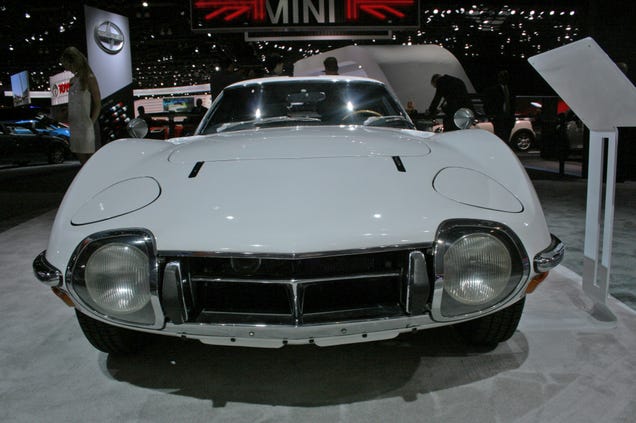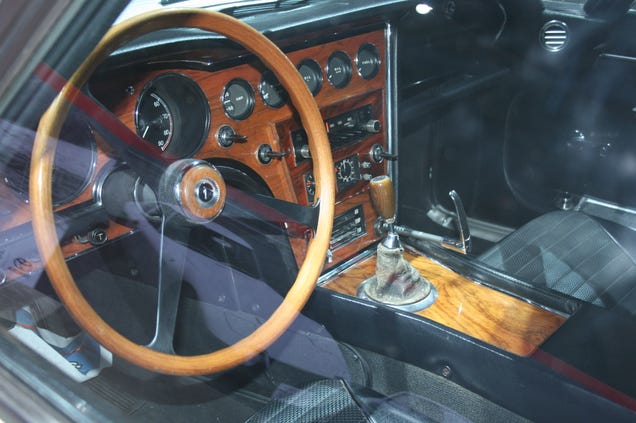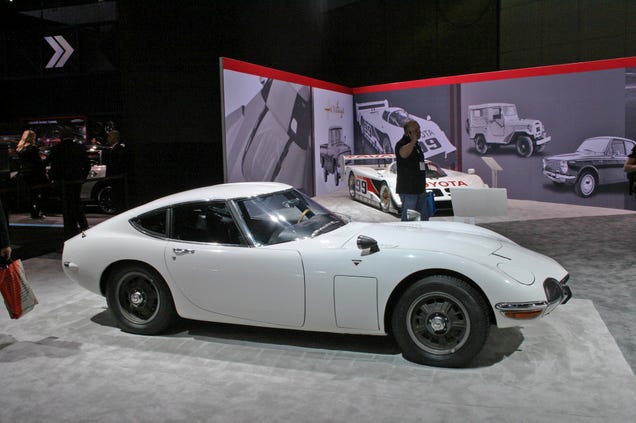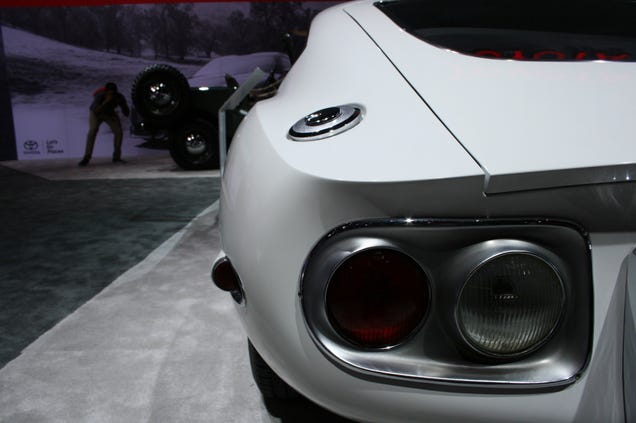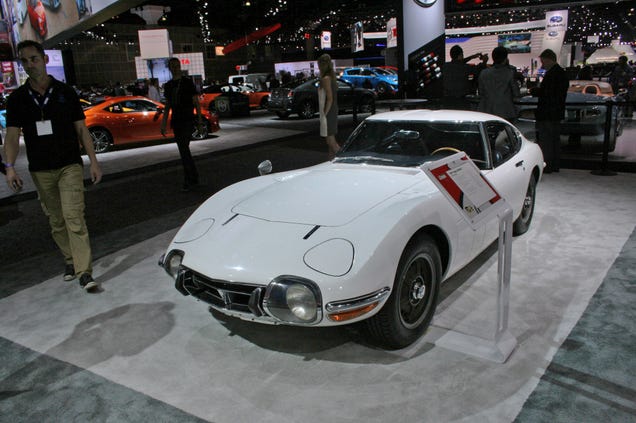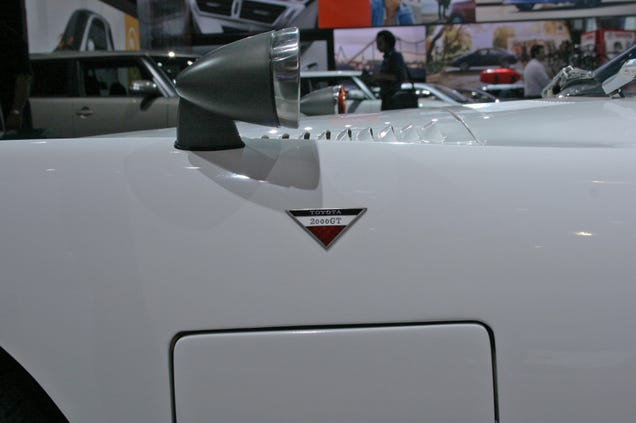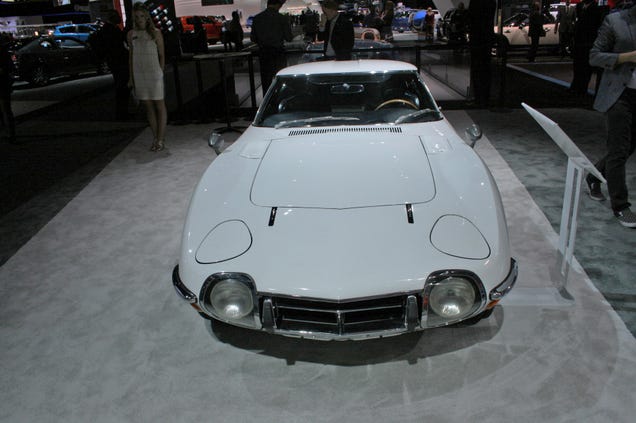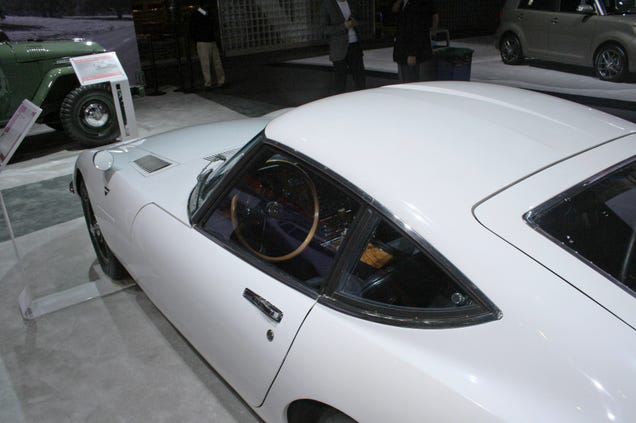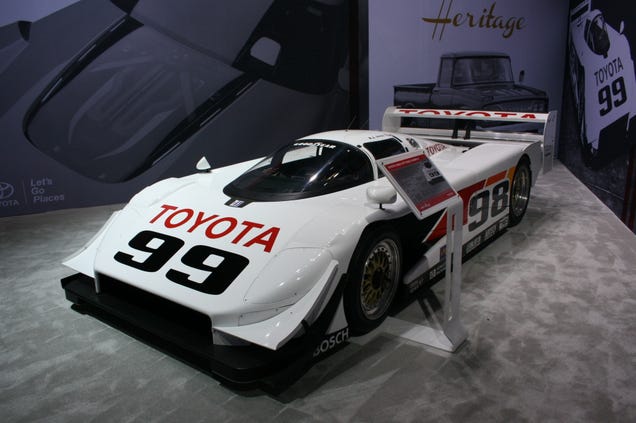 TO LEARN MORE ABOUT THE BENEFITS OF CAR WINDOW TINTING, ANSWERS TO FREQUENTLY ASKED QUESTIONS , MORE INFORMATION ABOUT AUTO GLASS TINTING IN CHICAGO, OR FOR A CAR TINTING QUOTE, CONTACT MIDWEST GLASS TINTERS 
 (847) 452-4818 or info@midwestglasstinters.net